Let's face it, life is already complicated enough without little inconveniences like brown sugar that's as hard as a rock, butter that's impossible to spread, and long dresses that drag on the floor of your closet. I've found over 20 items that prevent or make quick work of those little bummers!
Brown sugar that's hard as a rock? No more! Moisten this little bear and place it in your brown sugar to keep it moist for ages. The bear can also be used to keep cookies and dried fruits from hardening.
How many times have you scrounged around for a disposable lighter, only to find it empty or inoperable? This butane-free lighter, which is perfect for lighting candles, fires, gas stoves, and more, generates its flame with a long-lasting, lithium-ion battery that can be easily recharged.
3. Butter Crayon ($24.95 at ButterCrayon.com)
You know what a pain it can be to butter bread and corn on the cob or to grease a pan with cold, refrigerated butter. To make buttering a breeze, insert a stick of butter into this clever silicone sleeve and spread away!
4. The Best Friend ($29.99 at BestFriendZip.com)
You don't always have a partner or friend around to zip you up! Tackle that zipper on your own by attaching the clip of The Best Friend to the back zipper of any dress, blouse, or sweater and extend the cord. After you put the garment on, reach back and pull the little doll at the end of the cord upwards to zip your garment! Available in two colors.
5. The Smart Hanger by Cove ($22 or $80 for a 5-pack at CreateYourCove.com)
Maxi dresses are on-trend, but don't you hate it when they drag on the floor of your closet? This patented clothing hanger resolves that issue with a 2-piece design that gently lifts the bottom of long items without creating unnecessary creases.
6. Disguise The Surprise ($14.95 and up at DisguisetheSurprise.com)
This woman-owned company makes clever gift box dividers to easily disguise obviously-shaped gifts, like jewelry boxes, books, and more. Disguise the Suprise is also great to have on hand for making themed gift boxes or giving multiple gifts at once. Made in the USA.
7. Ivy Alexander handbag hooks ($33.95 and up at Ivy-Alexander.com)
Did you know that bags that are placed on the floor are often dirtier than toilets? Some establishments offer hooks for your bags, but only some. These compact hooks, which are anti-slip and come in a variety of stylish colors, can be tucked into your purse so you're ready to hang your bag on most flat surfaces.
​​8. LooLoo ($39.99 at GetLooLoo.com)
No one likes a smelly bathroom, but nature does call! This battery-operated gadget clips onto any toilet and automatically sprays the toilet with a mild, all-natural essential oil fragrance. The scent cartridges last 3+ months and are available in four scents: Lavender Fields, Citrus Fresh, Coconut Lime, or Peppermint Vanilla. The Loo Loo even has a nightlight!
If you're like me, the second a concert starts you wish you had brought a pair of earplugs. Loop's Experience earbuds are designed to block out excessive noise without dampening your auditory experience, and they come in a tiny case that can be clipped onto your keychain so you won't forget them. Loops have adjustable sizing, are available in a variety of colors, and there are different versions for social gatherings, sleep, and more.
Never be without a hair tie again! Available in gold or silver color or enamel, these stylish, comfortable bracelets double as a hair tie whenever you need one. I wear a few all the time so I'm always prepared.
It's hard to get to the doctor's office when you're sick! This portable otoscope can send high-definition images or videos of your inner ear, nose, and throat to your healthcare provider to help with diagnoses if you are unable to visit in person. The images and videos are easily sent from your mobile device's camera roll. This portable device has a 90-minute battery and is safe for kids and pets.
If you're spending time outdoors when it's dark, this rechargeable, reflective, LED slap bracelet is a must. Slap it on a wrist, ankle, or bag, and click the button for immediate visibility in "glow" or "flash" mode. The bracelet can be recharged using a micro USB cable.
This tiny but mighty cutter can tackle chores like opening/breaking down boxes and slicking through clamshell packaging using a retractable, "finger-friendly" ceramic blade. There's a built-in magnet so it can live on the fridge, or you can add it to a keychain.
14. Tooktake ($4.99 and up at TookTake.com)
If you're like me, you might wonder, "did I/the kid/the pet rabbit take our meds today? Never ask yourself that question again! Tooktake is a label that you affix to any bottle, and when a dose is taken, you peel off the sticker for that day.
15. TopTote ($48 and up on TheFileist.com)
It's fun to wear a big hat in the summer, but how do you carry said hat when it's not on your head? This chic hat clip loops around your tote or luggage to hold your hat with a powerful magnet. The hat stays on the outside of the bag, so it doesn't take up precious space inside. Woman-owned.
These new SlipSpeed sneakers are loaded with features, including adjustable, no-tie laces, easy on & off with a collapsible/convertible heel design, a cooling interior with breathable perforated uppers, and they are machine washable with their own laundry bag. This new style quickly sold out when they launched at the end of October, but are available for pre-order for shipping in mid-February.
17. Vejo ($99 on Vejo.com)
This rechargeable blender comes with your choice of two 4-pack drink blends. The powdered, plant-based blends are doctor-formulated, 100% natural, vegan, and sugar-free. Just add water and mix with a touch of a button for a smoothie on the go. Blends include Matcha Latte, Sleep, Cold Brew Coffee, and Tropical, and the stylish, portable blender is available in a variety of colors (mine is hot pink!).
My fitted sheets always get tangled in the laundry so I was very excited to try this Shark Tank success, and it did not disappoint! This simple little doo-hickey attaches to your sheets, tablecloths, or other large fabric items to prevent tangling in the washer & dryer, while significantly decreasing dry times. It takes less than a minute to attach and it's so worth it. No more tangled laundry!
These fashionable water bottle bags are perfect for running to the gym, taking long walks, or for travel. They hold a water bottle as large as 32oz (or a wine bottle, which I was happy to discover) and have water-resistant pockets for your phone, keys, wallet, etc. They are available in a variety of colors, including black patent, which conveniently matches my winter coat. The straps are interchangeable and adjustable.
Recently featured on GoDaddy's Made in America docuseries, these cozy fleece mitts are for those fitness warriors who run in cold weather (or walk quickly, in my case). They are thumbless, keeping all digits together and warm, and the top flips back when you need to use your hands. Because they flip open, you can also slide them down to your wrist once your hands warm up enough (handy for this weird cold/hot weather we're having).
This article originally appeared on TrueTrae.com and was syndicated by MediaFeed.org.
More from MediaFeed:
5 best places to shop for smart devices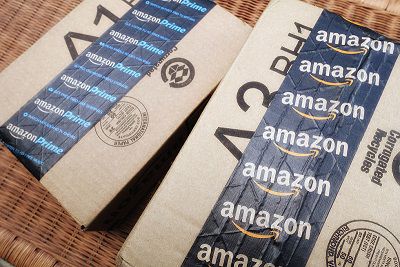 Featured Image Credit: fizkes/iStock.
AlertMe
---