More and more people are choosing to visit or even relocate to Bordeaux in southwest France, as the city has an impressive reputation for having a good balance and quality of life. Bordeaux is an elegant, large and mainly flat city with beautiful 18th century architecture at its heart. Best of all, it offers an array of interesting things to do and unique places to visit, such as the coolest wine museum you've ever seen: La Cite du Vin.
What is Bordeaux famous for?
The city's name has been linked with fine wine for generations – and not just in France, but around the world. Bordeaux is also well known for its excellent food, and the Saint Pierre district has some of the top restaurants in France.
Bordeaux is also well-placed on the map, for those who want to explore the nearby areas. Sitting on the banks of the mighty Garonne River, it is surrounded by rolling vineyards. Locally, Bordeaux has the nickname 'Port of the Moon' and its harbor is one of the best in Europe.
Moreover, Bordeaux is situated less than an hour from the Atlantic coast and the beautiful Bay of Arcachon – world famous for its oysters and other seafood. For ski enthusiasts, the city is just a two-hour drive to the slopes of the Pyrenees, one of the best winter activities in France.
Getting to and around Bordeaux
Getting around the city is easy as it is very 'cycle friendly' and has a good tram network that is being currently extended. The local residents ("Bordelais" – masculine, and "Bordelaises" – feminine) are friendly but sometimes reserved. It is helpful to know that the city enjoys a lower crime rate than many other European cities and walking around is very safe.
Bordeaux has its own international airport, just eight kilometres (five miles) from the city center and a major railway station, Gare St Jean, where the TGV can be caught to take you to Paris in just three hours. In about six hours you can be in London from Bordeaux by train.
A common question from people who are contemplating on making the move to Bordeaux or planning a visit is whether there are any interesting or unique things to do in and around Bordeaux – and the answer is a huge 'yes'.
The best unique things to do in Bordeaux, France
1. Take a romantic walk on Pont de Pierre
The river Garonne winds its way through Bordeaux and along the Gironde estuary to meet the Atlantic Ocean.  The Pont de Pierre (meaning 'Bridge of Stone') is an attractive bridge that was built in 1821 and has 17 identical archways. This was the first bridge built to span the river.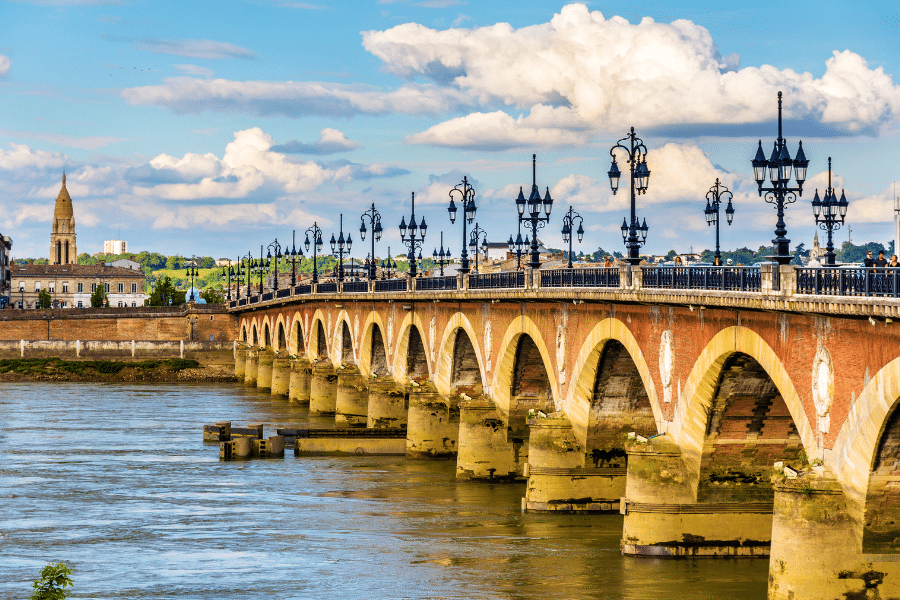 It is fun to take a stroll over the bridge at any time of day but if you are a born romantic, nothing beats a walk along Les Quais in the evening, when the bridge is lit by numerous pretty lanterns. If you would like to explore upstream, there are a number of river trips available during the summer months.
2.  Admire your reflection in the largest water mirror in the world
The Place de la Bourse is the city's much-photographed square of majestic 18th century buildings that overlook the Garonne. In the centre of the square stands the famous fountain called 'The Three Graces'.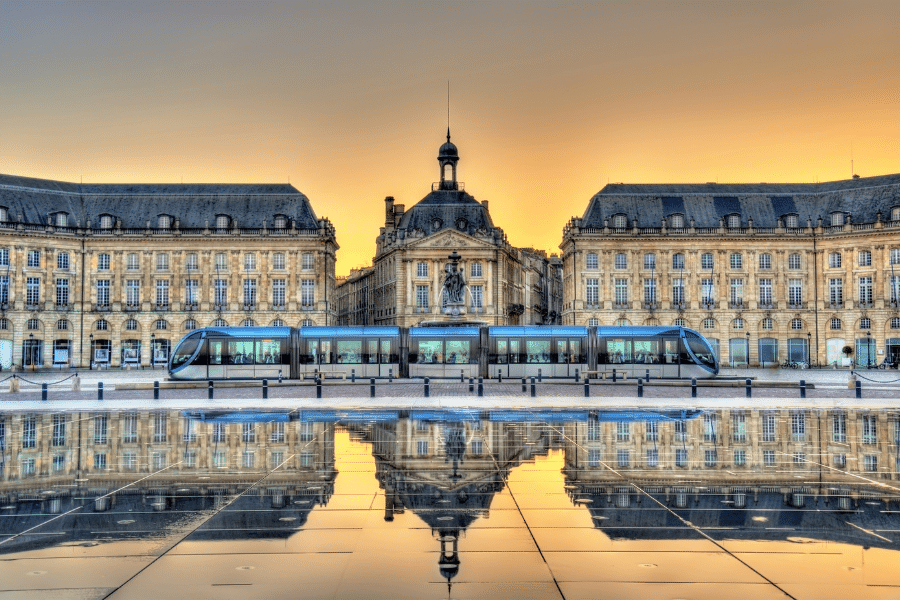 In 2006 the equally famous Le Miroir d'Eau (Water Mirror) was built, the largest reflecting pool in the world. Le Miroir d'Eau covers an area of about 37,000 square feet (3,450 square metres) and has a very thin film of water that lies on huge granite slabs.
The still water reflects perfectly the image of the beautiful buildings that stand behind it. Every 15 minutes the water turns to mist which delights young and old alike who enjoy dancing in the mist.
3. Become a wine connoisseur at Bordeaux's mind-blowing wine museum
The French tend to take their wine so seriously, that they have full-sized, themed museums dedicated to wine. In fact, Bordeaux has quite an impressive one you won't want to miss if you appreciate a good glass of red occassionally (or frequently, no judgment).
La Cité du Vin is a superb, interactive wine museum opened in 2016. The museum building is shaped like a shimmering wine decanter, a strikingly modern site in a city dominated by historic buildings.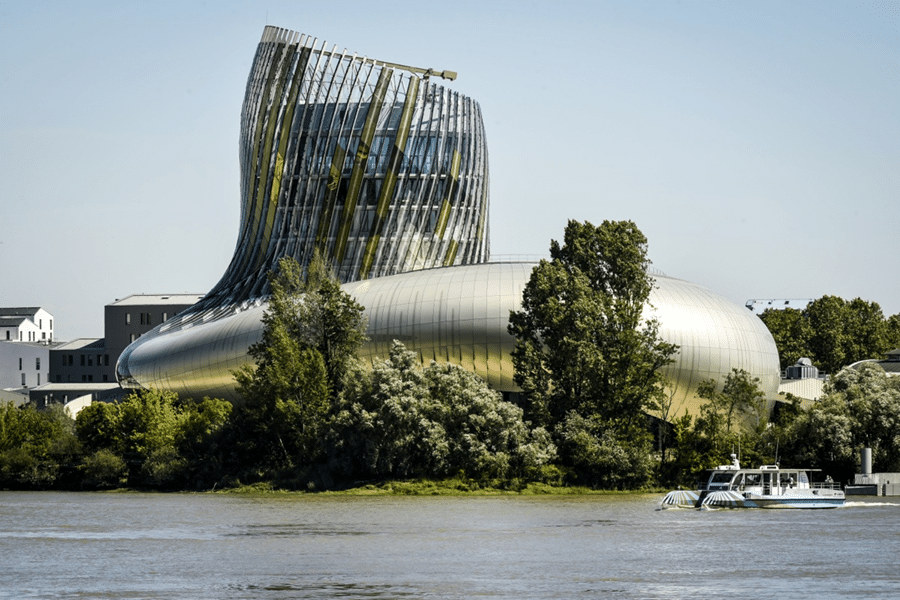 Image credit: La Cité du Vin Anaka Cite du Vin XTU Architects
Celebrating the region's history of wine, its exhibits provide great insight into the history of wine production and the latest winemaking techniques around the world through a series of 18 different themed areas and audio-visual presentations.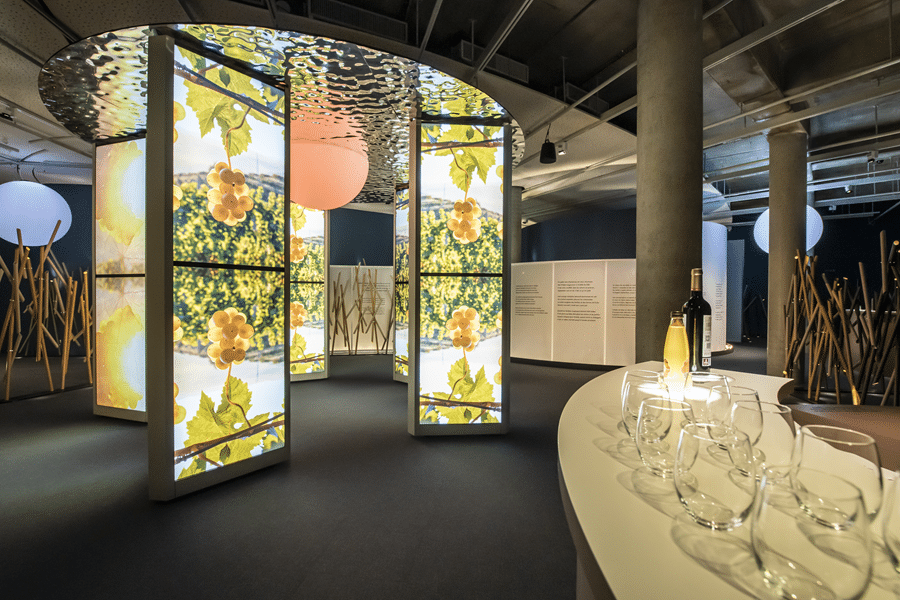 Image credit: Automne ViaSensoria.48 ® ANAKA Cite du Vin Gedeon Programmes Atelier Sylvain Roca
One of the more popular interactive displays features a variety of aromas and explains their complexity in wine production. At the end of their tour, visitors are invited to the Belvedere on the 8th floor to enjoy panoramic views of the city over a complimentary glass of wine.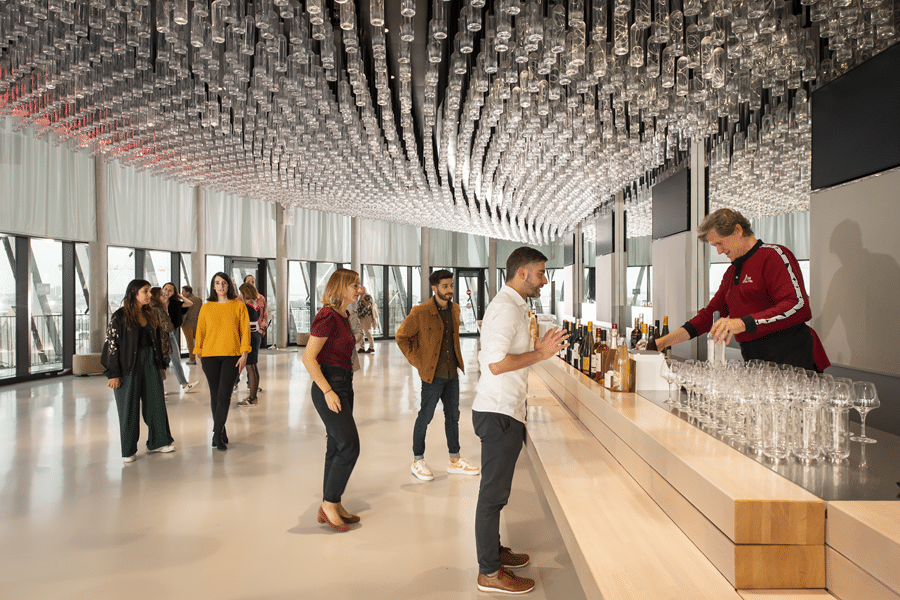 Image Credit: Belvedere 72 ® ANAKA Cité du Vin XTU Architects
For wine-themed gifts, there is a superb shop selling wines from more than 70 countries around the world. Be sure to make some room in your luggage.
Local tip: For local residents, La Cité du Vin is very much a living museum as there are regular wine seminars, wine workshops and exhibitions – many of them presented in English.
4. Get up to speed on the royal gossip at the Bordeaux Cathedral
The city's largest cathedral is a wonderful example of medieval Gothic architecture that's just as impressive as its story. The establishment has a long and colorful history and is where Eleanor of Aquitaine married the future French King, Louis VI, when she was just 13 years old.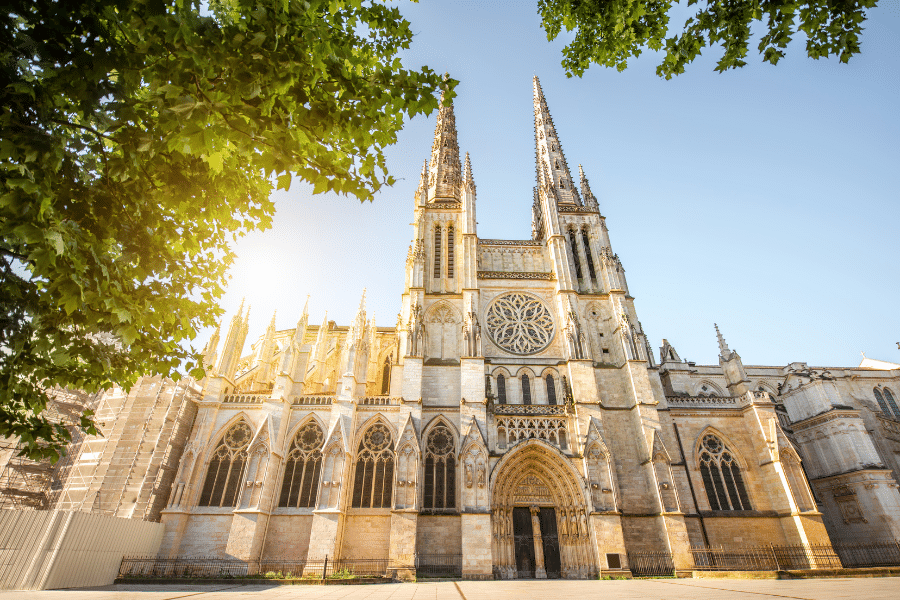 During the years of the Revolution, the Cathedral was stripped of all its wealth. Today, most of the decorations you see have been loaned by other buildings.
Local tip: You can visit the Bordeaux Cathedral (Cathédrale Saint-André) on Wednesdays and Saturdays from 2:30 pm to 5:30 pm. The entry fee is 2€, but it is free for children under 12 years of age. If you are visiting for mass, entry to the cathedral is free.
5. Shop till you drop on the longest shopping street in Europe
Rue Sainte Catherine stretches for more than 7 miles (12 kilometers) between Place de la Comedie and the Thermier Column in Place de la Victoire and is the longest shopping street in Europe.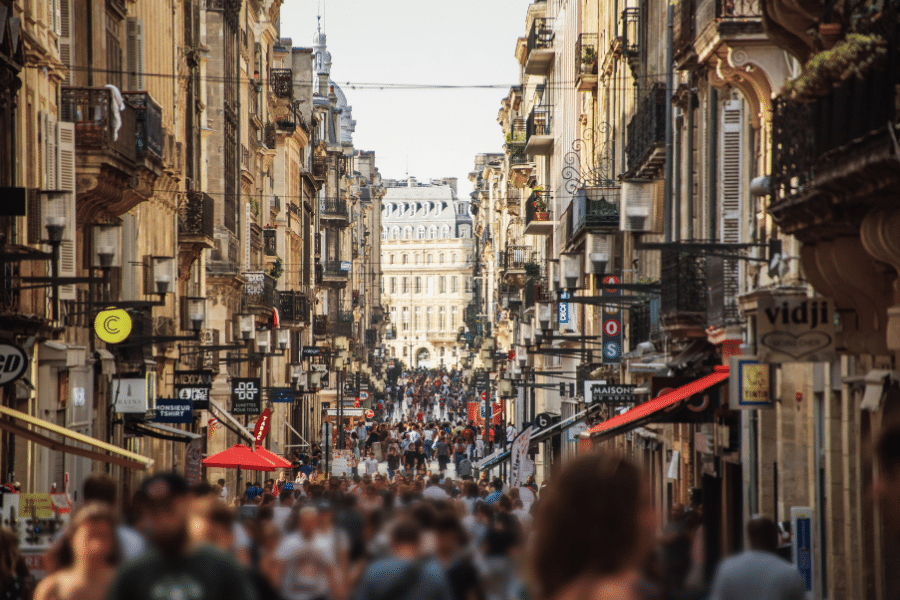 The road was once the main Roman Road in the area. Today, there are 250 shops to browse, plus a number of wine bars strung along the road for when you want to take a break and relax before you do more shopping.
Local tip: Certainly worth a stop along this shopping spree is one of the several boulangeries (bakeries) in Sainte Catherines selling the local delicacy, Canelés. These are small fluted sponges that are flavored with rum and vanilla, that are slightly crunchy when you take your first bite and soft and chewy on the inside. A couple of Canelés enjoyed in one of the coffee shops is the ideal treat at any time of the day.
6. Enjoy the popular Esplanade des Quinconces
Bordeaux has a number of attractive green spaces which are ideal for those who enjoy a stroll or simply sitting and enjoying a good read. Esplanade des Quinconces is our favorite in Bordeaux, a beautiful open space that covers 12 hectares and hosts many different events and exhibitions throughout the year.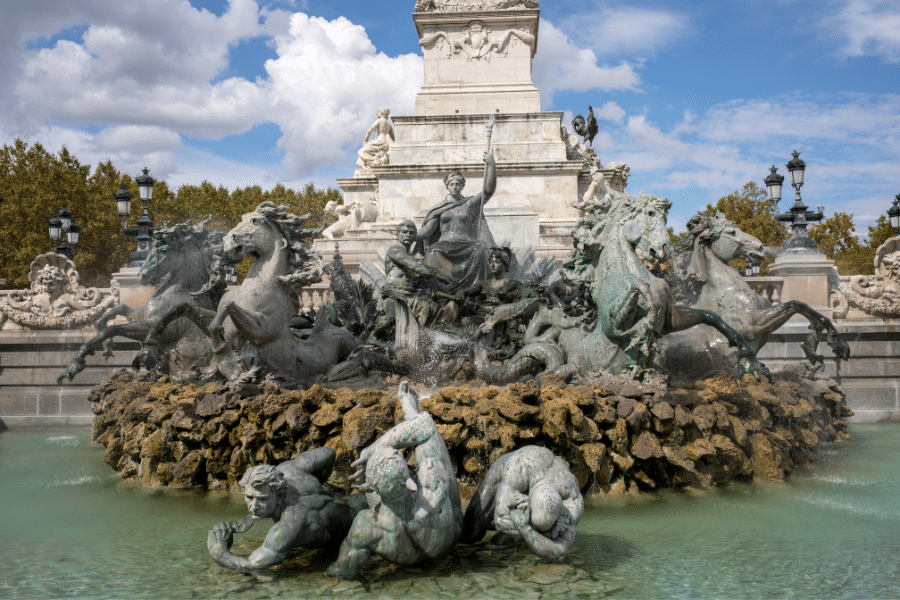 The Monument aux Girondins is really impressive with its statue of Liberty and fountains with dramatic galloping bronze horses. The fountains mark the role of the Gironde political party during the French Revolution.
7. Walk the famous pilgrims' route Camino de Santiago
A little-known fact is that the famous UNESCO-listed pilgrim route of Camino de Santiago de Compostela (also known as 'The Way of St James') winds its way through the city of Bordeaux for a distance of 5 miles or 8.4 kilometers.
There are three interesting churches situated along the route in Bordeaux that are also well-worth visiting.The 11th century Saint-Saurin Basilica is the first stop on the route. The second is the Saint André Cathedral, also constructed in the 11th century. This church has an impressive 66-meter-high belfry called 'Pey Berland' which is well worth climbing as it offers great views over the city.
The third church is the Gothic Eglise Saint-Michel, which also has a high belfry (114 metres) and a beautiful pilgrims' chapel and a 14-meter-high belfry called Fléche de Saint Michel.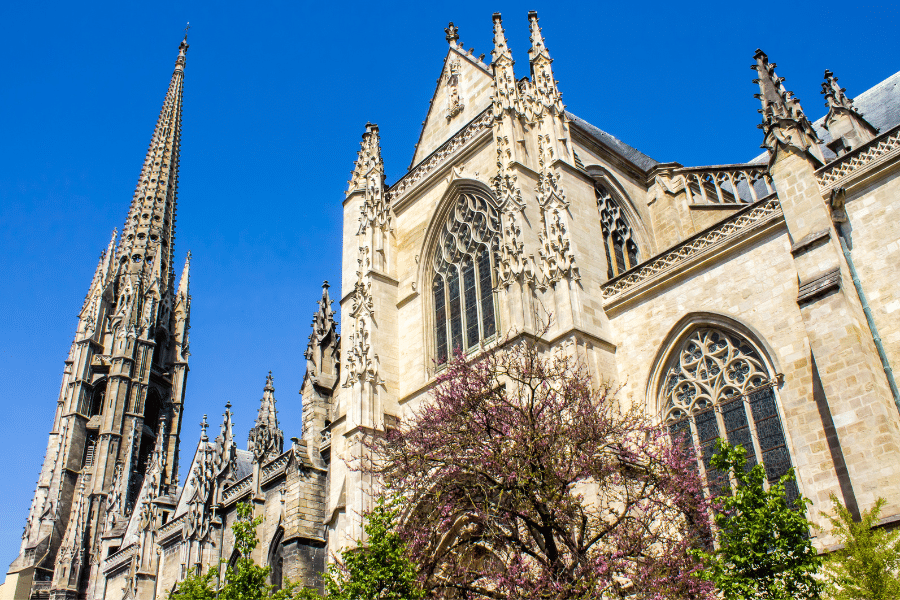 Local tip: All of the churches are floodlit at night and a great way to see them is to hop on the last tourist bus of the day.
8. Visit a unique exhibition space formerly used as a submarine garage
The river Garonne has always played an important role in Bordeaux's life. During World War II, the city was occupied by the Germans and a huge submarine 'garage' was constructed, with pens capable of housing 12 submarines.
In recent times, after years of lying abandoned, Les Bassins has been converted into an exhibition space. Our favorite exhibition is Les Bassins De Lumières, the largest digital art center in the world. Famous paintings are projected onto the walls of the submarine pens and choreographed to various well-known melodies. This exhibition changes regularly.
9. Get your Picasso fix at a more traditional museum
The Bordeaux Musée des Beaux Arts is the city's main art museum. This impressive establishment is more than 200 years old and has a fine collection of paintings that include Picasso, Renoir and a number of famous Dutch artists.
The museum has recently reopened after extensive renovation and it is a pleasure to browse around. It is open daily 11 a.m. to 6 p.m. except on Tuesday and closed on public holidays except 14 July and 15 August.
Local tip: Interestingly, a large share of the works featured are by local artists from different periods and depict Bordeaux through the centuries.
10. Explore Capucins Market
Le Marché des Capucins is one of the oldest markets in France and is the largest daily market in Bordeaux. The market is nicknamed 'The Belly of Bordeaux' as it sells such a great range of food and the stalls are piled high with fresh fruit and vegetables.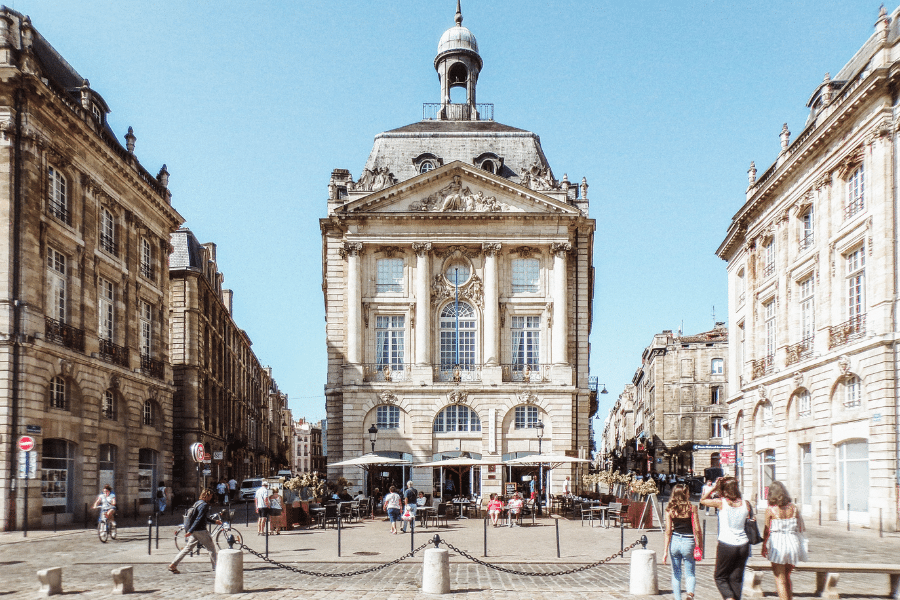 Other stands are filled with meats, cheeses, spices and fresh herbs, and some with tempting sweets too, making this market a must-have on your list of things to do in Bordeaux if you love food (and who doesn't?).
Local tip: The Capucins Market is also a great place to enjoy a reasonably priced meal. A traditional meal you can enjoy at the market for a good price is a plate of fresh Arcachon oysters served with a glass of local white wine. It is also fun to join a food tour around the market to discover all the delicacies.
Things to do in the evenings in Bordeaux
Friends and families frequently get together to enjoy a good meal with excellent local wine in the evening in Bordeaux. There is an outstanding choice of restaurants in the city, many of them situated around the city's main squares.
There are various wine bars that serve wine accompanied by plates of local cheeses and charcuterie to share. Below are some of the more interesting dining places in Bordeaux we recommend trying for a unique experience:
Le Boat is a converted three deck ferry moored on the river not far from Pont de Pierre. It is now a popular restaurant, cocktail bar and concert hall.
La Dome is another great place to spend time in Bordeaux, located in Bassins â flots (the recently revamped 'old wet docks'). La Dome is great for casual foods with a disco downstairs for a slightly older clientele (30s and over).
Bordeaux has a varied cultural scene that comes alive in the evening. The Grand Theatre was built in 1780 and is one of the city's most famous buildings, with its twelve Corinthian columns and rooftop statues. The inside is just as impressive with a huge foyer and large sweeping staircases. It is the perfect setting for a memorable performance by the National Orchestra or the National Ballet of Bordeaux.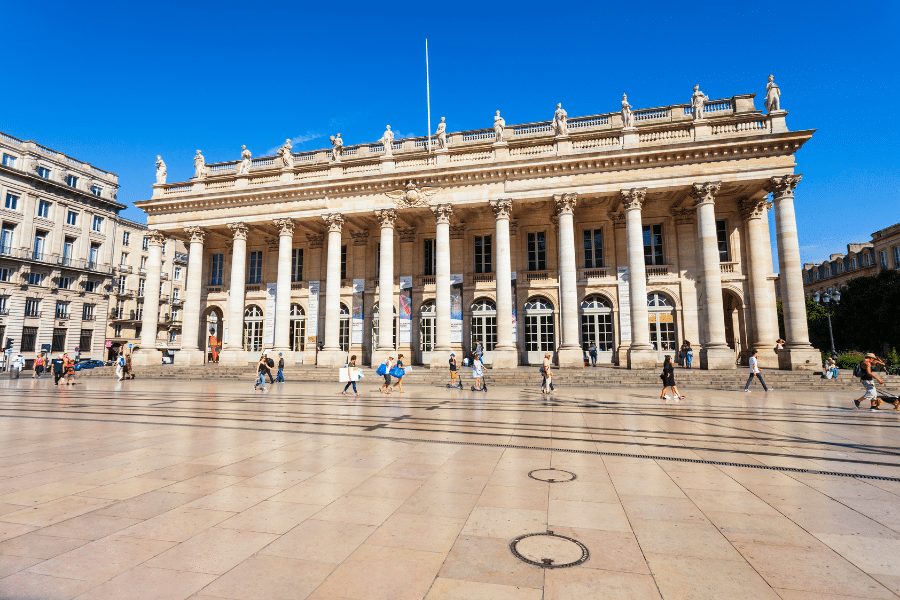 For those who enjoy good live music, Le Caillou du Jardin Botanique is not only a lovely restaurant nestling among the greenery in the botanical gardens, it also offers great jazz on Thursday and Friday nights, Baroque on Wednesdays and World Music on Saturday nights. A number of other bars also feature regular live music performances and jamming sessions.
In addition to having plenty to see and do in Bordeaux, there are so many places to visit that are within easy reach of the city. The vineyards of St Emilion and the world-famous Medoc region can both be reached within two hours.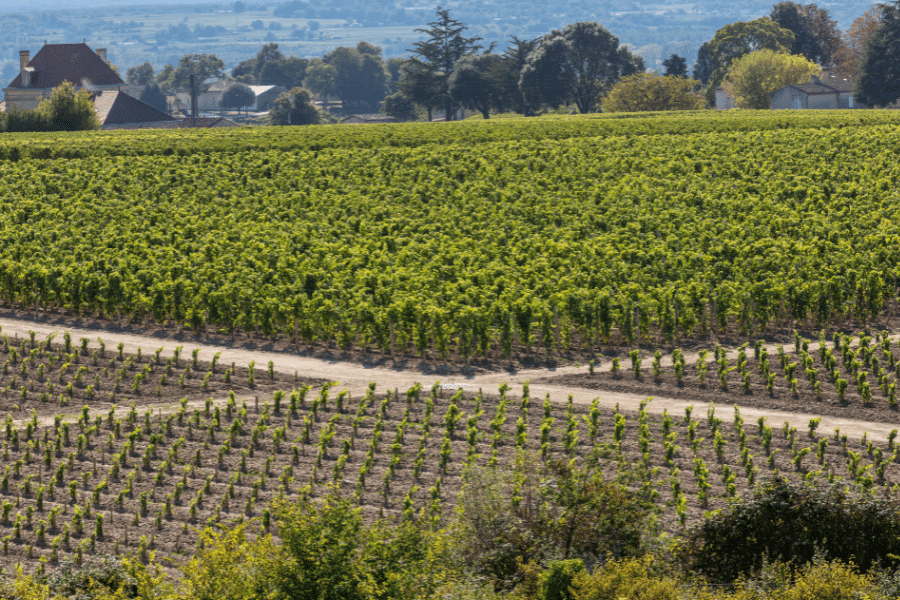 Also within a short distance from Bordeaux are the Atlantic Coast at Arcachon and further south on the coast you can reach the famous Biarritz.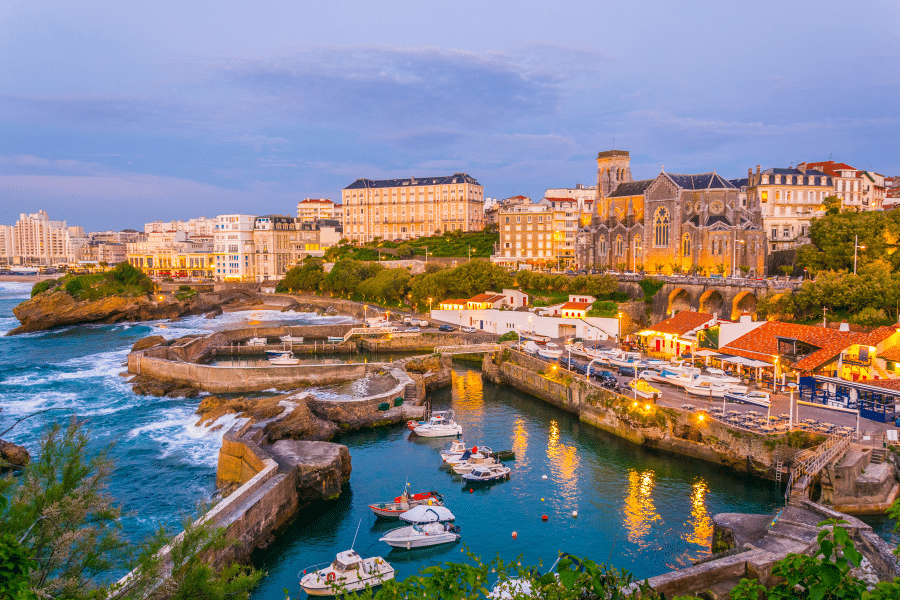 Skiing in the Pyrenees is definitely possible when you live in Bordeaux as well as summer walking in the mountains and exploring northern Spain.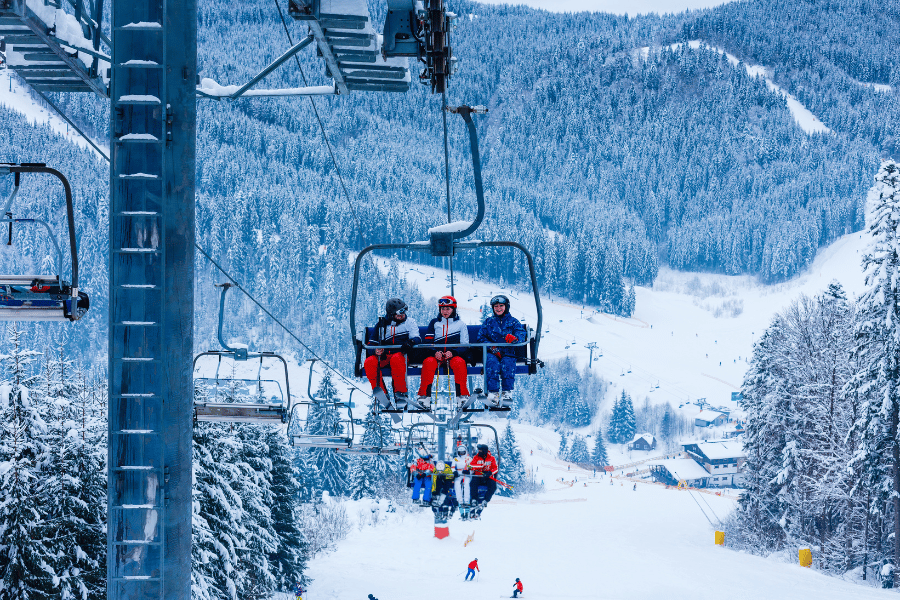 With a large and well-integrated English-speaking expat community, Bordeaux certainly has plenty to offer for those seeking a new home.
This article originally appeared on MyDolceCasa and was syndicated by MediaFeed.
More from MediaFeed:
Like MediaFeed's content? Be sure to follow us.

AlertMe