This year's Mardi Gras parades and public celebrations in New Orleans have been canceled or are being celebrated virtually due to the COVID-19 pandemic. As disappointing as that may be for some revelers, it isn't the first time it's happened. In fact, since 1857, Mardi Gras festivities have been canceled on 13 different occasions for various reasons like wars, pandemics and even a police union strike.
Still, New Orleanians are finding plenty of creative ways to celebrate this year (it's Yardi Gras, y'all!), and you can, too.
First, you can mix up some classic New Orleans cocktails to set the mood. You can dress up in your favorite Krewe colors, bake a King cake, or even throw a Mardi Gras-themed Zoom happy hour. And you can also enjoy this trip down memory lane with a brief history of how Mardi Gras began, how it's changed over the years, and a slideshow of historic photos from collections held by, and published with permission from, the New Orleans Public Library.
So don your beads, crank up your Zydeco tunes and let the good times roll!
The history of Mardi Gras
The origins of Mardi Gras are traceable to medieval Europe. These traditional revelries were brought to the Americas by French settlers very early on, with "Boeuf Gras," or fatted calf celebrations.
In fact, according to NewOrleans.com, French-Canadian explorer Jean Baptiste Le Moyne Sieur de Bienville arrived on March 2, 1699, at a plot of ground 60 miles directly south of New Orleans, and named it "Pointe du Mardi Gras" when his men realized it was the eve of the festive holiday.
The first Mardi Gras in colonial America wasn't in New Orleans
That may make you think the first offical Mardi Gras celebration took place at or near New Orleans, but it didn't. Bienville also was responsible for establishing "Fort Louis de la Louisiane" (modern-day Mobile, Alabama) in 1702. The next year, in 1703, the renamed Fort Louis de la Mobile celebrated America's very first Mardi Gras.
The beginning of Krewes
The following year, Mobile established a secret society (Masque de la Mobile), similar to today's Mardi Gras krewes. In 1710, that was replaced with the "Boeuf Gras Society," which paraded from 1711 through 1861. The procession was held with a huge bull's head pushed along on wheels by 16 men. Later, Rex would parade with an actual bull, draped in white and signaling the coming Lenten meat fast. This occurred on Fat Tuesday.
New Orleans was established by Bienville in 1718 and, by the 1730s, Mardi Gras celebrations were in full swing each year, but not with the parades we know today. It wasn't until 1781 that a reference to Mardi Gras "Carnival" appeared in a report to the Spanish colonial governing body. That year, the Perseverance Benevolent & Mutual Aid Association was the first of hundreds of clubs and carnival organizations formed in New Orleans.
How 'throws' began
In 1870, Mardi Gras' second Krewe, the Twelfth Night Revelers, was formed. This is also the first recorded account of Mardi Gras "throws" when krewe members toss trinkets and treats into crowds of onlookers.
Mardi Gras Carnival's official colors
In 1872, a group of businessmen invented a King of Carnival, Rex, to preside over the first daytime parade. To honor the visiting Russian Grand Duke Alexis Romanoff, the businessmen introduced Romanoff's family colors of purple, green and gold as Carnival's official colors. Purple stands for justice; gold for power; and green for faith.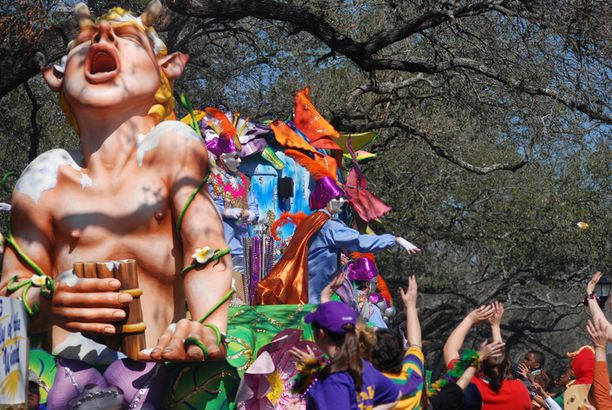 'If ever I cease to love' theme
This was also the Mardi Gras season that Carnival's improbable anthem, "If Ever I Cease to Love," was cemented, due in part to the Duke's fondness for the tune.
It was the following year that parade floats began to be constructed in New Orleans, and in 1875, Gov. Henry Warmoth made Fat Tuesday a legal holiday in Louisiana. It remains so today.
Mardi Gras in historic photos
Krewe of Rex on St. Charles Ave. in 1901
An undated photo of the King of Rex in the Rex Parade
A Mardi Gras crowd in 1930
Carnival Krewe members toss 'throws' to the crowd, circa 1960s
Mardi Gras parade, circa 19th century
The King's float in an unidentified parade, 1968
A colored black-and-white photo of crowds on Bourbon Street during Carnival, circa 1960s
A neighborhood group on Milan Street, circa 1930
A toddler admiring her Mardi Gras beads, 1918
Spectators wait for the parade at The Chess Club at Canal and Baronne, 1908
'Flambeaux' during a night parade, 1959
Krewe of Iris float, 1959
Rex floats in their den, 1901
Undated photo of a Carnival Group riding on a National Biscuit Company cart
The Atlanteans Ball, 1940
This article was produced and syndicated by MediaFeed.org.
Image Credit: wundervisuals
AlertMe
---