While California's wine country is a popular tourist destination for parents, many people do not realize that there are dozens of family-friendly California wineries that provide special activities and accommodations for youngsters. So while adults sip the newest vintages, kids may have fun sampling grape juice, romping in play areas, interacting with farm animals and playing outdoor games on their own vineyard "course."
The Wine Institute advises that parents contact ahead or check the winery's website to ensure that children are welcome before going on a fun family excursion in California's wine country. Some don't allow visitors under the age of 21, owing to liability concerns or personal preferences. Children who have been granted permission will be able to go with you to the winery and enjoy special activities at some wineries.
2 / 37
gustavofrazao / istockphoto
What are the Wine Regions in California?
California's major wine regions are the North Coast, Central Coast, Inland Valleys, Sierra Foothills and Southern California. Each of their areas has a wide range of AVAs (American Viticultural Areas) and vineyards.
3 / 37
Latypova / iStock
What is the Wine Institute?
The Wine Institute is a public policy advocacy organization for 1,000 California wineries and associated enterprises that works to promote environmental protection in the wine industry.
The organization aims to create sustainable wine growing and collaborates with the Visit California tourism organization to promote California's wine and food products, all while also touting the state as a top travel destination. The group also helps benefit the economic and environmental health of the state. Wine Institute runs an export program for California Wines, which accounts for 95% of U.S. wine exports.
4 / 37
DepositPhotos.com
A List of Family-Friendly California Wineries
The following list of family-friendly California wineries provides a good starting point for planning a fun day trip or a weekend getaway with your entire brood.
5 / 37
AcornWinery.com
1. ACORN Winery/ Alegría Vineyards, Healdsburg
While their parents sample the wine, children can explore the vineyards nearby, do a guided vineyard walk and try grapes during harvest.
6 / 37
AVWine.com
2. Alexander Valley Vineyards, Healdsburg
The winery offers a variety of activities to keep the youngsters occupied. Families may participate in wine and cave tours with their parents, visit the vineyards, enjoy the picnic area and meet the winery dogs. Children can do a seek-and-find puzzle at the winery while adults sample wine.
7 / 37
AOWinery.com
3. Alpha Omega, St. Helena
The winery offers crayons and a coloring book, Exploring the Napa Valley with Traveler Teddies, which is suitable for children.
8 / 37
AncientPeaks.com
4. Ancient Peaks Winery, Santa Margarita
The sky is the limit when it comes to activities at Ancient Peaks Winery. One of our favorites is a zipline tour over the vines on the winery's Santa Margarita Ranch (tandem flights are available for children weighing 30-100 pounds with an adult). After completing the adventure course, families may dine at Ancient Peaks Cafe, where adults can also enjoy wine pairings.
9 / 37
bellawinecaves / Instagram
5. Bella Vineyards & Wine Caves, Healdsburg
The spectacular views of the region's wineries and vineyards can be seen from aboard a vintage Pinzgauer truck that transports you to the top of Lily Hill, where parents may sample wine and children can watch hawks soar overhead. Families can also explore the wine caves and have a picnic on the lawns.
10 / 37
BrassfieldEstate.com
6. Brassfield Estate Winery, Clearlake Oaks
Families are invited to play bocce ball and cornhole at the winery's picnic area.
11 / 37
BuenaVistaWinery.com
7. Buena Vista Winery, Sonoma
The Historic Wine Museum, which includes a fun multimedia presentation, is one of the attractions along with wine cellars and tours led by historical actors. There's also a picnic area and hedge maze to explore.
12 / 37
CaptainVineyards.com
8. Captain Vineyards, Moraga
Families may book a farm stay, have a picnic or tour the winery and learn more about the wine production process. Kids are welcome to assist in the grape crushing during harvest.
13 / 37
CastelloDiamorosa.com
9. Castello di Amorosa, Calistoga
You'll tour a huge replica of an Italian castle with a prison, then meet the estate peacocks and farm animals. Kids can taste grape juice and have their own play area.
14 / 37
chacewaterwine / Instagram
10. Chasewater Winery & Olive Mill, Kelseyville
Families may spend the day playing bocce ball, picnicking on the lawn and sampling the estate's olive oil at this pup-friendly winery.
15 / 37
clinecellars / Instagram
11. Cline Cellars, Sonoma
The beautiful grounds include vast lawns, ponds stocked with carp and turtles, vintage railway cars and Sicilian donkeys named Fancy and Pudding.
16 / 37
DeLoachVineyards.com
12. DeLoach Vineyards, Santa Rosa
The winery's educational, family-friendly excursions cover DeLoach's history, production processes and farming methods. Picnics are welcome in the winery grove for families.
17 / 37
domaine_artefact / Instagram
13. Domaine Artefact, Escondido
Pack a lunch and play cornhole and big Jenga or go on an animal visit with the farm animals.
18 / 37
FentonHerriott.com
14. Fenton Herriott Vineyards, Placerville
Picnic tables and two full-sized bocce ball courts provide a lovely setting for a picnic.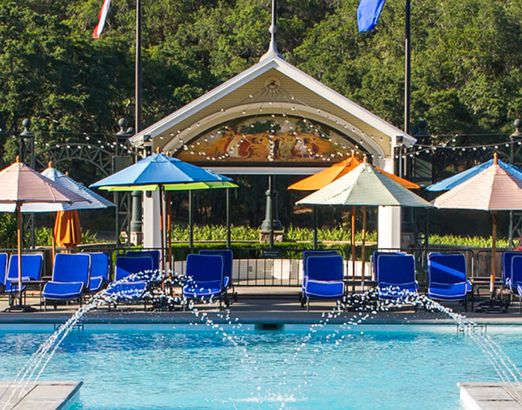 19 / 37
TheFamilyCoppola.com
15. Francis Ford Coppola Winery, Geyserville
A trip to Coppola Estate allows you to get acquainted with the history and present of one of America's most famous filmmakers, Francis Ford Coppola. The gardens, which are filled with sculptures, fountains, ponds and walkways designed for strolling or jogging, surrounds two huge swimming pools. A bocce ball court is also available. A children's library, a gallery of mementoes from Coppola's films, board games and more will appeal to families.
20 / 37
frogsleap / Instagram
16. Frog's Leap, Rutherford
Frog's Leap Winery in Rutherford, California, is a family-friendly location with a barn, farm animals, and fruit and vegetable gardens. The winery occasionally hosts certain special children's tastings.
21 / 37
FFVWines.com
17. Fults Family Vineyards, Lower Lake
Families are welcome to enjoy the golf range at this family-friendly winery and picnic tables are provided.
22 / 37
SonomaCounty.com
18. Furthermore Wines, Sebastopol
For a day of bocce ball and picnic, families can bring their children and dogs.
23 / 37
BartonFamilyWines.com
19. Grey Wolf Vineyards & Cellars, Paso Robles
Parents can enjoy a glass or bottle of wine while their children play big Connect Four, huge Jenga and cornhole. Barton's Kitchen Window serves family-friendly fare.
24 / 37
heritage_oak_winery / Instagram
20. Heritage Oak Winery, Acampo
Picnics, hiking down to the river, kayaking and occasional guided bird excursions are all part of family fun outside.
25 / 37
hollyshill / Instagram
21. Holly's Hill Vineyard, Pleasant Valley
For kid's and family fun, the winery offers an outdoor toy box and family-friendly camping through Harvest Hosts.
26 / 37
honigwine / Instagram
22. Honig Vineyard & Winery, Rutherford
The winery has a dog-friendly atmosphere, with juice boxes, Goldfish crackers and coloring books available for $10 per child.
27 / 37
IronHubWines.com
23. Iron Hub Winery and Vineyards, Plymouth
At this family-friendly California winery, children's activities include cornhole, huge Jenga, coloring books and enormous dominoes while parents enjoy a leisurely patio tasting.
28 / 37
kjwines / Instagram
24. Kendall-Jackson Wine Estate, Fulton
The kids may play bocce ball, picnic and explore the huge vegetable garden, which includes a chicken coop, bat boxes and a beehive.
29 / 37
LandmarkWine.com
25. Landmark Vineyards, Kenwood
The estate has a large lawn and picnic area, as well as a bocce court.
30 / 37
napacellarswine / Instagram
26. Napa Cellars, St. Helena
Bocce ball, ladder ball and cornhole are available for family enjoyment. A picnic area with grills is also available at the winery, as well as music on select weekends.
31 / 37
Navarrowine.com
27. Navarro Vineyards, Philo
Navarro offers grape juice tastings of Pinot Noir and Gewürztraminer for children and family-friendly winery tours and picnics are available.
32 / 37
Raymond Vineyards / Facebook
28. Raymond Vineyards, St. Helena
The Theater of Nature, located outdoors, demonstrates how all of nature's "actors," including hens and goats, contribute to the production of high-quality wine.
33 / 37
Retzlaffvineyards.com
29. Retzlaff Vineyards, Livermore
A beautiful picnic area is available for visitors to enjoy. There are also two huge toy tractors for youngsters to play on the lawn.
34 / 37
ShannonFamilyofWines.com
30. Shannon Ridge Winery, Lower Lake
A family-friendly winery with dog-friendly vineyard walks, bocce ball and picnic tables is located here.
35 / 37
sixsigmaranch / Instagram
31. Six Sigma Ranch and Winery, Lower Lake
Topper, the winery's potbelly pig, loves to have his ears rubbed. Kids can help feed the animals on select Saturdays. The grounds also include vast picnic areas, cornhole and pathways for hiking and mountain biking.
36 / 37
sterlingvineyards / Instagram
32. Sterling Vineyards, Calistoga
Gondola ride up the mountain to the winery, where families are welcome to go on a self-led tour. On arrival, children are given snacks, juice and a coloring book package.
37 / 37
ZacaMesa.com
33. Zaca Mesa Winery, Los Olivos
Families are welcome to come with their dogs and enjoy a picnic or play a game on the enormous chessboard.
Related:
This article originally appeared on KarpiakCaravan.com and was syndicated by MediaFeed.org.
AlertMe