One of my best friends is a minister; Kory is in his 40s and has never tasted alcohol before. But when he decided to enter a chili contest a few years ago, he reached out with a question: "What kind of beer do you use to make your chili?"
Yeah, I make pretty good chili. And to me, beer is an essential ingredient. What I've found over the years is that different styles of beers can add different flavors and textures. What I do is just choose the beer I want, pour in a twelve ounce bottle once all the other ingredients are there and the chili is ready to simmer.
Oh, and be aware that many recipes just say "one 12-ounce bottles of beer." Some even say absurd things like "one bottle of beer (such as Budweiser)." These are the ones who aren't looking deeper for an added flavor layer. I guess that's no crime, but if you're going to make chili, why not go for it?
Red Ale
I don't remember what specific beer I recommended to Kory back then (and I always wondered what he did with the other five bottles in the six-pack), but at the time I was heavily into making what I called "Red Ale Chili."
The reason I was so into it is that red ale was sort of my gateway beer back in the 1990s, starting with a beer by Bluegrass Brewing Company in my hometown of Louisville, Ky. (This was actually a German-style altbier, but it did the trick.)
But the maltiness of a red ale, for me, adds just a bit of sweetness to the mix, a nice little hint of something that isn't spice—and my chili has plenty of spice. The times I made this beer I used things like Sam Adams Light (do they still make that stuff?) and Killian's Irish Red. Once, I even used a Murphy's Irish Red. With the proliferation of craft beer now, the possibilities are insane.
For instance, imagine putting something like Port o' Points Brewing Company's O'Dell's Irish Red, which took home bronze in the 2019 NY International Beer Competition, into a bowl of chili, with all its caramel malt character and robust body. Now you're talking.
A classic English-style pale ale, like the one from Schafly, works nicely here, too.
IPA
As time went by, my taste buds moved toward American Pale Ales and then India Pale Ales, so I started experimenting with those as an ingredient in my chili. What I found was that the hop bitterness enhances the flavor of the peppers, while adding a distinctive bite to the mixture.
I would be hesitant to use a really big IPA, like an 2XIPA or an imperial, but a good 50 to 75 IBU IPA has worked for me in the past. Think Sierra Nevada Pale Ale, or something a tad milder like Montauk Brewing Company's Wave Chaser IPA (silver medal, 2019 NY International Beer Competition), which includes four hops and comes in at 60 IBU. In fact, pretty much any American-style IPA, from a Cigar City Jai Alai (delicious!) to a Bell's Two Hearted to a Gilman Brewing Co. Quarterpanel IPA (silver medal, 2019 NYIBC), would be a good one to start with.
I've begun using IPAs in my chili primarily because I do tend to make it so spicy. Hops and spice go together, so mixing them can help enhance both. Hey, why else would people drink beer with hot wings?
And if you start to like IPA chili, well, then you can consider graduating into the "big" IPAs. Let your taste buds be your guide.
Stout
Stout is a perfect base ingredient for stew, so it's also a natural ingredient for chili. Hey, chili is a kind of stew, right? And we know that beef goes well with stouts.
You can go for the rich malts of a time-honored favorite like Guinness, but imagine the possibilities. We talked about the addition of sweetness to a spicy pot of chili. I found more than one recipe online that called for Samuel Adams Cream Stout as the beer of choice, which is intriguing to consider.
Some people add a touch of cocoa powder to their recipe, so (good lord!) what would Sibling Revelry Brewing Barrel Aged Imperial Cosmic Cocoa (gold medal, 2019 NYIBC) taste like in chili? It's a question worth asking if you can bring yourself to part with a can of it. (Pro tip: Buy a six-pack so you'll have five left to drink with your chili.)
Other Styles To Try
As I said above, let your taste buds be your guide. Use your favorite chili recipe (I always use my own, but there are a bajillion of them on the InterWeb) and just experiment with each batch. What would chili taste like with a strong ale, for instance? Something like a Lightning Brewery Old Tempestuous, perhaps? Or a bourbon-barrel-aged beer like, Innis & Gunn Bourbon Barrel Porter, or Kentucky Bourbon Barrel Ale? (Hey, we don't mess around here in Bourbon Country!)
And there seem to be more and more pepper beers rising to the surface these days, beers that pair hops with pepper spice from the get-go. How could you go wrong with one of those?
The sky is the limit, and your chili palette is blank. And once you find the beer that's right for your chili, you'll know what to do with the remaining five bottles. To get you started, here's a recipe from epicurious.com for that Sam Adams Cream Stout chili. Enjoy.
Beef And Beer Chili
1 1/2 tablespoons ground cumin

1 tablespoon ground coriander

5 pounds ground chuck

2 tablespoons canola oil

2 1/2 pounds onions, coarsely chopped

1 1/2 pounds red bell peppers, seeded, cut into 1/2-inch pieces

1 1/2 pounds yellow bell peppers, seeded, cut into 1/2-inch pieces

2 large jalapeño chiles with seeds, chopped (about 1/3 cup)

7 tablespoons chili powder

2 teaspoons (packed) minced canned chipotle chiles in adobo sauce*

2 28-ounce cans crushed tomatoes with added puree

2 15-ounce cans kidney beans, drained

1 bottle dark beer (such as Sam Adams Cream Stout)

Sour cream

Chopped green onions

Coarsely grated extra-sharp cheddar cheese
Preparation
Toast cumin and coriander in skillet over medium heat until darker and beginning to smoke, about 4 minutes. Cool.
Sauté beef in heavy large pot over medium-high heat until no longer pink, breaking up with spoon, about 8 minutes. Heat oil in large skillet over medium-high heat. Add onions, all bell peppers, and jalapeños. Sauté until vegetables begin to soften, about 15 minutes. Add mixture to pot with meat. Mix in toasted spices, chili powder, and chipotle chiles. Add crushed tomatoes, beans, and beer. Bring chili to boil, stirring occasionally. Reduce heat and simmer 20 minutes, stirring often. Season with salt and pepper. DO AHEAD Can be made ahead. Cool slightly. Refrigerate uncovered until cold, then cover and keep refrigerated up to 2 days (or freeze up to 1 month). Rewarm over medium-low heat.
Ladle chili into bowls. Serve with sour cream, green onions, and cheese.
This article originally appeared on AlcoholProfessor.com and was syndicated by MediaFeed.org.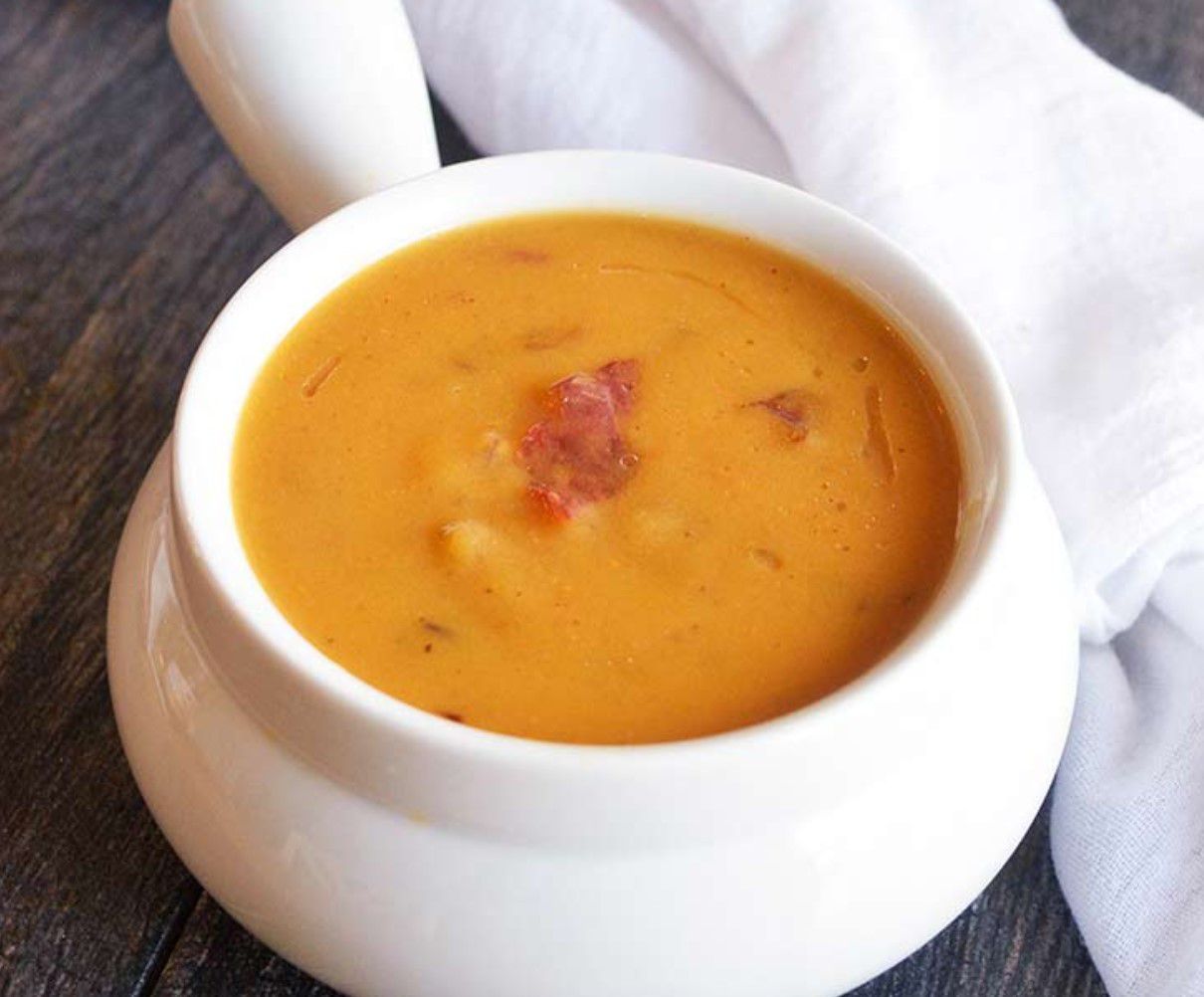 Featured Image Credit: bhofack2 / iStock.
AlertMe