Assisted living that allows pets
Many seniors worry that they may not be able to bring their dog or cat with them if they move to an assisted living community. However, most senior communities allow pets.
As of 2023, the majority of communities within A Place for Mom's partner network are pet-friendly:[01]
70.6% of assisted living communities
68.8% of memory care communities
90.6% of independent living communities
79.1% of senior apartments
A Place for Mom has multiple staff members with experience in pet-friendly assisted living, and we've interviewed two for this article. Annmarie Streff routinely offers advice to families as a Senior Living Advisor. She's also a certified dog trainer and the owner of Canine Curriculum, a pet therapy business that works with seniors in assisted living. Niki Gewirtz worked in a number of assisted living communities before joining A Place for Mom to train Senior Living Advisors.
Streff notes that one of the biggest misconceptions about assisted living communities is that pets aren't welcome. Seniors are pleasantly surprised to find that this isn't the case.
Gewirtz experienced firsthand how important pets are when she helped her own mother find a retirement community.
"Her non-negotiable was finding a place that allowed her to keep her dog. We think of pets as more of want, but seniors see them as a need," Gewirtz says.
It's common for communities to have rules regarding pet ownership to help ensure the safety and wellness of residents and staff. Here are some common rules:
Undomesticated or exotic animals like certain birds or snakes aren't allowed.
The pet can't be a danger to any person in the community.
Communities may impose breed or weight restrictions.
Residents must take care of the pet themselves or make care arrangements.
Residents may need to declare a designated pet owner in case they can no longer care for their pet.
Communities generally require proof of pet vaccinations or shots to conform with Board of Health requirements.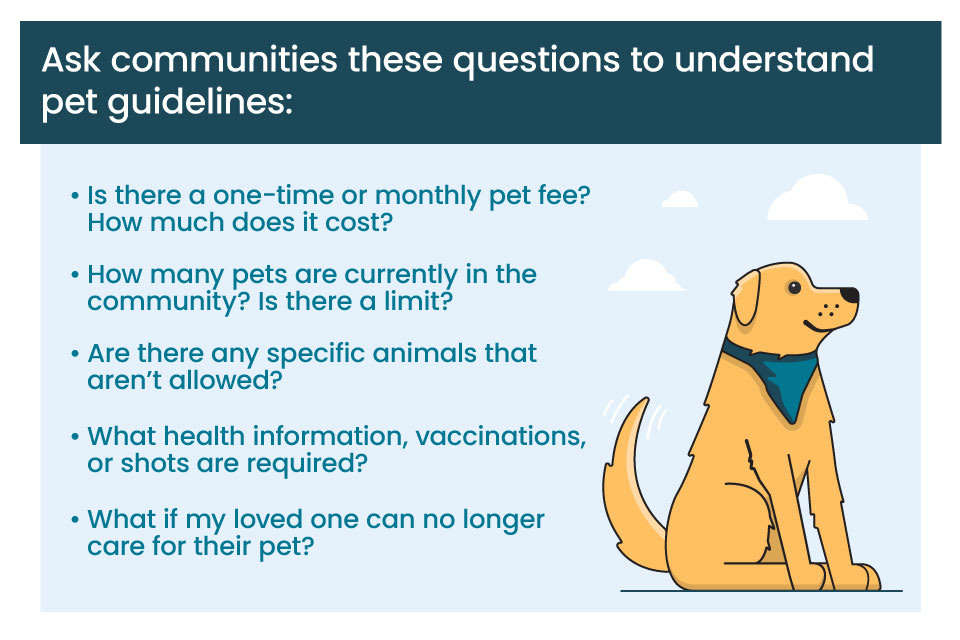 Gewirtz notes that communities will also likely have rules about where pets can go. They may be restricted in dining and common areas or required to be on a leash.
"Unless it's a registered service dog, animals wouldn't be allowed in the dining room. You also wouldn't see a pet living in a companion room, [which has] two unrelated residents in the same apartment, unless both residents agree to have the pet there," Gewirtz says.
When touring or researching communities, ask the following questions to understand pet guidelines:
Is there a one-time or monthly pet fee? How much is it?
Are there breed restrictions or size requirements?
How many pets are currently in the community? Is there a limit?
Are there any specific animals that aren't allowed?
What kinds of health information, vaccinations, or shots are required?
Does the community offer pet care services?
What happens if my loved one can no longer care for their pet?
The benefits of pet ownership
Pet owners often have a special bond with their dog or cat, but there are other benefits to pet ownership as well. For many seniors, owning a pet can improve their quality of life. Research conducted at DePaul University shows that seniors with pets experienced:[02]
An increase in physical activity
An increase in social interactions
A decrease in loneliness
The research notes that dog owners, in particular, experienced more physical activity that came with caring for the dog, including taking it out for walks. Leaving their private apartment with a pet offered more opportunities for social interactions with people they ran into while out and about.
For seniors in an assisted living community, owning a pet can help them get to know others in the community. They may feel encouraged to seek out other pet owners, or their pet may bring them extra attention.
Do assisted living communities provide pet care services?
Communities have different levels of involvement when it comes to pets and their care. While some assist with caring for residents' pets, others may call family members if the resident needs additional pet care or if the pet becomes ill.
Your loved one will likely need to acknowledge a pet care policy when they move in. In Gewirtz's experience, these policies usually state that the resident is responsible for providing care and cleaning after the pet, or arranging for additional assistance.
Some communities provide personalized pet care, typically for an extra fee. Senior living staff may schedule a time to meet the pet, learn about their needs as well as the owner's, and develop a care plan. This can include a seasonal plan to assist seniors in bad or snowy weather.
Pet-friendly senior living communities that don't offer pet care may work with outside vendors to facilitate certain services, including the following:
Dog walking
Grooming
Feeding
Group pet activities such as pet happy hours
Keep in mind that not all communities offer assistance with pet care for their residents. During your search, check with the community director to make sure they provide the assistance your loved one and their pet may need.
Finding pet-friendly assisted living
Our Senior Living Advisors can help you find assisted living options in your area that will embrace your elderly parent and their furry companion. Not only will our advisors get you in contact with pet-friendly assisted living communities, but they can also tell you which communities provide pet care, which communities offer pet-friendly programming and activities, and more.
What to consider before bringing a pet to senior living
Before your mom or dad makes the transition to assisted living with dogs, cats, and other pets, Streff recommends planning ahead and asking yourself the following questions.
Is the pet well-behaved or trained?
Does the pet have a history of biting or jumping on people? Be mindful that an aggressive or loud pet may lead to complaints, fines, or eviction. Some situations may make it difficult for a pet to live safely alongside seniors in an assisted living community.
"Dogs with separation anxiety can be problematic if they're barking or crying when the senior leaves the apartment, or if it's territorial and barks or nips at people walking by or coming in the apartment," Gewirtz says.
As noted earlier, Gewirtz points out that communities will usually require dogs to be on a leash when in hallways or other common areas of the community. Dogs that pull on their leashes can be harder for seniors to handle.
For these reasons — and with dogs in particular — Streff recommends obtaining a training certification called Canine Good Citizen (CGC) for your pet.
"The dog is tested by a certified professional," Streff explains. "The test shows that the dog can behave well in public and has good manners. It can be good leverage when looking at communities."
What happens if my elderly parent's health declines?
It's important to plan for the future, Streff says. Be realistic about the responsibility of caring for a pet, and have a plan in case your parent can no longer properly care for their pet. Some seniors may want to set up a pet trust. This allows them to designate a person to care for their pet, and they can set aside funds in the trust for their pet's care.
Gewirtz notes that many communities may ask new residents to fill out paperwork that states who will be responsible for their pet if they can't care for it anymore. This information is often important for communities to have if a resident needs to go to the hospital or rehab for an extended stay.
"If a family isn't able to adopt the pet themselves, that's something that would be addressed at move in," Gewirtz says. "That way the conversation and plans are set early on, rather than waiting for a crisis to occur. Most communities are very proactive about that. If the worst case scenario happens where the family hasn't made arrangements, there are various animal rescue organizations they can reach out to for help."
While it would probably be difficult for your loved one to give their pet to someone else, they may still be able to see their furry friend if it's adopted by a friend or family member.
"Keep in mind that most communities allow visiting pets, so if mom can't take care of the dog, her dog can visit any time!" Gewirtz notes.
Pet therapy in senior living: Benefits without responsibility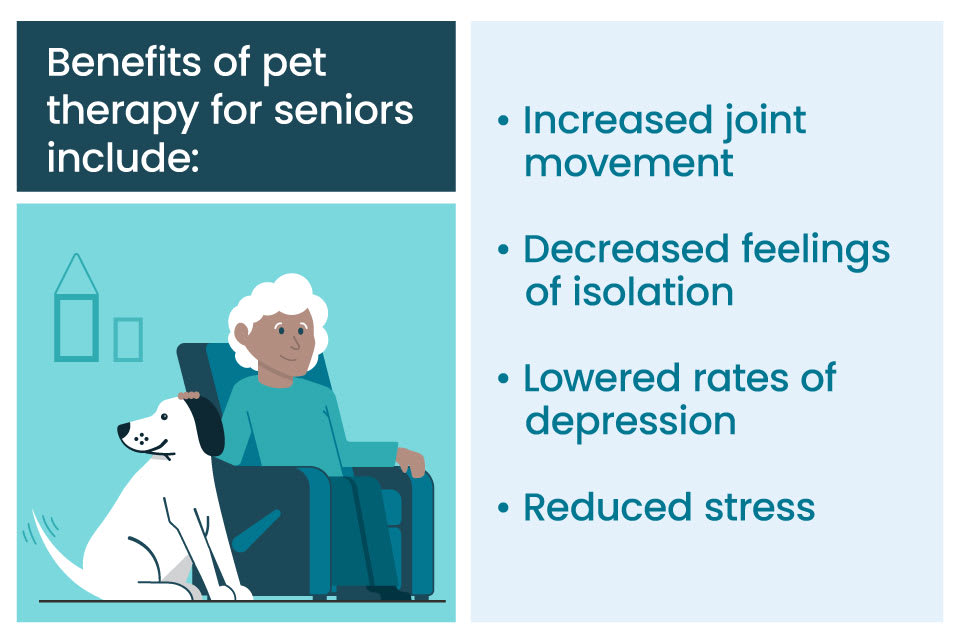 Many communities enlist the services of pet therapists who bring animals to communities to interact with residents. Pet therapy offers residents in senior living the best of both worlds: It gives them the opportunity to see and play with pets — typically dogs — without the long-term responsibility of providing care. Plus, studies show that even just 15 minutes with an animal can reduce stress and increase serotonin levels.[03]
Benefits of pet therapy for seniors include the following:
Gewirtz notes that residents with cognitive decline experience additional benefits from pet therapy.
"You'll see residents become more engaged and verbal when petting a dog or cat," Gewirtz says.
Streff notes that residents often look forward to pet therapy events, and staff tend to schedule them well in advance.
"Residents can give the dogs treats, love on them, and watch them do tricks," says Streff. "I've seen great progress with noncommunicative residents. Their demeanor changes immediately when they start petting the dog."
Pet therapy isn't limited to dogs, however.
"I have seen all sorts of visiting animals, from dogs and cats to llamas, alpacas, and horses," says Gewirtz. "Some places actually have animatronic cats that purr for those residents to hold and pat."
Community pets
In addition to pet therapy, many communities have a resident cat or dog that lives in the community and can freely roam through some of the common areas.
"The pet most often would go home with a staff person to have time off," Gewirtz explains.
Since community pets need to be well-behaved animals, that time spent away from residents can be crucial, according to Gewirtz. It gives the pet time to just be a cat or dog, expend some energy, and exercise so they can come back to the community with calm energy.
This article originally appeared on SimpleMost and was syndicated by MediaFeed.
More from MediaFeed:
Like MediaFeed's content? Be sure to follow us.
AlertMe