We don't have much control over our given birth names. You were named after your hip parents' favorite toast? Well, Avocado, you deal with it.
However, changing your name is always an option, especially if you are starting a career in the entertainment industry, where adopting a stage name is a surprisingly common practice.
In fact, many of the biggest celebrities have ditched their birth names in favor of a more memorable moniker. Because "The Academy Award goes to Maurice Micklewhite" does not have the same ring as Michael Caine does.
From Milena Markovna to Belcalis Almanzar, here are the real birth names of 24 famous celebrities.
Vin Diesel
Real name: Mark Sinclair Vincent
When young Mark Sinclair Vincent started working as a bouncer at various New York nightclubs, he was bound to take on a new, more "intimidating" moniker.
The Fast and Furious star used the trimmed version of his last name "Vincent" and the nickname "Diesel" from friends who said "he ran on "diesel" fuel because he had so much energy.  Luckily for the actor, his stage name perfectly fits his rough-and-tough on-screen persona.
Julianne Moore
Real name: Julie Anne Smith
While Julie Anne Smith was not very keen on changing her given birth name when she was starting out as an actress, she eventually had no choice but to do so if she wanted to "stand out."
"There was already a Julie Smith, a Julie Anne Smith, there was everything," the Academy Award Winning Actress told The New York Times. 
Instead, the Still Alice star chose a name that honored both her parents." My father's middle name is Moore; my mother's name is Anne. So I just slammed the Anne onto the Julie. "
Cardi B
Real name:  Belcalis Almanzar
The stage name of the famous rap singer has sort of boozy origins. Given that her sister's birth name is "Hennessy" it was only fair for the "Bodak Yellow" singer to adopt the nickname "Bacardi." To avoid lawsuits, the singer moved things around and adopted the stage name "Cardi B." Well, that's just okurrrr.
Natalie Portman
Real name:  Neta-Lee Hershlag
Born Neta-Lee Herschlag in Jerusalem, Israel, the "Black Swan" actress, adopted her stage name shortly after her debut in Luc Besson's Léon: The Professional, to protect herself from unwanted attention due to the film's sexual overtones. The Academy Award-winning actress used her grandmother's maiden name, "Portman," as her stage name.
Joaquin Phoenix
 Real name: Joaquín Rafael Bottom
After Joaquin Rafael Bottom's parents ditched the religious cult the Children of God they were a part of and moved back to the US in 1978, they changed their last name to "Phoenix" to symbolize a "new beginning."
During this time, Joaquin began calling himself "Leaf," desiring a name that was similar to those of his siblings (River, Rain, Liberty, and Summer).
His stage name as a child actor was Leaf until he changed it back to Joaquin at the age of 15 because, let's face it, Leaf Phoneix is a bit much, even for Hollywood.
John Legend
Real name: John Rogers Stephens
The music superstar adopted his current stage name from a childhood nickname that stuck.
"We were all in the studio together. He just started calling me 'The Legend' because he thought I sounded like one of our old-school soul legends," the EGOT winner explained to Jimmy Fallon during an interview on The Tonight Show.
The nickname was given a boost by Kanye West, which led Legend to consider keeping it. "And one time, Kanye put a mixtape out, and he called me John Legend on the mixtape. And it just started to spread among more of the people that were listening to our music," he said.
Mila Kunis
Real name: Milena Markovna Kunis
Milena Markovna Kunis moved with her family from Ukraine to the United States at age 7. After starting acting classes, Kunis shortened her first name to Mila before she began booking roles on 7th Heaven and Days of our Lives.
Miley Cyrus
Real name: Destiny Hope Cyrus
Destiny Hope Cyrus was an exceptionally happy baby growing up on a family farm outside Nashville, leading her famous dad to affectionately call her "Smiley Miley." The Wrecking Ball singer legally changed her name to Miley Ray Cyrus in 2008.
Lizzo
Real name: Melissa Jefferson
When a 14-year-old Melissa Jefferson formed her first rap group with two of her classmates, "the Cornrow Clique," she decided it was only fitting to mesh her then nickname Lissa with Jay-Z's hit "Izzo" coming up with the super catchy stage name "Lizzo."
Demi Moore
Real name: Demetria Gene Guynes
The Ghost actress revealed to The Guardian in a 2012 interview her mother named her Demetria after seeing the name in a shampoo ad. The actress married rock musician Freddy Moore at age 17, took his last name and kept it even after they divorced. When she was starting out as an actress, she trimmed her full name to Demi, because less is "moore."
Bruno Mars
Real name: Peter Gene Hernandez
Born Peter Gene Hernandez, the Uptown Funk singer's stage name has an interesting backstory. "Bruno is after Bruno Sammartino, who was this big, fat wrestler," he once told Rap Up. "I was this chunky little baby, so my dad used to call me that as a nickname. Mars came up because a lot of girls say I'm out of this world!"
Drake
Real name:  Aubrey Drake Graham
The rapper used his catchy middle name — which was chosen by his father — as a stage name when he launched his music career.
"His reasoning behind it, I am not sure. My dad is a character so it could be anything. I just really loved the name and I embraced it my whole life," he told Hip Hop Canada in 2006.
Rihanna
Real name: Robyn Rihanna Fenty
While Riri uses her middle name on stage, she still prefers to be called by her first name by friends and family.
"I get kind of numb to hearing Rihanna, Rihanna, Rihanna," the singer told Rolling Stone in 2011. "When I hear Robyn, I pay attention."
Nicki Minaj
Real name: Onika Tanya Maraj
The Trinidadian rapper's stage name is a combination of her first and last name. Early in her career, she was known by nicknames such as "Cookie" and "Harajuku Barbie", but eventually settled on the name Nicki Minaj, which she has mixed feelings about.
"One of the first production deals I signed, the guy wanted my name to be Minaj and I fought him tooth and nail. But he convinced me. I've always hated it," Minaj told The Guardian.
Michael Keaton
Real name: Michael John Douglas
Born Michael John Douglas, the Birdman actor was kind of forced to change his last name early on in his career to avoid confusion with another actor with the same name, Michael Douglas.
He chose his last name as a nod to comedian Buster Keaton.
Mindy Kaling
Real name: Vera Mindy Chokalingam
Even though the famous comedian was born Vera, she was always called by her middle name, Mindy, after the titular character from Mork & Mindy.
"I've been Mindy since I was born. When my mom was pregnant, my parents were living in Nigeria and wanted a cute American name, because they were moving here, and they knew Mindy from Mork & Mindy," Kaling told the LiveJournal for "The Office" in 2008. "Vera isn't just an old Russian lady's name, it's an incarnation of a Hindu goddess. But they never called me it."
Tina Fey
Real name:  Elizabeth Stamatina Fey
30 Rock fans would be thrilled to discover that the famous comedian shares the name with her "Liz Lemon" character. Fey never used her given moniker and always went by the shortened version of her middle name.
"My first name is Elizabeth, but I've always gone by Tina even in, you know, from elementary school on," she told  The Quad.
Michael Caine
Real name: Maurice Joseph Micklewhite
Sir Michael Caine, one of Britain's most iconic actors, was born Maurice Joseph Micklewhite. However, he adopted the stage name "Michael Caine" as a nod to his favorite screen idol, Humphrey Bogart, who appeared in The Caine Mutiny.
"Bogart was my hero, and even though he came from a sort of snobby, aristocratic family — he was a distant relation of Princess Diana — when I was a kid I thought he was a tough guy," Caine told New York Magazine.. "Any person with my working-class background would be a villain or a comic cipher, usually badly played, and with a rotten accent. There weren't a lot of guys in England for me to look up to."
Olivia Wilde
Real name: Olivia Jane Cockburn
The Don't Worry Darling director comes from a family of journalists and writers, so it's no wonder her stage name is a nod to her literary hero, novelist Oscar Wilde.
"At the time, I was doing The Importance of Being Earnest—I was playing Gwendolyn , and I was so in love with it. Oscar Wilde is someone who I respect for so many reasons—a revolutionary, a comedian and a profound thinker," Wilde told The Observer.
Gigi Hadid
Real name: Jelena Noura Hadid
Born Jelena Noura Hadid, the supermodel's stage name comes from a childhood nickname that stuck.
"In first or second grade, there was a girl named Helena and it got confusing with the teacher who had to call out our names," the model told Vogue. "And so the teacher asked my mom, 'If I needed to call Jelena a nickname, what would it be?' And my mom was like, 'I call her Gigi sometimes,' and the name stuck."
Kit Harington
Real name: Christopher Catesby Harington
The Game of Thrones alum's given birth name is actually Christopher, and if you are surprised, don't worry, so was the actor when he found out his real name at age 11.
"Christopher was a bit of a tradition," Harington told Glamour in 2014. And it's not just him who goes by another name in the family. "My brother's name is Jack, but his real name is John. Kit is traditionally an offshoot of Christopher, it's just not used that often. My middle name is Catesby."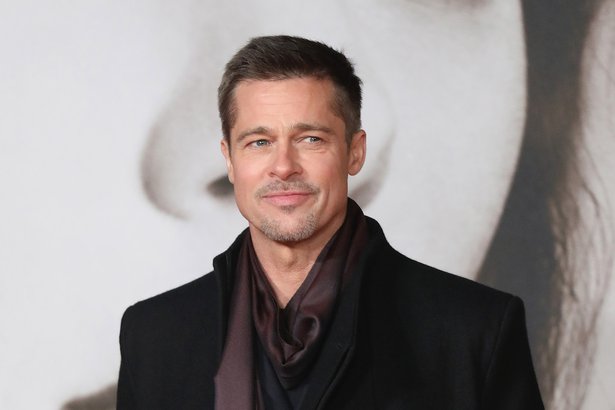 Brad Pitt
Real name: William Bradley Pitt
The actor used a shortened version of his middle name because it has more of a ring to it.
Whoopi Goldberg
Real name: Caryn Elaine Johnson
The View moderator's stage name comes as a result of a flatulence problem she had, leading her friends to call her Whoopi after a whoopee cushion.
"When you're performing on stage, you never really have time to go into the bathroom and close the door," Whoopi told The New York Times in 2008. "So if you get a little gassy, you've got to let it go. So people used to say to me, 'You are like a whoopee cushion.' And that's where the name came from."
Meg Ryan
Real name: Margaret Mary Emily Anne Hyra
The beloved rom-com actress shortened her first name and used her grandmother's maiden name Ryan when she joined the Screen Actors Guild at the start of her career.
AlertMe