Summer to Fall Transition Outfits – Our Favorite Budget Friendly Picks!
This time of year is big for fashion finds. You have back to school shopping, and fall trends coming out. But in so many places it is still really warm weather. While the malls might be stocking bulky fall sweaters, it is way to hot to be wearing those right now. I have teens that went back to school this week, and school shopping got tricky when trying to figure out what to buy for these first few weeks of school. When the weather is warm, but the styles are starting to head towards fall wear. So I compiled some ideas here of things that you can grab on a budget – but then pair them with items you bought for summer, and the ones you may now be buying for fall too. Transitional pieces – meant to stretch your shopping budget without sacrificing quality or style!
These are tricky, as you want to be able to stretch your budget but also get what you feel great in. I am raising teens right now, and I also like to have some new wardrobe pick me up pieces myself. I also want to be able to do all of that without going in debt for it. So here are some tricks I use to do that this time of the year.
Living in the Northwest, this in between season of summer moving into fall makes updating your wardrobe with some new fall piecesa bit of a challenge. Here are some tips and tricks we have used to navigate this in between season, in a way that keeps us all on par with current trends, but does not break our budget trying to keep up with it all!
Celebrity Pink Denim Overalls – Super Fun Find at a Great Price!
I grabbed a pair of these Celebrity Pink Denim Overalls. I love these, as they can work for all ages too. For me, these are the perfect transitional piece. Wear them to the lake with your bathing suit top underneath, or on a sunny day with a tank under. As things start to cool off for the fall, add one of these trendy waffle textured shirts under instead. I had been out in the malls with my kids, and denim overalls I was finding where pricey. So when I saw the price on these ones, I jumped on them. The quality is great too and they are so versatile.
JavaScript is currently disabled in this browser. Reactivate it to view this content.
This is probably the outfit I get some of the most compliments on when I am out, and these are one of the very best deals I have found on denim overalls!
Shirts to Wear Under Overalls
The reason why the overalls are my very favorite transition look from summer to fall outfits, is that it can be paired with almost anything. It is crazy how versatile this look is!
If the weather is still really warm around you, put on your favorirte bathing suit, and just jump into your overalls over that for a BBQ or lake day.
If you are not at the beach or a lake, grab a tank to throw underneath them for warm days. I love these lacy tanks I grabbed at Walmart for just $5.98 each, but there are so many options at super prices.  There are a few colors to pick from and they pair perfectly with overalls.
As the weather begins to cool off, add a waffle textured shirt under your overalls. These waffle textured styles are big this year, and here is a super price on them (in so many fun fall colors) from.
You could again add a jean jacket, or your favorite flannel over them to make them work for cooler weather too. Here are some of our favorite picks for that.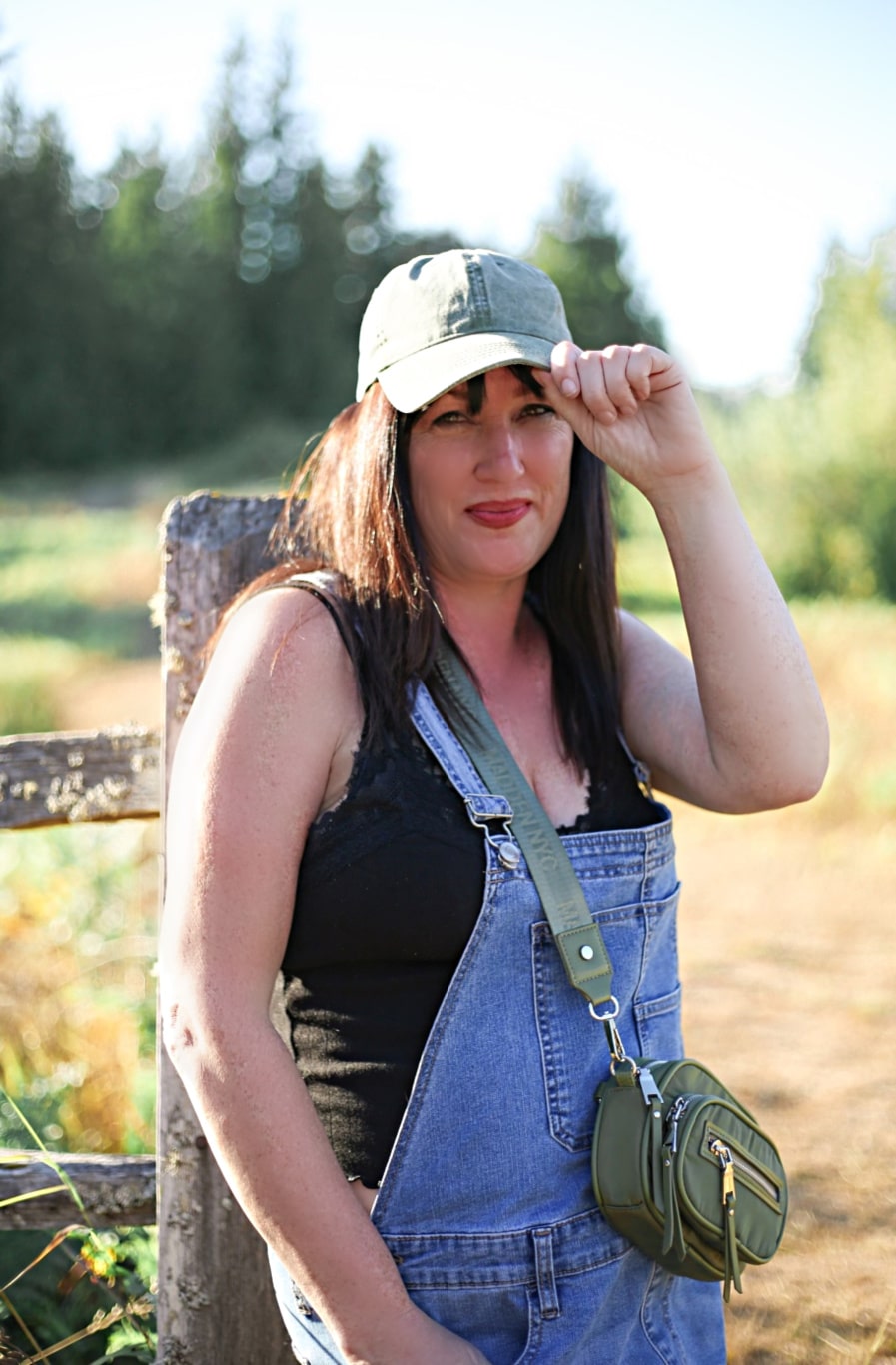 Accessorize Your Overalls!
One thing I like most about overalls, is that they are casual. That means they can take some dressing up or down, and accessories are the perfect way to do that.
I grabbed the Time and Tru claw clip set, gold feather earrings, sunglasses, and chelsea style boots for my accessories, as well as the Madden NYC belt bag, and Time and Tru baseball cap to give my outfit more versatility.
Belt Bags are Big Right Now
Belt bags are not only stylish, but practical. They let you keep your belongings close, and easily accesible, but without carrying big bags. I found this Madden NYC bag on Walmart that I am obsessed with. I wear it everywhere now! I have a thing for army green, but there are many colors you can pick from for belt bag options, and at some really great prices.
Gold Jewelry
I love the Time and Tru brand at Walmart, for SO many affordable jewelry and accessory finds. Light, delicate and gold is my go to for this season. These feather gold earrings are one of my very favorite picks this year.
Claw Clips
Claw clips are my saving grace for lazy days, and it will be hard to beat the quality and price of these Time and Tru Claw clips.
I live in these on days that I do not want to have to put too much time into styling my hair. Throw it up and go. It does not get much easier than that, and honestly those are the days that sometimes I feel the best too!
Shoes
Lets be honest. Shoes can be one of the biggest drags on our budget. But – they do not have to be if you know where to shop. Take for example, these Chelsea style boots that will cost you under $30. Yes, you read that right. It is not a trick. There are a few colors of these Chelsea style boots from Walmart right now. I grabbed them in black, and now plan to go back for the natural color too. It is hard to beat this price for this style!
Tips for wearing your overalls –
Personally I live to size up on overalls, as I like them to fit loose and baggy.
The other thing about getting them a bit on the bigger size, is that as you transition into fall you can add your sweaters underneath them. In the summer, when you have your tanks under, they fall just perfectly to feel casual and relaxed (you look great, but it also looks like you put little effort into getting dressed)!
More Tips For Transitioning Your Wardrobe from Summer to Fall on a Budget Include:
Denim is the perfect transitional piece. Grab some layering pieces to take it from one season to the next. Denim jackets are great because now you can use your summer dresses, and tanks, but wear them well into the cooler days too by throwing one over the top. Three of my favorite things to layer with include:
Jean Jackets
Flannels
Cardigans
You will also find that oversized blazers and weathered leather looks are big this year too.
Change out your shoes. The cloud slippers shown above are perfect for warm lazy days, but change them out for the Chelsea style boots we share to carry the look into fall and winter.
Flowy pants (like linens) where big this summer. They are the perfect pieces to transition into fall too. This is a place where you can add a button up top over the tank you were wearing all summer with those flowy linen pants, or again a jean jacket (such a versatile piece) to the outfit you were wearing all summer – to transition it into fall!
Our favorite brands for Summer to Fall Transition Outfits that wont break the budget!
Half the battle is knowing where to look for great summer to fall transition outfits and accessories. We have compiled a list of brands that will help you get some really great deals on quality clothing to get you through the in-between season. If you are working within a budget, like we are, here are some brands to consider to get the biggest style bang for your buck!
Time & Tru – this has got to be the number one brand for budget friendly items. They offer so many current trends at really super prices…find everything from accessories, to clothing and shoes too!
Crocs (our favorite pick for great deals on shoes that are totally on trend!)
Love & Sports – If you like active wear, check this brand out. It seems like these days you pay the most for the least amount of fabric, but not with Love & Sports. They carry on trend active wear at super prices.
Sofia Jeans by Sofia Vergara – if you are over 25 and want trends that will work with your body – like stretch jeans – this is a must check out brand.
Madden NYC – I love this brand for teens and accessories. I got my VERY favorite belt bag (shown above)!
Sam & Libby – looking for current trends in shoes, at budget friendly prices. This is the brand to start with.
Eloquii Elements – This is my favorite pick for plus sized trends!
Terra & Sky –  is another great option for plus sized trends too.
This article originally appeared on Thrifty NorthWest Mom and was syndicated by MediaFeed.
Like MediaFeed's content? Be sure to follow us.
AlertMe