On your marks. Get set. Gift! The holiday season is coming and if you know a "Great British Baking Show" fan they're probably more concerned with soggy bottoms and flaky crusts than what's in their stocking. Surprise them with a gift that could make even Paul Hollywood crack a smile. They'll feel like the star baker in your life when you give them one of these aprons, kitchen utensils or fun GBBS-inspired gifts this year.
It isn't all practical kitchen tools, either. There's also stickers and shirts so they can take their fandom with them on the go and a bingo board to make watching their favorite show a little more interactive. Toss your bake in the oven and set a timer while you peruse this great gift list for the "Great British Baking Show" fan in your life.
3 / 26
HumorStyle / Etsy
1. Star Baker Apron
Price: $24.90
This cotton and polyester apron will turn your loved one into the "star baker" of their own kitchen. The screen-printed design is reminiscent of the show's font and aesthetic. The seller hand makes each item. However, this is still a fully functional apron, so it's great if you have a loved one who loves to bake or cook. It even has pockets for kitchen utensils so you can keep whatever you need right there with you as you whip up your masterpiece. While the apron can take some normal kitchen wear and tear, your loved one should wash it in cold water and dry it on low heat.
4 / 26
sweetandlovely / Etsy
2. Button Set
Price: $16
This set of six buttons will brighter up your loved one's holiday season. They're great for a stocking or small gift exchange. All six hearken to the show with colorful and fun designs. There are six different designs, including: "that's a nice bike, that," "the Hollywood handshake," "scrummy," "star baker," "no soggy bottoms!" and "on your marks… get set… bake!" True fans of the show will love all of these designs. The artist who designed them is also the seller. Each design sits on a 1.5-inch button. You get all six for $16.
5 / 26
MudoBoutique / Etsy
3. On Your Marks, Get Set, Bake! T-shirt
Price: $11.50+
Your loved ones can wear their GBBS fandom year-round with this stylish T-shirt. It comes in a huge variety of colors, all with the words "On your marks, get set, bake!" overlaid. Those words can sit on a black, white, dark gray, mauve, navy, peach or maroon background. Some colors do have different costs than others. There are also a ton of styles to choose for this shirt, each with different costs. You can get a women's style shirt, a unisex shirt, a women's V-neck shirt or even a youth shirt for younger fans. If you can snag one of your loved one's existing shirts to get the measurements it'll help you make your final purchase here. Read the sizing chart carefully, then select the style and color that your giftee will like best. Your final price will depend on all the options you choose.
6 / 26
jazzynjessie / Etsy
4. GBBS Potholders
Price: $11.99
Don't be surprised when you find more kitchen accessories on this list. It's only fitting when it comes to baking fans. These potholders are adorable, functional and fun. You can choose red or black. Then choose the saying that goes on the potholders. You can get "star baker," "no one likes a soggy bottom," or "on your marks… get set… baaaaaake!" (Note that you can only get "star baker" on black.) Each potholder is 9 x 7 and uses polyester fabric with rubber on the bottom for grip.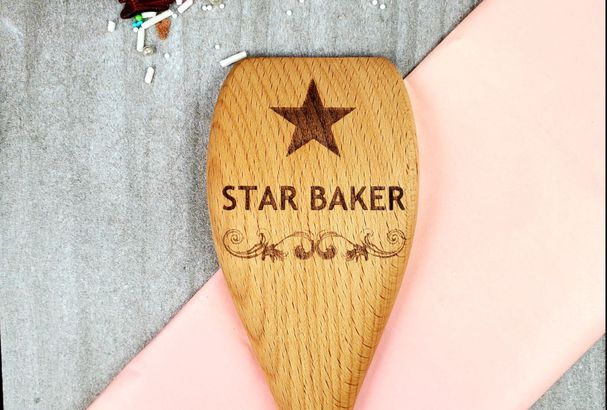 7 / 26
SassyChikkin / Etsy
5. Star Baker Wooden Spoon
Price: $13+
Your loved one will truly feel like a star baker when they're at home baking with this spoon. The sturdy beechwood spoon bears a laser engraved "star baker." While they're perfectly functional as actual kitchen utensils, they also look great as purely decorative items. The basic version simply has the "star baker" inscription. For a little extra ($18) you can get this spoon personalized with the name of your beloved star baker. This makes for a truly charming holiday gift.
8 / 26
GrowUpGaby / Etsy
6. Bake Off Mug
Price: $7.77+
It wouldn't be an episode of "Bake Off" without a shot of the contestants sipping tea while waiting for their bakes. This 11-ounce mug offers a colorful and fun reminder of all the best aspects of the show. Your loved one can sip tea with Prue and Paul. There are also cute designs like teapots, cupcakes, timers and strawberries. And they'll get encouraged by beloved phrases from the show like "nobody likes a soggy bottom" and "you are star baker." The $7.77 price actually isn't for the mug, though – it's for an accompanying coaster. The coaster has the name of the show on it surrounded by cute designs like spoons, cake, donuts, stars and more. For $15.47 you get just the mug and for $21.12 you can get a matching set that will brighten up your giftee's morning, afternoon or evening tea.
9 / 26
RachelUnlimited / Etsy
7. Mix and Match Tea and Kitchen Towels
Price: $21.15
You have three options total here, but you can mix and match them however you like to select two perfect GBBS towels for your loved one. Every towel is 28 x 28 inches and ring-spun cotton. They come in white with screen-printed black lettering and designs. The three designs are: "star baker" with a flourish beneath it, "absolutely scrummy," and "nobody likes a soggy bottom," complete with an image of a pie. No matter which two you choose, this gift is sure to be a hit.
10 / 26
SerenitybyJenCo / Etsy
8. 'Stodgy' Soy Wax Candle
Price: $15
Sometimes watching GBBS just isn't enough. Those mouth-watering bakes seem to waft right through your television. With this candle, you can really make them waft out into the living room while your loved one enjoys the latest episode. This "stodgy" candle comes in a range of scenes, depending on which scrumptious dessert is on the menu tonight. Select from eucalyptus and spearmint, Fraser fir, grapefruit and mangosteen, lavender and vanilla, lemongrass, sandalwood and fireside, or unscented. The eight-ounce candle comes in an amber or blue jar with a fun label that declares it "stodgy: over proofed under baked."
11 / 26
SLKYStore / Etsy
9. GBBS Wooden Spoon Set
Price: $27.95
We already listed one GBBS spoon, but this set takes it to the next level. There are four wooden spoons in this set, plus a cute "Bake Off" bag to store them in. Each beechwood spoon is a practical kitchen implement that's great for baking or stirring. They're each 12 inches long, lightweight, heat retardant and splinter-free. And they look fantastic, too. One says "star baker" inside an actual star. One has a picture of a pie and the words "nobody likes a soggy bottom." One commemorates the "Hollywood handshake" and the last one says "on your mark, get set, bake." These last two have cute rolling pin designs, too. If they're just too adorable to use, they also make excellent kitchen décor or art accessories.
12 / 26
PrintableEscapeRoom / Etsy
10. The Great Bake Off Escape
Price: $14.99
This one is fun for a whole family of GBBS fans. They'll get to do their very own escape room game right at home – and it's all "Bake Off" themed. There are 13 challenges and some of the clues come in the form of recipes. The players will have to make a real batch of brownies as they play, but that's all part of the fun. This is great if your loved one has kids, as anyone age 8 and up can play. You can even split up the six players total, as there are two clue paths to follow. Then, come back together, pool your resources and smarts, and solve the mystery. The game takes about an hour to solve and you get to play an actual contestant on the show. The kit comes with instructions, hints, solutions, an answer key and recipes. Your giftee will have to gather the ingredients and other supplies, though. There are even gluten-free brownie options for players with allergies. This is truly a game the whole family can get in on.
13 / 26
paperviewco / Etsy
11. Baking List Notepad
Price: $12.95
If your loved one needs a little encouragement to achieve their baking goals, this baking list notepad will do the trick. It includes a picture of Paul Hollywood himself, for extra motivation, or intimidation, as the case may be. Your giftee will feel like a contestant on the show with Paul looming in the background as they go through their baking checklist. The 6 x 4-inch pad has 50 pages and comes in full color. Use it for recipes, shopping lists or any other notes you might need to take.
14 / 26
PonyChopsDesign / Etsy
12. Vinyl Sticker Set
Price: $16.79
The hosts of "Bake Off" are almost as iconic as the bakes themselves. Now, your loved one can celebrate their favorite GBBS personalities thanks to this vinyl sticker set. They'll get 3 x 3-inch stickers of Noel Fielding, Matt Lucas, Mary Berry, Paul Hollywood, and Prue Leith. And they all come with their trademark sayings, like "nobody likes a soggy bottom," "you only have to be not the worst," "you're my star baker" and "have a Hollywood handshake." The durable vinyl makes these perfect for things like laptops, e-readers, refrigerators and more.
15 / 26
TheDaftCraftCo / Etsy
13. Paul Hollywood Pin
Price: $12.99
Intimidating, encouraging and everything in between, GBBS judge Paul Hollywood has become an entity in and of himself thanks to the series. Now, your loved one can commemorate the man himself with a large enamel pin featuring Paul's face and the words "you're my star baker." This bright and colorful pin is about 1.25 inches with a black rubber backing. It's a great item to pin to a hoodie, jacket, hat or bag. Or combine this with an apron so your loved one can have Paul looking over their bakes when they're in the kitchen.
16 / 26
ShopCorBlimey / Etsy
14. Mary Berry Tea Towel
Price: $16.79
This one is for the old-school GBBS fans. Mary Berry was one of the original judges. Later, Prue replaced her when she left the show. But true fans remember the harsh yet encouraging Mary Berry fondly. This bright and colorful tea towel will bring back great memories of earlier seasons. Mary appears on a cotton towel with some of her best phrases arrayed around her, things like "your crack is nice and moist" and "you have some irregular shaped balls." Your loved one will crack up remembering Mary's accidental, or not-so-accidental, innuendos from the show.
17 / 26
sundrybest / Etsy
15. Nice Bake Pencils
Price: $9.50
Here's a super simple stocking stuffer for you. This set of six pencils offer subtle nods to the show. They come in light green, pale blue and white, for a nice pastel appearance. Each bears a phrase or slogan from the show. You get "on your marks, get set, bake," "style & substance," "star baker," "showstopper," "soggy bottom," and, of course, "Hollywood handshake." All six pencils come packaged together as part of this bundle. You can even message the seller to work out a custom set of pencils if there's something missing from this set. Give them to your loved one to store in the kitchen and keep track of their bakes. This also pairs well with the Paul Hollywood notepad.
18 / 26
Elizadrawstheline / Etsy
16. GBBS Judges as Cats Poster
Price: $22.37
The current crop of four GBBS judges are beloved. But seeing them as cats makes even Paul Hollywood look cute and cuddly. This poster is an adorable gift for the GBBS fan in your life. It measures 8.27 x 11.69 inches. The grayscale print appears on white paper and shows Noel, Prue, Matt and Paul as cute kitties wearing shirts typical of the human hosts. They stand before an array of beautiful bakes, judgment in their feline faces. Pick up a frame as well so your giftee can display this one on the wall.
19 / 26
madebymejewellery73 / Etsy
17. Stand Mixer Earrings
Price: $6.93+
None of the brave contestants on the show would get very far without their trusty stand mixers. These earrings look just like the stand mixers on the show, in miniature form. They're 35 x 10mm. You get to choose between silver-plated earrings for $6.93 or sterling silver ones for $8.19. The hypoallergenic silicone backs should be comfortable for most people to wear. They even come in an organza bag that's great for gifting. This cheap and simple gift is a great one for any earring-wearing fan you happen to know.
20 / 26
MyGracefulRose / Etsy
18. Soggy Bottom Ornament
Price: $10.12+
Here's a hand-drawn ornament that will make your loved one's future Christmases super special. Or gift it to them a little early so they can decorate their tree with GBBS this year. This particular listing is for a "no one likes a soggy bottom" ornament, but the seller has many more if you go to their page. You can also get a "star baker" or "on your marks, get set, bake" ornament. Or go big and customize your own ornament so it can say exactly what you want. The seller offers three sizes: 2-2.5 inches, 2.5-3 inches and 3-4 inches. These sizes are ranges because these ornaments are wood slices and therefore not perfectly precise. That homemade imperfection just adds charm, however, and should appeal to the people in your life who are fans of a show about creative, hand-made items. Customization and larger sizes will cost a little extra.
21 / 26
fileprintboutique / Etsy
19. GBBS Bingo Sheet
Price: $5
This is a cheap and fun gift for multiple fans. This is actually a digital PDF that you can print out on your own. If you're also a fan of the show, this might be the perfect gift. You and your loved one can print out your bingo sheets, which are inspired by common occurrences in the show, and then play a round of bingo while binge-watching. The PDF pack includes 10 cards, so you can play several times or throw a whole GBBS party for just $5. It's a great way to get people together in a low-stress fashion during a hectic season. Some of the squares include fan favorites like "technical challenge," "baker earns star baker," "baker drops their bake or it falls over," and "baker or judge says bread or loaf." It might not take long to score a bingo on this board, so make sure you're paying close attention. On your mark, get set, bingo!
22 / 26
NeedleLovesThreads / Etsy
20. GBBS Cross Stitch
Price: $4
This is a true cross-section of crafty creators. The price is for a digital PDF pattern of a cross-stitch that celebrates "Bake Off." The pattern will tell you which thread colors, thread counts and fabric counts you need. It suits a six-inch hoop. Your crafty loved one will be able to cross-stitch a design that says "You deserve a Paul Hollywood handshake." Around the text are cute little designs, including a baguette, a cupcake, cake, muffins, a pretzel and so many more of the delicious things the contestants create. If you know someone who likes to cross-stitch, especially while watching GBBS, this is an amazingly perfect gift for them.
23 / 26
TwoMoonMonkeys / Etsy
21. 'Nobody Likes a Soggy Bottom' Mug
Price: $15.97+
Not really feeling the mug we listed before? Try this one instead. It has a colorful design on a solid black background that says "nobody likes a soggy bottom" with an image of a pink cupcake. The cup uses the highest grade ceramic and glossy black coloring, and you get the image on both sides so you can make a statement no matter how you sip. The design should hold up to regular use and washing, according to the seller. You can even safely put it in the microwave. The 11-ounce mug costs $15.97 and the 15-ounce mug costs $17.97. Combine it with the previous mug for a whole GBBS-themed mug set for your giftee.
24 / 26
GoodIntentionsSundry / Etsy
22. GBBS Ready, Set, Bake T-shirt
Price: $24
This is a women's style T-shirt with a fun design from the show. It says "on your mark, get set, bake" around the image of one of the show's beloved (and sometimes hated) stand mixers. The women's cut is flattering and comes in women's sizes small to 2XL. The polyester, cotton, rayon blend makes for a form-fitting yet super breathable and soft T-shirt your giftee will love wearing all the time. You can choose between charcoal-black, navy, solid dark gray, purple, berry, true royal, blue and aqua for colors. The shirts tend to run a little small, so be careful when selecting a size for your loved one.
25 / 26
PopPorcelain / Etsy
23. GBBS Commemorative Decorative Plate
Price: $63
We saved this last one for the really hardcore fans. This plate has two faces on it – two of the hosts or judges of the show. There's a lot of different varieties. You can have Paul and Mary, Paul and Prue, Mel and Sue for a true classic, Sandi and Noel, or Noel and Matt. Each plate is about 7.5 to 8.5 inches around. There are even four different styles to choose, from two that are plainer to two that have a floral design all around the rims. They evoke a vintage look and feel that is classic British sensibility. Note that these plates are purely decorative and not intended for food. In fact, water can ruin the design on the plate. Instead, use the hanger on the back to display them on a wall, perhaps even in the kitchen.
All prices and availability are accurate at the time of writing.
Related:
This article was produced and syndicated by MediaFeed.org.
AlertMe