We've all been through a fast food drive-thru, opting for the speed and convenience of staying in our cars. And while it's true most fast food joints don't tantalize you to go inside — most have dull decor at best and big messes in the dining area at worst — some fast food restaurants are actual destinations worthy of a visit and maybe even a linger.
McDonald's, Burger King, Starbucks and a slew of other fast food chains have created over-the-top and out-of-this-world restaurant locations. From spaceships and airplanes to saunas and beaches, these fancy fast food spots may just be worthy of a spot on your travel bucket list.
1. McDonald's: Roswell, New Mexico
On your way to Area 51? Make contact with this UFO-shaped McDonald's on your trip to Roswell! This McDonald's is decked out in extratersiterial decor and even includes a  2,000 square-foot PlayPlace that has rocket ships and other space-themed equipment.
2. Burger King: Helsinki, Finland
Ever want to take meat sweats to the extreme? This Finland Burger King is for you! It's got a 15-person shower, locker room, media lounge and an indoor jungle  gym. Can you think of a more luxurious way to eat your Whooper? We can't!
3. Pizza Hut: Giza, Egypt
That inverted logo you see is actually the Pizza Hut marking on the other side of the glass window! That's because at this Giza Pizza Hut, you can eat your pizza with the phenomenal view of the pyramids!
4. McDonald's: Taupo, New Zealand
Have you ever wanted to eat your Happy Meal on an airplane? At this New Zealand McDonald's, you can do just that! McDonald's bought the location back in 1990 from the Aeroplane Car Company. When the fast food joint signed their lease, they found out the airplane pictured here came with it!
5. Taco Bello: Las Vegas chapel
Fighting with your fiance about catering, location, decor or a slew of other matrimonial decisions? Streamline the whole process by booking the Las Vegas Taco Bell chapel! They offer a few plans that will help make your wedding day special (and spicy)!
6. KFC: Baku, Azerbaijan
This 1920s train station is now finger lickin' good (well, not so much in the COVID-era)! Measuring an impressive 1,700 square feet, it's also the biggest KFC in the world, making this location even more special.
7. McDonald's: Frattocchie, Italy
Fans of archaeology and McFlurries will definitely want to add this Italian McDonald's to their bucket list. Located just south of Rome, you can see three tombs that are over 2,300 years old downstairs, which serves as a museum, and then head upstairs to order some grub at McDonald's.
8. McDonald's: Barstow, California
What's more iconic than a road trip on Route 66 with a visit at a McDonald's with nostalgic old-timey train decor? If you're passing (or visiting!) Barstow on your next road trip, stop by this McDonald's, which is made out of decommissioned passenger train cars.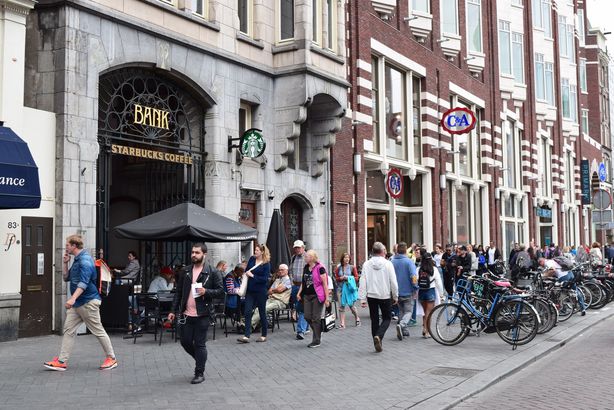 9. Starbucks: Amsterdam bank
This Starbucks is situated right in the middle of a historic Rembrandtplein, Amsterdam bank vault. It's also home to a Starbucks laboratory, which aims to blend up new and exciting small-batch, slow coffee brews inspired by local flavors.
10. McDonald's: New Hyde Park, New Jersey
This New Hyde Park 19th-century historic home is now a McMansion. What was once an elegant manor is now home to a ball pit, greasy kitchen and a red-haired clown!
11. Taco Bello: Pacifica, California
What's more California than a beach-themed Taco Bell? This beach shack Taco Bell may not have a drive-thru, but it does have a walk-up window for local surfers to catch some epic (and cheap) lunch after getting some epic waves.
12. McDonald's: Bray, Ireland
Built in the 1880s, this fancy McDonald's was originally a town market until the 1940s. Ever since, its second floor has housed the Bray Town Council, and in 1997, McDonald's moved into the first floor. That's one way to increase council attendance!
13. Starbucks: Squaw Valley, California
Are you planning a ski trip to California's famous Squaw Valley? You may be happy to know that you can ski your way (or take the ski lift) to this Starbucks.
14. KFC: Marietta, Georgia (The Big Chicken)
KFC's "The Big Chicken" stands at 56 feet tall and was originally built in 1963 for Johnny Reb's Chick-Chuck-'N'-Shake. When KFC bought the building in 1974, it opted to embrace the chicken instead of tearing it down.
15. McDonald's: Porto, Portugal
You don't need to find a cafe to take your coffee in a fancy European restaurant! This McDonald's, often dubbed the Imperial McDonald's, took over this 1930s building after a total restoration in 1995. You can find stained glass, chandeliers and art deco as you order special menu items like a cinnamon custard.
16. Starbucks: Kyoto, Japan
Japan is the place to be for Starbucks fans! One of three epic locations on our list, this Kyoto Starbucks is placed in the middle of an old townhome and is complete with tatami maps and traditional seating.
17. Starbucks: Hirosaki, Aomori, Japan
After visiting the Kyoto location, check out the Hirosaki Starbucks, which is located in The Hirosaki Park. This building is marked as a Tangible Cultural Property, meaning it's culturally significant to Japan, since it reflects the styles of the Taisho era of Japan.
18. Starbucks: Dazaifu, Japan
This last Japanese Starbucks on our list doubles as a popular Shinto shrine. Designed by Japanese architect Kengo Kuma, the storefront is decorated with a matrix of over 2,000 wooden sticks, which is meant to fuse the area's artistic roots with modern design.
19. McDonald's: Batumi, Georgia
If you mistook this for a museum of fine art or a historic landmark, you wouldn't be the first! This McDoanld's is made out of over 450 glass panels and was designed by renowned architect Giorgi Khmaladze.
20. KFC Academies, Across India
OK, so this pick is less epic for its physical location than it is for its special mission: to help specially-abled people find work. Starting in 2008, KFC created a slew of "KFC Academies" across India aimed at helping train and employ specially-abled locals.
21. Burger King: The Garden Grill in Singapore
This garden-inspired Burger King decked out by Out of Stock Designs in Singapore was Burger King's first go at a more chill, zen indoor dining experience. The popularity of the flagship Garden Grill caused the company to expand the Garden Grill experience into other gardens, such as India.
22. Subway: New York City
When construction started on New York City's Freedom Tower in 2010, workers stuck in the air all day faced a major dilemma: what to have for lunch. The solution? A Subway storage container that was crane lifted up to hungry construction workers! The store is still a popular tourist attraction.
23. Sonic: Miami Gardens, Florida
Fans of Taco Bell's California beach shack will swoon over Sonic's Miami Gardens beach view! You can dine in, on the patio or from Sonics' iconic drive-thrus and get a great view of the beach, a perfect solution for those wanting a "beach picnic" but not wanting to risk getting sand in their food!
24. Starbucks: Tukwila, Washington
This Starbucks is made out of four storage containers. The unique design choice is meant to pay homage to Seattle's shipyards.
25. KFC: Reykjanesbær, Iceland
When you think of KFC buildings, you probably think of bright red and white colors, a photo of the Colonial and perhaps even a big bucket of chicken. When architects were building this Reykjanesbær-based KFC in 2005, they wanted to throw the typical design out the window and instead embrace one that better matched the buildings, culture and nature surrounding it. The result was a clean, modern and sprawling KFC that looks more like an office building than a fast food joint.
AlertMe
---