Are you drinking more than usual?
It's been a tough year, and a lot of us have coped by turning to the bottle a bit more than usual. In fact, a September study found that Americans reported drinking about 14% more since the pandemic started, with women reporting an increase of 17%.
Among those women, instances of heavy drinking (defined as four or more drinks over a period of a couple of hours) had increased by 41%.
And according to Nielsen market data, alcohol sales outside of bars and restaurants has increased by 24%, with sales of spirits with higher alcohol content increasing even more at 27% over the previous year.
Hello (goodbye), Sober October!
If you're looking for ways to cut back on your drinking, alcohol-free spirits can be a great way to do that. They bring to your evening cocktail hour all of the ritual and none of the regret.
And if you need another reason to give them a try, there's just one week of "Sober October" remaining. What's "Sober October," you ask? Well, it began as "Ocsober" back in 2010 in Australia as a fundraiser and was soon adopted in the U.K. as "Sober October." It slowly made it's way to America from there.
With some alcohol-free spirit makers offering discounts through the end of October, now's the perfect time to give them a try. You won't get the buzz, but you'll still be able to enjoy winding down with a tasty beverage at the end of the day. When it comes to drinking less, that can be an important factor for a lot of people to help break or curb the habit.
I sampled more than 20 booze-free spirits and selected my nine favorites, which I've reviewed here. I've also included some of the recipes I found particularly yummy.
Methodology
I sampled each spirit neat to start, noting its flavor profile and jotting down any particular mixers I thought would go especially well with them. Then I reviewed company websites and recommended recipes, mixing up several for each spirit to see what really shined.
Here are the results…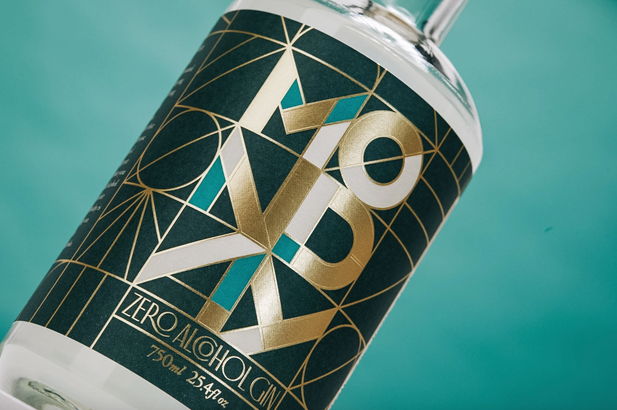 1. Monday Zero Alcohol Gin
I really like gin, particularly those that are on the herbaceous side, like Hendrick's or a favorite local distillery, Sourland Mountain.
Monday's gin isn't that, but it is very aromatic, reminiscent of a classic London dry gin (think Tanqueray or Bombay Sapphire). Where Monday lost me was in the bite it had infused in this product in an effort to replicate the warmth that real booze imparts. The flavor profile was there, but the bite was distracting, both neat and in a classic G&T.
The company's recipe for La Llama Verde fixed that, though! For me, its combination of jalapenos, fresh avocados and lime were the perfect accompaniment to Monday's bite.
Sadly, Monday hasn't included this recipe on their website, but it was in a card that came with the bottle, so I'm sharing it here:
1.5 oz Monday Gin
0.5 oz Simple syrup
2-3 jalapeños, seeded
1-2 slices fresh avocado
1 lime
In a blender, combine finely chopped jalapeño, juice from a fresh lime, slices of ripe avocado and pulse smooth (15-30 seconds). Pour contents into a mixing glass, then add Monday gin, simple syrup, squeeze of fresh lemon and ice. Stir until cold and strain over ice into your favorite short glass. Top with quality soda water.
2. Kin Euphorics for Humankind High Rhode
This company offers up more than just an alcohol-free substitute to help you drink less. Kin products are billed as a dietary supplement and contain adaptogens, nootropics and botanics aimed at giving you a blissful feeling. According to Kin's website and literature "Kin Euphorics deliver a menu of mood-defining drinks designed to elevate the spirit and relax the body, for a pleasure you won't regret."
I have to say I didn't feel any mood defining from the High Rode, but I did really enjoy the flavor. With hibiscus and bitter orange at the fore, it was both refreshing and complex. My favorite serve was mixed with Fever Tree tonic and lime.
Keep in mind with Kin that they suggest limiting your intake to 4 oz. over any 24-hour period. You'll also need to refrigerate this one after opening and drink it within 14 days.
3. Ceder's Crisp
As I said earlier, I'm a big fan of gin, but if you aren't you probably won't care that this was my favorite spirit in the whole bunch.
Ceder's is made in Sweden and the brand offers four different varieties of alcohol-free gins. This is the only one of the four I tried, but I was delighted. It's very cucumber forward, with hints of chamomile and your standard gin botanicals, such as juniper.
What was different about Ceder's Crisp was the smoothness. Ceder's didn't try to give their product a boozy burn like some of the other spirits I tried, and it really made it more enjoyable.
It's perfect paired simply with a good quality tonic and lime, or you can try some of the great recipes on the company's website. My preferred serve for this spirit was a classic salty dog.
4. Lyre's Aperitif Rosso
Boy, oh boy, did this one surprise me. Crafted to resemble a classic Italian vermouth, Lyre's Aperitif Rosso just nails the flavors and body. Suddenly I had a non-alcoholic mixer I could pair with all the other alcohol-free spirits I was sampling.
I liked this so much I even used it as a mixer with real booze (mixed with Fino sherry and a dash of orange bitters, it became a really fantastic Adonis).
You'll find my favorite use of Lyre's Aperitif Rosso and the recipe on the next slide.
5. Lyre's American Malt
Lyre's has a large line of products representing pretty much everything you'd need in a well-stocked household bar. You'd be able to make hundreds of alcohol-free cocktails by purchasing just their products, which of course includes a Bourbon whiskey alternative.
While this has some of that bite I didn't really care for in one of the gin alternatives I tried, it worked better with the richer, rounder vanilla and toasty flavors of the American Malt.
But when I mixed a classic Manhattan using the Aperitif Rosso, that's when the magic happened. It was delicious. Here's the recipe.
6. – 9. Curious Elixirs
Pre-mixed, booze-free cocktails in single-serve bottles? Yes, please!
Curious takes a different approach to alcohol-free spirts than the rest of the bevvies I reviewed, offering up four really tasty, pre-mixed cocktails that can be enjoyed straight from the bottle, poured into a glass or even mixed with other ingredients (and there's a fifth one in the works!).
Curious No. 1 is a Negroni-inspired mixture including bitter pomegranate.
Curious No. 2 is the "spicy lovechild" of a pineapple margarita and a classic Dark & Stormy.

Curious No. 3 blends lemon, cucumber, alpine herbs and ashwagandha for a very uplifting combination of flavors. This one was my favorite.
Curious No. 4 is a refreshing mix of blood orange, green mandarin, turmeric, American ginseng and holy basil.
Cutting back on booze is good for you
Reducing the amount of alcohol you consume is good for you in many ways. It can reduce puffiness and improve your appearance, elevate your mental health, improve your long-term health outlook and increase your energy levels.
If you feel you have a drinking problem and think you may need help, there are many options available. A good place to start may be a call to the hotline run by the Substance Abuse and Mental Health Services Administration. They can put you in touch with organizations and health care services in your area.
This article was produced and syndicated by MediaFeed.org.
AlertMe
---