Hollywood turns out to be a small town full of unexpected family ties. While many celebrity connections are obvious and well-known to the public, others, however, will take you by surprise.
Here is a roundup of some famous people you didn't know were related.
Jamie Lee Curtis and Janet Leigh
"Halloween" actress Jamie Lee Curtis and "Psycho" star Janet Leigh shared something more than just a love of horror films. Jamie Lee Curtis is the second daughter of Hollywood legend Janet Leigh and famous actor Tony Curtis. Her older sister Kelly Curtis is also an actress known for her roles in "Magic Sticks" and "The Devil's Daughter."
Barbra Streisand and Josh Brolin
Barbara Streisand, 80, is the stepmother of Josh Brolin. The EGOT (Emmy, Grammy, Oscar, and Tony) awarded singer and actress has been married to James Brolin, the father of Josh Brolin, since 1998. The "Avengers" actor gets along perfectly with his famous stepmom and beloved dad and lives so close to the couple that he is practically their neighbor.
Shirley MacLaine and Warren Beatty
 While Hollywood legends Shirley MacLaine and Warren Beatty have never shared the screen, they have something else in common: their parents. The "Bonnie and Clyde" star is the younger brother of Shirley MacLaine. During her acceptance speech for the American Film Institute Life Achievement Award in 2012, MacLaine referred to Beatty as someone she "loved and known the longest on this planet."
Phil Collins and Lily Collins
"Emily in Paris" star Lily Collins is the daughter of the legendary singer and artist Phill Collins and his second wife, Jill Tavelman. The "In the Air Tonight" singer was married to Tavelman, a British socialite from 1984 to 1996.
The 33-year-old actress often shares her experience growing up with a famous dad. "I remember being a kid at Disneyland with my dad and having someone come up and ask him for a photo. And I think I was just so confused because I was, like, well, Disneyland has nothing to do with him," she once told TODAY.com
Tracee Ellis Ross and Diana Ross
The "Black-ish" star Tracee Ellis Ross gets her talent, looks, and charm from her disco goddess and all-around musical legend mom, Diana Ross. Ellis Ross is the eldest daughter of the former Supreme from her marriage to Robert Ellis Silberstein. Having "The Boss" for a mom sounds intimidating. Still, the famous mom-and-daughter duo are two peas in a pod and have both declared that their relationship is "Endless Love."
Maya Rudolph and Minnie Riperton
Laughter and love run in this mother-daughter duo's veins. The "Lovin' you" singer, Minnie Riperton, welcomed daughter Maya Rudolph in 1972 with fellow singer Richard Rudolph. Maya Rudolph is one of the most beloved comedians of our time, known for her work on "Saturday Night Live," "Bridesmaids," "The Good Place," and many other comedies.
Riley Keough and Elvis Presley
"Mad Max: Fury Road" alum Riley Keough is the granddaughter of "The King" himself, Elvis Presley.
The daughter of Lisa Marie Presley, her grandparents were Elvis Presley and Priscilla Presley, and her stepfather was Michael Jackson.
"People always ask, 'How crazy is it that your grandpa was Elvis and your stepdad was Michael Jackson?' I make them happy and say, 'Yeah, it's soooo crazy!'" Keough revealed to Esquire. "But actually, I don't think about it, ever…But I always wanted my own money."
Kate Burton and Richard Burton
"Scandal" star Kate Burton got her talent and charisma from her famous dad, the Welsh actor Robert Burton. Most known for his role in "Who's Afraid of Virginia Woolf?" and for marrying Elizabeth Taylor twice, Burton welcomed his first daughter Katherine Burton in 1957 with the Welsh actress Sybil Christopher.
Nicolas Cage, Sofia Coppola and Jason Schwartzman
Jason Schwartzman, Nicolas Cage, and Sofia Coppola are first cousins. Here is how: Schwartzman's mom, actress Talia Shire is the sister of director Francis Ford Coppola and the father of Sofia Coppola. Cage is the son of Francis Coppola's brother, August Coppola. We'd love to know what their family reunions look like.
Madonna and Céline Dion
Madonna and Céline Dion Dion are eighth cousins. The French-Canadian ancestry of Madonna's mother traces back centuries to a royal bloodline.  Madonna is descended from the high society couple Madeleine Ernard and Zacharie Cloutier of the 17th century. Due to this connection, Madonna is related to Céline Dion, Angelina Jolie, and Camilla the Duchess of Cornwall.
Melanie Griffith and Dakota Johnson
 It is no secret that Dakota Johnson comes from a long line of Hollywood royalties. "The Fifty Shades of Gray" actress is the daughter of Melanie Griffith and the granddaughter of legendary actress Tippi Hedren. Johnson is the first daughter of Griffith from her marriage to famous actor Don Johnson. Over the years, the mother and daughter have been each other's biggest cheerleaders.
Emily Blunt and Stanley Tucci
Here is a surprising celebrity family tie. Actor Stanley Tucci is the brother-in-law to the British actress Emily Blunt. Tucci married the 'A Quiet Place" actress' older sister Felicity Blunt in 2012 . Interestingly enough, Tucci and Blunt starred in the 2006 rom-com "The Devil Wears Prada."
Snoop Dog and Brandy
Snoop Dog and singer Brandy are first cousins. The rapper confirmed they are related to MTV in 2006, saying "We never really told the world because we weren't trippin' off of that, but that's my family."  The famous cousins collaborated on the 2009 song "Special."
Bryce Dallas Howard and Ron Howard
Actress Bryce Dallas Howard is the oldest daughter of Oscar-winning director and actor Ron Howard. Best known for her roles in the blockbuster "Jurastic Park" and "The Help" Howard often jokes that she still asks her ultra-famous dad for permission before auditioning.
Rashida Jones and Quincy Jones
"Parks and Rec" star Rashida Jones is the daughter of legendary music producer Quincy Jones and former Twin Peaks and Mod Squad actress Peggy Lipton. In 2018, Jones directed the Netflix documentary, "Quincy," about her father's life and legacy.
Lenny Kravitz and Al Roker
Singer and actor Lenny Kravitz is the second cousin of TODAY Show anchor Al Roker. "The Jeffersons" star Roxie Roker is Kravitz's mother and Al's first cousin.
King Charles III and Ralph Fiennes
"Harry Potter" actor Ralph Fiennes is the eighth cousin of King Charles III. According to BBC America, Fiennes and the new British king are descendants of King James II of Scotland. In 2012, the actor performed in front of the Royal Family in honor of Charles Dickens' 2
00th birthday.
Jason Sudeikis and George Wendt
"Saturday Night Live" funnyman Jason Sudeikis is the nephew of "Cheers" actor George Wendt.
"He's always been very encouraging, but there was no Tuesdays With Morrie kind of relationship between him and I," Sudeikis said of his uncle. "He didn't take me to the park to explain comic timing. There was nothing like that. He was just a good example that being an actor was a viable option."
Alfie Allen and Lily Allen
English singer-songwriter Lilly Alen is the older sister of "Game of Thrones" actor Alfie Allen. Allen's 2007 song "Alfie" was about her brother, which, she told Marie Claire, "has been the subject of many family arguments."
Gwyneth Paltrow and Blythe Danner
Goop founder Gwyneth Paltrow is the daughter of "Meet the Parrents" actress Blythe Danner and the director and producer Bruce Paltrow.
Paltrow's dad tragically passed away in 2002 on a trip to Rome for the actress' 30th birthday. Paltrow has been outspoken about her long-time struggle with grief and depression. "I wasn't adamant enough in cleaning up his diet and getting rid of the cancer," she told the NY Post in 2005.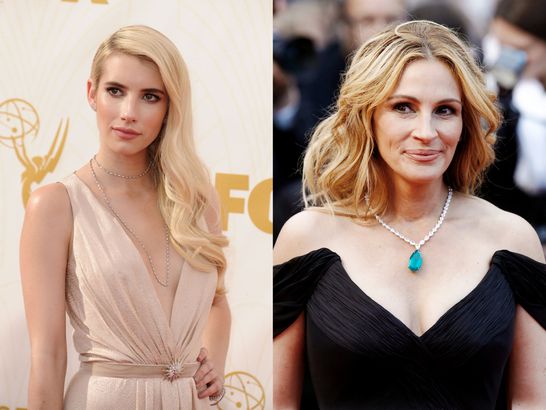 Julia Roberts and Emma Roberts
"American Horror Story" alum Emma Roberts is the niece of Julia Roberts. Emma's father, Eric Roberts, is the brother of the "Pretty Woman" star. The famous aunt-niece duo often shares their fun family reunions on social media.
Jonah Hill and Beanie Feldstein
"The Wolf of Wall Street" actor Jonah Hill is the older brother of "Booksmart" star Beanie Feldstein.Their sibling bond is so strong, Hill tattooed the name of his sister in March 2018 to celebrate her Broadway debut in the production of "Hello, Dolly!"
Denzel Washington and John David Washington
 "BlackKklansman" star John David Washington is the son of the critically acclaimed actor Denzel Washington. His dad was right there by his side when the then-35-year-old actor learned he had been nominated for a Golden Globe.
"I was watching it with my old man," he told People. "When they called the name it was like super slow motion. I heard the 'Johhh' and then he grabbed me and we hugged for what felt like ten minutes. We just held on to each other."
Bruce Dern and Laura Dern
When Laura Dern was nominated for Best Supporting Actress for "Wild" in 2015, she brought her famous dad as her date to the Academy Awards. Her famous dad? Revered Hollywood actor and "Nebraska" star Bruce Dern. But it doesn't end here. "Alice Doesn't Live Here Anymore" star Diane Ladd is Laura Dern's mother. Combined, Dern and her famous parents have been nominated for seven Academy Awards.
AlertMe