With stars dazzling in the limelight and drama playing out both on and off the screen, the golden age of Hollywood was a time of breathtaking romance and unforgettable couples who defined the very essence of love and glamour.
Old Hollywood was a glittering playground of love stories that continue to captivate and inspire us to this day.
"From Clark Gable and Carole Lombard's fiery passion to Elizabeth Taylor's legendary romance, here are the greatest Hollywood love stories.
Humphrey Bogart and Lauren Bacall
 "Bogie" and "Slim" fell in love very quickly after first meeting on the set of the 1944 film "To Have and Have Not."
And how could they not: he was a seasoned, suave movie star, and she was a fresh-faced model of 19 with a hypnotizing beauty. Despite the 25-year age difference, the two married just one year after they met and went on to make several more films together and raised two children.
After Bogart died in 1957, Bacall seldom talked of her husband, but everyone, including her second spouse, referred to her as "The Widow Bogart."
"No one has ever written a romance better than we lived," Bacall wrote in her memoir "By Myself."
Douglas Fairbanks and Mary Pickford
When "The Queen of the Movies" met "The First King of Hollywood," they brought Hollywood royalty to a whole new level. Douglas Fairbanks, the dashing silent film hero, and Mary Pickford, "America's Sweetheart," first crossed paths in 1915 at a party in Tarrytown, New York, both married to other people. The spark between them was undeniable, leading to an electrifying affair that would eventually stir one of the first Hollywood scandals.
The two wrote passionate letters to each other, as recounted in the biography The First King of Hollywood:The Life of Douglas Fairbanks by Tracey Goessel.
"I had been living in half shadows, and now a brilliant light was suddenly cast upon me," Pickford wrote.
"Oh I am simply wild about you. I feel positively sure that no man could love a woman more than I love you," Fairbanks wrote, according to Goessel. "You have completely taken possession of me, I cannot live without you."
After divorcing their respective partners, they tied the knot in 1920, forming one of the most iconic power couples in Hollywood history.
Richard Burton and Elizabeth Taylor
"When you are in love and lust like that, you just grab it with both hands and ride out the storm," Elizabeth Taylor once said of her tumultuous relationship with the Welsh actor Richard Burton. And ride it out they did, through years of turmoil, scandal, marriages, divorces, paparazzi, diamonds, and a lot of bottles of booze.
The couple met on the set of the 1963 film "Cleopatra," where they were both starring in the lead roles. Despite being married to other people at the time, the chemistry between them was electrifying. They soon started an obsessive affair, dubbed "Le Scandale" by Burton, which ultimately would consume their respective marriages.
In 1964, Taylor and Burton tied the knot, becoming one of Hollywood's most glamorous and high-profile couples. After a decade of a relationship plagued by alcohol-fueled fights, mobs of paparazzi that followed them all around, and jealousy, the couple divorced in 1974. However, in 1975, Taylor and Burton married for a second time, but this union was short-lived, and they divorced for good in 1976. Despite the ups and downs of their relationship, Taylor and Burton remained close until Burton died in 1984.
"I made a mistake by tying the knot so many times… but Richard was the only one who truly had my heart and whom I still hold dear," the eight-times-married Taylor said.
Laurence Olivier and Vivien Leigh
The love of Laurence Olivier and Vivien Leigh was a story fit for the silver screen. They met while working on the set of the 1935 film "Fire Over England," and their chemistry was electric. In 1940, the pair tied the knot, becoming one of Hollywood's most glamorous and high-profile couples. Leigh, who was best known for her portrayal of Scarlet O'Hara in "Gone with the Wind," was a true star, and Olivier was a legendary actor in his own right. Off screen, their relationship was plagued by infidelity and mental health issues. Despite their ups and downs, they stayed together for 20 years before eventually divorcing in 1960.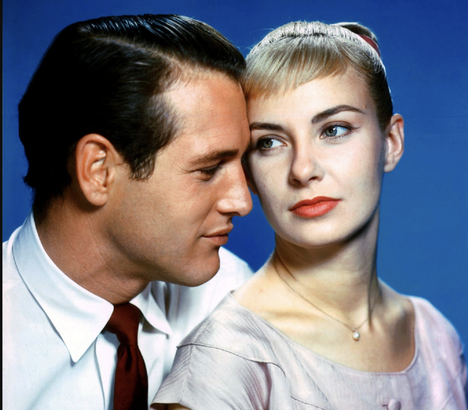 Paul Newman and Joanne Woodward
The love story of Paul Newman and Joanne Woodward was a true Hollywood fairy tale. The couple met on the set of the 1958 film "The Long, Hot Summer" and their connection was immediate. They married the following year, and their love only grew stronger over the next 50 years.
Newman and Woodward were known for their devotion to each other and their refusal to be apart for long. They were often referred to as "the best couple in showbusiness," and their love and partnership was an inspiration to many. Despite their fame and success, they remained humble and grounded, always putting their love and family first.
"I have steak at home, why go out for hamburger?"  Newman once famously said when asked if he was tempted to stray.
Ava Gardner & Frank Sinatra
"I'm going to marry that woman," declaredthe suave crooner Frank Sinatra upon seeing a photo of the Hollywood beauty queen Ava Gardner. And married her, he did.
Sinatra met Garder at a party in 1950 while married to his childhood sweetheart Nancy Sinatra Sr. The two started secretly dating, ultimately making headlines when they were spotted having dinner.
After Sinatra's affair with Gardner became public, his wife of 12 years and mother of three left him. Following their divorce, Sinatra married Gardner a few weeks later.
But the honeymoon phase of their marriage didn't last long. Their love was strong, but their quarrels were even stronger, even engaging in public brawls. While the union lasted from 1951 until 1957, Gardner never remarried, and it is said she kept a photo of "Ol' Blue Eyes" until she died in 1990 at age 67 from pneumonia.
Clark Gable & Carole Lombard
When the dashing heartthrob Clark Gable and the screwball comedian Carole Lombard met for the first time on the set of 1932's "No Man of Her Own," sparks didn't fly. In fact, their off-screen relationship was quite cold and strictly professional. But Four years later, when the two stars reunited at a Hollywood event, sparks did fly and grew into a fire that would ultimately set burn to pieces both of their respective marriages. The star-crossed lovers got married, and in the next five years, they were one of the most iconic and glamorous Hollywood couples.
After Lombard's untimely death in a 1942 plane crash, Gable never fully recovered.
"You know, I have everything in the world anyone could want but one thing. All I really need and want is Ma." Gable once said to his secretary.
Rita Hayworth & Orson Welles
Rita Hayworth and Orson Welles made headlines as one of Tinseltown's most captivating couples. But as with many Hollywood marriages, things behind closed doors were not always as glamorous as they seemed.
The fiery and beautiful Rita Hayworth, known as the "Love Goddess," met the eccentric and brilliant Orson Welles on the set of their film, "The Lady from Shanghai." Despite a 20-year age difference, the two quickly fell in love and tied the knot in 1943, becoming one of the most talked-about couples in the country.
However, their marriage was far from a fairytale. Despite a tumultuous relationship, the couple tried to make it work, but by 1947, Hayworth had had enough and filed for divorce, putting an end to one of Hollywood's most volatile marriages.
"During the entire period of our marriage, he showed no interest in establishing a home. When I suggested purchasing a home, he told me he didn't want the responsibility. Mr. Welles told me he never should have married in the first place; that it interfered with his freedom in his way of life," Hayworth said of their marriage.
Spencer Tracy and Katharine Hepburn
It was a love affair hidden in plain sight for over 25 years. Spencer Tracy and Katherine Hepburn, two of Golden Age Hollywood's biggest stars, were more than just on-screen partners – they were star crossed lovers.
It all started in 1942, when Hepburn and Tracy were cast together in the film "Woman of the Year."
On the first day on set together, Hepburn allegedly told Tracy "I'm afraid I'm too tall for you" to which he replied, "Don't worry Miss Hepburn, I'll soon cut you down to my size."
Despite the fact that Tracy was a married man, the two quickly hit it off, sparking a love affair that would last for the rest of their lives.
For over two decades, their relationship remained a closely guarded secret, known only to a select few. The two lived separate lives, with Tracy maintaining his public image as a devoted family man, and Hepburn playing the part of the independent, outspoken actress. Tracy and Hepburn made nine films together, their chemistry on and off screen undeniable. But despite the passion they shared, they were never able to publicly acknowledge their love, due to the social and moral restrictions of the time.
In 1967, Spencer Tracy passed away, leaving Katherine Hepburn heartbroken. Despite the fact that their relationship was never made official, Hepburn always maintained that Tracy was the love of her life, and that their affair was one of the greatest love stories of all time.
Lucille Ball & Desi Arnaz
They were the king and queen of the small screen, the couple whose chemistry captivated audiences and defined a generation. Lucille Ball and Desi Arnaz were the first couple of television, their relationship and marriage the stuff of legend.
They met in 1940 on the set of the film "Too Many Girls," and it was love at first sight. Desi, the charming Cuban bandleader, and Lucille, the cheeky red-headed comedienne, quickly became inseparable, marrying just a few months later.
Their marriage was not without its challenges, however. Desi's drinking and infidelity put a strain on their relationship.
After 20 years of tumultuous marriage and multiple "I Love Lucy" spinoffs, Ball and Arnaz separated in 1960 in one of the highest-profile divorces in American history at the time.
Natalie Wood & Robert Wagner
Natalie Wood and Robert Wagner were the ultimate power couple, their relationship and marriage a testament to the enduring power of love. The two first met in the 1950s, when Natalie was just a rising star and Robert was already a Hollywood heavyweight. The two soon fell deeply in love, marrying in 1957. Their marriage was not without its challenges, however. Both were successful in their own right, and the pressures of fame and fortune took their toll. They divorced in 1962, only to remarry just a few years later. Tragically, Natalie's life was cut short in 1981, when she died under mysterious circumstances while on a yacht trip with Robert and others. Her death stunned the world, and left Robert devastated.
Barbara Stanwyck and Robert Taylor
Barbara Stanwyck and Robert Taylor were two of the brightest stars to shine in the golden era of Hollywood. With her brassy and bold characters who embodied beguiling and sensitive spirit yet sultry characters, Stanwyck was a force to be reckoned with, while Taylor's charming demeanor and heartthrob looks earned him the title of "the most admired matinee idol since Rudolph Valentino" by Time magazine.
The pair was a match made in Tinseltown heaven. From sizzling glances exchanged over milkshakes at Kent's Pharmacy in Northridge, to their on-screen chemistry in films such as "His Brother's Wife" and "This Is My Affair", Stanwyck and Taylor were the hottest couple in Hollywood.
After tying the knot in 1939 and settling down at Stanwyck's thoroughbred horse ranch in Northridge, their union appeared to be a match made in heaven. However, like many Hollywood marriages of the time, their love story was not meant to last, and they went their separate ways in 1952.
Over a decade later, they reunited on the big screen in the eerie thriller, "The Night Walker", reminding audiences of the electric spark that once burned between the two screen legends.
Tony Curtis and Janet Leigh
Tony Curtis and Janet Leigh were one of Hollywood's most glamorous couples during the 1950s and 60s. Curtis, a heartthrob with his devilishly charming smile and leading man looks, won over audiences in films such as "Some Like it Hot" and "The Defiant Ones". Leigh, on the other hand, was a stunning actress with a career spanning over three decades and notable roles in "Psycho" and "Touch of Evil."
Their relationship was a wild ride, full of passion and high-stakes drama. The two stars married in 1951 and had two children together. After a decade of being married, the couple eventually filed for divorce in 1962.
AlertMe