Get ready to swoon!
The Golden Age of Hollywood was a time when movie stars were celebrated not only for their acting skills but also for their good looks and charm.
We scoured movie aggregators and biography outlets to track down the ten biggest studs of the golden age.
From the 1920s to the 1950s, Hollywood produced some of the most iconic heartthrobs of all time. Here are the ten biggest heartthrobs of the Golden Age of Hollywood:
1. Clark Gable (1901-1960)
Clark Gable, the dashing "King of Hollywood," stole hearts in the 1930s and 1940s with his rugged good looks and commanding presence on the silver screen. From his iconic role as Rhett Butler in "Gone with the Wind" to his charming turn in "It Happened One Night," Gable was the ultimate leading man. And let's not forget his tumultuous love life, including five marriages. It's no wonder he still reigns supreme as one of the Golden Era's most irresistible heartthrobs.
2. Cary Grant (1904-1986)
Cary Grant, born Archibald Leach, was one of the most dashing and debonair-leading men of the Golden Age of Hollywood. With his suave demeanor, impeccable fashion sense, and signature mid-Atlantic accent, he won the hearts of moviegoers everywhere. In fact, even Grant himself once quipped, "Everyone wants to be Cary Grant. Even I want to be Cary Grant." From his starring roles in classic films like "North by Northwest" and "An Affair to Remember," to his philanthropic efforts and personal charm, Cary Grant remains a beloved Hollywood icon to this day.
3. James Dean (1931-1955)
James Dean was a talented actor and a cultural icon of the 1950s, best known for his performances in "Rebel Without a Cause," "Giant," and "East of Eden." His handsome looks and brooding intensity made him an instant heartthrob, beloved by audiences of all ages. Sadly, his career was cut short when he died in a car accident at the young age of 24, leaving behind a legacy that has inspired generations of actors and film enthusiasts.
4. Gregory Peck (1916-2003)
Gregory Peck, the Hollywood heartthrob and celebrated leading man, stole the hearts of millions during the golden age of cinema. With his rugged good looks, dark brown eyes, and chiseled jawline, Peck commanded the screen in a way few others could.
From his breakout role in "The Keys of the Kingdom" to his iconic turn as Atticus Finch in "To Kill a Mockingbird," Peck captivated audiences with his electrifying performances and natural charisma.
But Peck was more than just a talented actor – he was also a kind and compassionate human being. He used his platform to speak out about important issues like civil rights and environmental conservation, and he was known for his generosity and willingness to help others.
5. Paul Newman (1925-2008)
Paul Newman was a Hollywood legend known for his striking blue eyes and charming smile. He was not only a heartthrob but also an accomplished actor, director, and philanthropist. Newman's impressive career spanned over five decades and included iconic films like "Cool Hand Luke" and "Butch Cassidy and the Sundance Kid." Despite his fame, Newman remained humble and devoted much of his later years to philanthropic endeavors, including founding the Newman's Own food brand, which has donated over $500 million to charity.
6. Laurence Olivier (1907-1989)
Sir Laurence Olivier, considered one of the greatest actors of the 20th century, was not only known for his contributions to Shakespearean theatre and film but also for his captivating on-screen presence. However, his personal life was just as tumultuous as it was successful, as he navigated a string of marriages and affairs, including his famous and tempestuous relationship with Vivien Leigh. Despite the ups and downs of his personal life, Olivier's talent and charisma ensured his place as a true Hollywood icon.
7. Marlon Brando (1924-2004)
Before he became a cinematic icon as the enigmatic Vito Corleone in the epic "The Godfather" Marlon Brando was already a bonafide Hollywood heartthrob. Born in 1924 in Omaha, Nebraska, Brando's rugged good looks and intense acting skills earned him a legion of fans and critical acclaim. Brando rose to stardom with a series of electrifying performances in films like "A Streetcar Named Desire" and "On the Waterfront." His ability to inhabit complex, brooding characters with ease captivated audiences and cemented his place in cinematic history. Despite his undeniable talent, Brando was known for his rebellious spirit and disdain for Hollywood's traditional studio system. He famously turned down his Best Actor Oscar for "The Godfather," sending a Native American activist to speak on his behalf instead.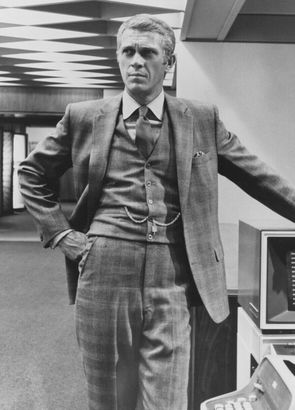 8. Steve McQueen (1930-1980)
Steve McQueen was an American actor and a cultural icon of the 1960s and 1970s, known for his rugged good looks, intense gaze, and cool demeanor on screen. He starred in many classic films such as "The Great Escape," "Bullitt," and "The Magnificent Seven." Off-screen, he was an avid car and motorcycle racer and a style icon known for his leather jackets and Persol sunglasses. McQueen's legacy as the "King of Cool" lives on today, and he remains a beloved figure in Hollywood history.
9. Frank Sinatra (1915-1998)
No list of heartthrobs from the Golden Age of Hollywood would be complete without mentioning "Ol' Blue Eyes" himself, Frank Sinatra. With his velvet voice, smooth crooning, and a twinkle in his piercing blue eyes, he made women weak in the knees, earning him the nicknames "Swoonatra" and "The Sultan of Swoon." Sinatra's charm and effortless style were irresistible, and his multiple marriages and high-profile affairs only added to his mystique.
Whether he was singing timeless classics like "My Way" or starring in iconic films like "Ocean's Eleven," Sinatra always exuded a sense of cool sophistication that made him a favorite of audiences and celebrities alike.
10. Humphrey Bogart (1899-1957)
With his smoldering gaze, rugged charm, and devil-may-care attitude, Humphrey Bogart brought silver screen heartthrob to the next level. From his early days as a bit player to his rise to Hollywood stardom, Bogart was the ultimate Hollywood bad boy, the embodiment of everything that made the golden age of cinema so thrilling. From his early days as a bit player to his rise to Hollywood stardom, Bogart was the ultimate Hollywood bad boy, the embodiment of everything that made the golden age of cinema so thrilling. From his early days as a bit player to his rise to Hollywood stardom, Bogart was the ultimate Hollywood bad boy, the embodiment of everything that made the golden age of cinema so thrilling.
AlertMe