Hidden cities. Salt mine shrines. Skull-encrusted catacombs. Glowworm cathedrals. Quell your wanderlust by scrolling through this gallery of the world's most beautiful underground places. 
1. Batu Caves
Located in Kuala Lumpur, Malaysia, these limestone caves house ornate Hindu temples.
2. Cuevas del Drach
Located in Mallorca, Spain, the Dragon Caves are home to Lake Martel, one of the largest underground lakes in the world.
3. Waipu Caves
The main event in New Zealand's Waipu Caves is its galaxy of glowworms.
4. Saint Kinga Chapel
A highlight of the historic salt mine in Wieliczka, Poland, the chapel features salt chandeliers, statues and an etching of Leonardo da Vinci's "Last Supper."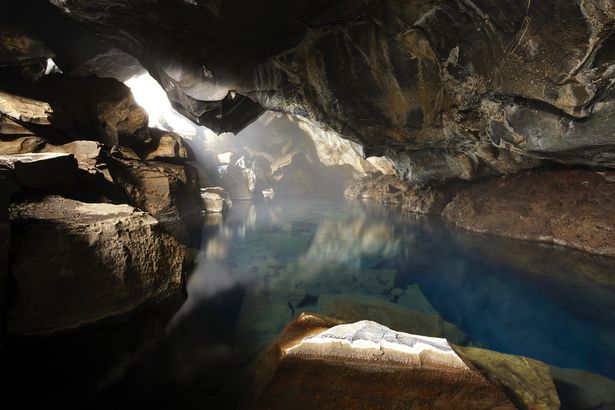 5. Grjotagja Cave
This small cave in Reykjahlíð, Iceland, was made famous when Jon Snow and Ygritte visited in Season 3 of "Game of Thrones."
6. Thurston Lava Tube
Located in Hawaii Volcano National Park, Big Island, the Thurston Lava Tube is a product of an eruption from the Kīlauea Volcano that took place around 550 years ago.
7. Catacombs of San Gennaro
Travelers to Naples, Italy, can visit these underground paleo-Christian burial and worship sites.
8. Ik-Kil Cenote
One of Mexico's most famous Cenotes, or sinkholes, Ik-Kil Is located near the Mayan ruins of Chichen Itza.
9. Slap Kozjak
A 15-meter waterfall splashes down in this mossy, limestone cave near Kobarid, Slovenia.Skip Ad
10. Sung Sot Cave
Located on Bon Hon Island in Halong bay, Vietnam, this expansive grotto is a UNESCO World Heritage Site.
11. Derinkuyu
This massive underground city in Derinkuyu, Turkey, is believed to have been a refuge from invading forces.
12. Sloup-Sosuvka Caves
This large cave complex in Moravian Karst, Czech Republic, features delicate stalactite and stalagmite formations.
13. Carlsbad Caverns
The U.S. National Park in New Mexico features more than 119 caves with walkable trails and the Devil's Spring, Whale's Mouth and Iceberg Rock formations.
14. Vardzia
This cave monastery was built in the late 1100s to protect the medieval kingdom of Georgia from the Mongol Empire.
15. Piusa Sandstone Caves
These man-made caves in Estonia are home to the biggest wintering colony of bats in Eastern Europe.
16. Phraya Nakhon Cave
Located in Khao Sam Roi Yot National Park in Thailand, this cave has a small golden pavilion hidden within its recesses.
17. Tarakanov Fortress
This abandoned fortress in Ukraine is on top of secret tunnels and is sometimes referred to as the "city of ghosts."
18. Karaca Cave
Located near Gumushane, Turkey, this network of caves is known for its large dripstone formations.
19. Catacombes de Paris
The underground ossuaries in Paris, France, built in the 18th century, enshrine the remains of several million Parisians.
20. Predjama Castle
Built into a mountainside in Predjama, Slovenia, the castle guards a network of secret tunnels — and a colony of bats.
21. Postojna Cave
Beneath Slovenia's Predjama Castle lies the sweeping Postojna Cave. Tourists can take an underground train ride and meet the olms — rare aquatic salamanders nicknamed "baby dragons."
22. Luray Caverns Wishing Well
This popular U.S. tourist spot in Luray, Virginia, has donated over $1 million in cavern "wishes" to charity over its years.
23. Portuguese Cistern
This vaulted cistern lies underneath the Portuguese city of Mazagan (El Jadida), Morocco.
24. Saadian Tombs
Located in Marrakesh, Morocco, these tombs serve as the final resting place to 200 members of the Saadian dynasty.
25. Trabuc Cave
This cave network in Mialet, France, is home to 100,000 small stalagmites that evoke an army of soldiers.
26. Los Tres Ojos
These open-air, limestone caves are one of the most popular tourist destinations near Santo Domingo in the Dominican Republic.
27. Lake Superior ice caves
In winter, the Apostle Island caves in Cornucopia, Wisconsin, transform into a "fairyland of needle-like icicles," per the U.S. Department of the Interior.
28. Vatnajökull National Park
Iceland's Vatnajökull, the largest glacier in Europe, is known for its blue ice caves.
29. Stockholm subway art
The subways of Stockholm, Sweden, are considered one long art museum, featuring unique structures and installations.
30. Metro Avtovo Subway Station
A mainstay on roundups of the world's most beautiful subway stations, Metro Avtovo in Saint Petersburg, Russia, features ornate columns and marble walls.
31. Capitol South Metro Tunnel
The Washington, D.C., subway station is less than five minutes from Pennsylvania Ave. and the U.S. Supreme Court. If you're lucky, you may hear a local singer taking advantage of the echoing acoustics.
32. Cryptoportiques
These underground corridors in Arles, France, are of Roman origin and date back to 46 B.C.
33. The Oculus
The transportation hub, which houses 12 New York City subway lines and the N.J World Trade Center PATH station, was designed as a memorial to the 9/11 terrorist attacks. It also houses many high-end retail shops.
34. Almudena Cathedral Crypt
These column-lined corridors run under the Almudena Cathedral in Madrid, Spain.
35. Quinta da Regaleira Initiation Wells
This historical estate in Sintra, Portugal, connects to two Masonic "initiation" wells designed to symbolize death and rebirth.
36. Grand Central Terminal
The New York City transportation hub is also considered a cultural destination, full of shops, restaurants and event areas in its subterranean levels.
37. La Union Mines
Located in Murcia, Spain, these mines house a glowing orange lake.
38. Altinbesik Cave
This cave, located in Antalya, Turkey, is the world's third largest underground water cavern.
39. Saint Anthony Caves
The underground monastery in Chernihiv, Ukraine, includes several churches and chapels.
40. Clear Water Cave
This 107-meter cave, located in Sarawak, Malaysia, houses a subterranean river that is partially navigable by boat.
41. Salt Cathedral Zipaquira
The church, located 600 feet underground, was built in an old salt mine in Zipaquirá, Colombia. It's been called "the first wonder of Colombia" by the country's Congress.
42. Stopica Cave
The cave in Zlatibor, Serbia, features limestone layers, sinter pools and a 10-meter high underground waterfall.
43. São Vicente Caves
Located in Madeira, Portugal, the caves were created by a volcanic eruption that took place 890,000 years ago.
44. Devetashka Cave
Near Lovech, Bulgaria, this gigantic cave, which features several natural skylights, served as home to many human populations, dating back to the late Paleolithic era.
45. Raufarholshellir
This large, colorful lava tunnel is about a half-hour drive from Reykjavík, Iceland.
46. Beihai Tunnel
During certain times of the year, it's possible to spot "blue tears" in this sea tunnel located in Lienchiang County, Taiwan.
47. Melissani Cave
Located on Greece's island of Kefalonia, the cave enshrines an underground lake discovered in 1951 by paleontologist Giannis Petrochilos.
48. Oylat Cave
The cave, near Bursa, Turkey, is split into two sections, featuring pools, stalactite and stalagmite formations.
49. Borra Caves
These large, limestone caves are located in India's Anantagiri mountain range.
50. Nerja Cave
These Spanish caves tout the largest stalactite in the world.
50 of the world's most beautiful lakes
Looking for some more travel voyeurism? Check out our gallery of 50 of the world's most beautiful lakes.
This article was produced and syndicated by MediaFeed.org.
AlertMe
---