If you love sunrises, you can see the first glimpses of light seen anywhere in the United States by visiting Maine's Acadia National Park.
Just southwest of lovely Bar Harbor, Acadia is situated along the Atlantic coast with breathtaking views of the ocean from the comfort of your car, RV, the top of famous Mount Cadillac or from any number of perches you can find along the stunning, rocky coastline.
Acadia preserves portions of Mount Desert Island and the Isle au Haut, as well as the tip of the Schoodic Peninsula and parts of 16 smaller outlying islands. And, according to the National Park Service, Acadia gets 3.5 million visitors per year, making it one of the US's top 10 most visited national parks, even though it is among the five smallest.
As you'll see in the following photos, that popularity is justified. Have a look at our virtual tour of Acadia National Park and see for yourself why tourists make it a regular stop on their itineraries. Especially if you like being first when it comes to seeing the sun rise.
1. The lighthouses also illuminate the way
Since Acadia National Park is located on the coast of Maine, you're going to see many attractions that reflect that. This is Baker Island Lighthouse, captured in black and white on an already gray day.
2. If you like fall foliage, Acadia will keep you occupied when you visit
One of the things that New England is famous for is the way the leaves turn in autumn. You don't get much more New England than Maine, and this photo of Otter Point shows that foliage in all its glory.
3. That's a pretty big pond
Generally, a pond is supposed to be smaller than a lake. Jordan Pond, pictured here, is probably smaller than many lakes, provided they're ones like Lake Erie or Lake Superior.
4. It's a great place even if all you want to do is take pictures
Most national parks boast panoramic views that must be seen in person to be believed, and Acadia delivers on that score. At sunset, Acadia's Bass Harbor Head Lighthouse doesn't particularly need a great photographer to get a decent photo. Still, this photographer took a genuinely great one.
5. The sunrises are earliest, but also some of the most beautiful you'll see
Acadia is full of fantastic sights, no matter what time of day it happens to be. This photo of Thunder Hole was taken at sunrise, and only the word "otherworldly" will adequately describe.
6. If your day starts with this sunrise…
… chances are, it's going to be a good day. This photo of Bass Harbor was taken at sunrise, and the mixture of colors is one that you just don't see in many places, at any time of day.
7. A rocky beach at sunrise
This photo may not be what many people think of when they hear the word "beach," particularly children who may associate the word with sandcastles. Indeed, you won't have much luck writing your initials in the rocks, but with a sunrise view like this, who cares?
8. The views are vast and varied
The panoramic views from Acadia's Cadillac Mountain are breathtaking. So's the hike to get there!
9. And now for something completely different
While the coastal views from Acadia National Park are jaw-dropping, visitors are not limited to watching the waves break against rocks all day. There is a lot of forest land there too, and anyone who loves a long, lazy nature walk will find plenty of it here.
10. Long, lazy nature walks for city folk
Suppose you like nature hikes but aren't 100% acclimated to walking through the untamed forest. In that case, there's good news! Some of Acadia National Park's forests have paths made from wooden planks, making it a little easier on people for whom "nature" is not their first language.
11. There's lots of hiking outside of the woods too
People who enjoy hiking don't have to limit themselves to the forest, as beautiful and peaceful as it is. There's hiking to be had along the coastline as well, such as here at Ravens Nest on the Schoodic Peninsula.
12. The best of both worlds
While there's coastal hiking and forest hiking at Acadia National Park, it's not an either-or thing. Some parts of it, such as Great Head, have coastal hiking paths that offer generous views of the fall foliage at the same time.
13. The view from North Bubble
The different types of terrain and variations in the landscape are some of the incredible sights available at Acadia National Park. This view from North Bubble shows a veritable Whitman's Sampler of Acadia attractions – the woods, the water, and the landmasses in the distance.
14. Don't get too dizzy at these dizzying heights
For hikers looking for something with a little more edge than a bucolic nature walk, please consider Acadia National Park's Beehive Trail instead. The views are worth the climb, but maybe don't stand quite so close to that edge, OK?
15. An inside look at the lobster-catching industry
There's nothing quite as Maine as putting on a bib, grabbing a nutcracker, and going to town on a freshly-cooked lobster. But where do they catch these crustaceans that make our dinners so fantastic? You'll see plenty of lobster boats near Acadia.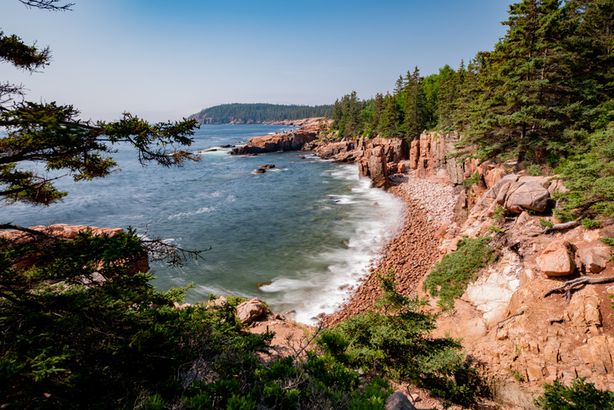 16. More coastal hiking than you can shake a stick at
Mount Desert Island is one of several islands that are part of Acadia National Park. All of them offer ideal hiking for people who love to be near the water. This hiking trail offers tantalizing views that stretch to the horizon.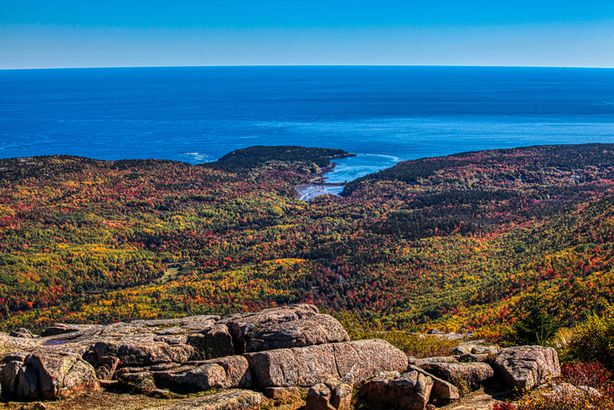 17. 'Cadillac plans' aren't just for health insurance
Some of the best places to view the fall foliage in Acadia National Park are from higher points that overlook it. This photo, taken from the top of Cadillac Mountain, shows the  leaves in all their splendor.
18. Unusual weather patterns make striking photos
The weather in coastal Maine is best described as having multiple personalities. It can be hot and sunny one minute, and then you'll be reaching for a sweater the next. This photo shows storm clouds battling with the sunlight over the coastline.
19. How to be in a few different places at once
Cadillac Mountain overlooks various locations in Acadia National Park. From this vantage point, you can see Frenchman Bay, Bar Island, and the Porcupine Islands.
20. There are sandy beaches too
If you want a more traditional beach experience — like one with sand — tell your kids (or your inner kid!) to get their pail and shovel. Acadia National Park has sandy beaches that offer the opportunity to build and destroy as many sandcastles as you want.
21. More death-defying feats
Acadia National Park offers hiking for people at every level of expertise, from the complete amateur to the highly seasoned. But for the more adventurous, there are lots of opportunities as well, like rock climbing and rapelling. You could be just like this guy on Otter Cliffs!
22. Night-time sky views can be beautiful
If you like to camp out and spend a few nights under the stars, Acadia National Park has got you covered — with stars! You may night be able to predict when you'll have a perfect night with no clouds, but if you're there at the right time, you can look up and see everything. This, of course, is a time-lapse photo, but you're guaranteed some breathtaking views of the cosmos.
23. Here, have another beautiful night-time photo
The open skies above Jordan Pond offer another clear view of the night sky framed by mountains.
24. Sunrise… sunset… it doesn't matter
The sunrises at Acadia National Park are uniformly stunning and make an excellent argument for getting up early. Having said that, we don't want to give short shrift to the sunsets, which are ideal for staring at until they disappear into the night.
25. You can drive there too
You don't have to hike to enjoy Acadia National Park's attractions. A lot of it is accessible is by car. It's full of paved roads to give your shock absorbers a break, and what better way is there to bring your canoe than by strapping it to the top of your car?
26. Can't hike, won't hike? Don't worry!
While there's no substitute for getting up close and personal with Mother Nature, your knees may feel otherwise. But fret not! Acadia National Park is full of roads for driving, many of which will offer breathtaking views that are just as unforgettable as those you would see as a pedestrian.
27. Up, up, and away
So, you've climbed Acadia Mountain and taken in the sights from multiple vantage points, but if you don't get photos of what your elevation was, did it really happen? Take pictures when you see these signs, just so your friends know you actually went somewhere and did something on your vacation.
28. Spending time together? Priceless
Even though we all spent over a year at home with our families, there was precious little bonding to be done while everyone was bingeing Tiger King. If you want to get close to your loved ones in a substantive and lasting way, nothing beats an unhurried, leisurely hike with your favorite people. It will give you a different type of closeness than the "lockdown" kind.
Want more beautiful views? Check out:
AlertMe