There is a time-honored tradition among flight attendants to create alcoholic concoctions known as crew juice. These are drinks made with whatever can be found aboard the aircraft. We follow all Federal Aviation Authority regulations, of course, but that doesn't mean we can't mix up a mean cocktail.
If you've flown at all in the past 30 years, you know that the airplane bar cart is not only minimalist, but uninspired as well. Top-notch sommeliers are hired to source the fine wines found in first-class and business-class areas, while those of us who enjoy a mixed drink, whatever cabin we may be flying, are for the most part ignored.
Enter crew juice. The nickname of these crew cocktails hearkens back to a time before I earned my wings, and I have been told that the flight attendants of yore mixed these drinks before deplaning and consumed them en route to their layover hotels. I may have even heard a pilot issue a crew juice challenge: First-class flight attendants vs. coach. May the better drink win.
While such shenanigans were likely to break many airline rules, they did have a silver lining: Flight attendants have pondered the possibilities and come up with cocktails a little more inspired than a vodka soda or rum and Coke.
Then there is the next level of inflight mixology, which means there is actual preparation before flying. Unlike buying tickets and packing, this type of prep is fun. Knowing that you not only know what will be available on your flight but are prepared to upgrade it at 30,000 feet will give you something to look forward to and savor once you are in the air.
The FAA Rules on Alcohol
Alcoholic beverages, as with any liquids in your carry-on bags, must be less than or equal to 3.4 ounces of liquid. Mini bottles of alcohol must fit comfortably in a single quart-sized bag, and you are prohibited from consuming alcohol on board unless it is served by a flight attendant. For more details, the law is here.
Many airlines have no regulations against a flight attendant serving you your own alcohol. This is a little-known workaround to paying the high cost of inflight spirits, as well as a way to enjoy more interesting options than what is available onboard. I have never heard a flight attendant at my airline refuse to serve a passenger their own alcohol. If someone appears intoxicated, then, of course, they are cut off. That, too, is an FAA regulation.
How to Prep Delicious Drinks on a Plane

You know what you like in spirits. If you choose to pack your own minis, all it takes is a trip to a local liquor store. If you like to experiment, this is a good time to try something. I have frequently found mini versions of spirits (I'm talking to you, peanut butter whiskey) that I wanted to try but balked at investing the bucks for a big bottle. 
Next, think about the mixers. 
Simple syrup: Raid an airport restaurant for some sugar packets to mix with water aboard or, if you are bougie, bring your own sugar cubes. Food52 offers a recipe for Angostura sugar cubes for Champagne cocktails if you have the time and inclination to make them. Etsy is an excellent source of flavored sugar cubes and artisanal bitters. Bitters are generally packaged in small bottles, so the 3.4-ounce maximum shouldn't be an issue.
Another fun find comes from Hail M Cocktails. In addition to seasonal small-batch syrups and bitters for craft cocktails, they offer micro-infusions from all-natural fruits, herbs, and flowers. They are simple to use: Just steep in spirits for a cocktail or sparkling or flat water for a mocktail. Your drink will be ready in five minutes. (You can steep it longer according to your palate.) 
Says owner "Mary": "Flight attendants love them!  The Old Fashioneds are easy — just add bourbon and then ice. The fruit infusions are great with G&T, Vodka Soda, a Moscow Mule — and even just in water or club soda." The infusions look like beautiful tea bags, take up little space, and travel well. 
Hail M's micro infusions, along with a variety of teas, are found frequently in my lunch tote. Numi makes a lovely organic white rose tea. Not only does it taste good, but the faint rose scent gives me a moment of tranquillity when I close my eyes and breathe it in. When I'm flying as a passenger, I sweeten the tea, let it cool, then add ice and a mini of bourbon. 
Consider packing a small fruit salad for your snack or to use as garnishes. Sliced oranges, strawberries, frozen cherries, and blackberries make excellent choices.
Some airlines offer lemon and lime wedges on their beverage cart; if yours doesn't, a few packets of True Lemon and True Lime make excellent travel companions.
Spices are great drink additions too. Consider carrying small amounts of cinnamon, ginger, nutmeg, cayenne pepper, five spice powder, turmeric, and star anise.
Bento boxes with small containers for condiments are one storage option, as are day-of-the-week pill containers. Craft and dollar stores usually carry very small bottles as well. 
Have you heard of the snackle box trend, in which you fill a tackle box with treats such as charcuterie and chocolates? Tackle boxes always make great containers. I'd highly recommend packing one with snacks to accompany your inflight cocktail.  
IFKYK: Complimentary Perks
If you know, you know. I love the look on a passenger's face when they realize they are sitting in one of the seats that come with a free cocktail. Who doesn't love free stuff? Most frequent flyers are familiar with the perks airlines offer,  but many people aren't. 
Some passengers have paid extra for an economy seat with more legroom, while others were assigned those seats randomly. Due to luck of the draw, you may find yourself in premium economy. Delta, American, and Alaska Airlines offer complimentary cocktails in these seats. They are most often the first few rows after first or business class. Sometimes they are the window seats as well. If you can't find the information from your airline's website, ask a flight attendant. 
A look at the bottom of Southwest's in-flight drink menu will alert you to their free drink holidays. In past years these days have included New Year's Day, Valentine's Day, St. Patrick's Day, Southwest's birthday, Halloween, Thanksgiving, Independence Day, and the ever important anniversary of Southwest's credit card.
Beer and wine is free in economy on many international flights. Some airlines offer free spirits during meal service as well. Check your airline's website to be sure.
Offerings Aboard
In addition to what's posted on the Web, you can usually find a menu of your airline's beverage offerings on a card in your seatback pocket. Sometimes there is a QR code you can scan as well. If you'd prefer to test the friendliness of your flight attendants, wait until they are at your row and offer you a drink. Ask them, "What do you have?" After they have rattled off half a dozen items, ask for something like peach juice or pineapple soda.
I'm kidding. Don't do that!
For years I wondered why occasionally passengers would ask me for peach juice. Then I worked a flight back to the United States from Ecuador, and what do you know? We were catered with peach juice. Occasionally you will find specialty items when traveling out of certain countries, but generally the offerings are far and few between.
Available spirits usually include vodka, gin, rum, bourbon, whiskey, and scotch. Some airlines offer liqueur options such as Bailey's Irish Cream, Amaretto di Saronno, and Kahlua, and I've heard tell that Delta offers Buffalo Trace Distillery Bourbon Cream on select flights. Be still my heart.
On select flights, Delta also offers a Tip Top Old Fashioned Cocktail. 
Mixers available generally include cola, diet cola, a lemon-lime soda, club soda, tonic, apple, cran-apple, orange, and tomato juice. Flavored sparkling waters are more recent additions to many airline menus, and most include bloody mary mix as well.
Kudos to Delta for its new collaborations with diverse and small suppliers such as the nation's first Black-owned distillery, Du Nord Social Spirits, and the artisans at Filthy Food. Filthy's Bloody Mary Mix and Du Nord Foundation Vodka are now available on many Delta flights.
Crew Concoctions
Now for the fun part. While our crew concoctions may have roots in crew juice, they have evolved into drinks that can be enjoyed by all 21-and-over passengers. Be warned: Many flight attendants have little to no knowledge of cocktails or mixology in any form. They may look at you strangely when you ask for an odd combination; just smile, be nice, and say thank you. That (and chocolate) goes a long way. 
French 75
Add half a mini of gin to 3 ounces of Champagne or sparkling wine. Sweeten with a little simple syrup and add a squeeze of lemon or half a packet of True Lemon.
Rum Punch
Pour rum, orange juice, and cran-apple juice over ice. Give it a good stir. If you've prepared, add some orgeat or falernum and a slice of orange. 
Espresso Martini
Add a packet or two of decaf coffee to a cup of black coffee to strengthen the flavor. Sweeten to taste. Let cool. Add one mini of vodka and one mini of Kahlua to an ice-filled cup. Top with coffee and stir.
Bailey's Milk
Add milk to your cup (or glass, if you're lucky enough to be in first class) and top with Bailey's Irish Cream. 
Creamsicle
Add one mini of vodka to an ice-filled glass. Top with orange juice and a couple containers of half-and-half. Stir.
Kentucky Coffee
If you want to impress your Insta friends, ask for a few extra napkins and an additional package of Biscoff cookies. Crush one of the cookies in the napkins and rim your cup with the crumbs. Clean up your mess and add one mini of bourbon and half a mini of Kahlua to your coffee. Stir in sweetener to taste and a couple containers of half and half.
More from MediaFeed:
This article originally appeared on AlcoholProfessor and was syndicated by MediaFeed. 
The 10 most popular cocktails in the world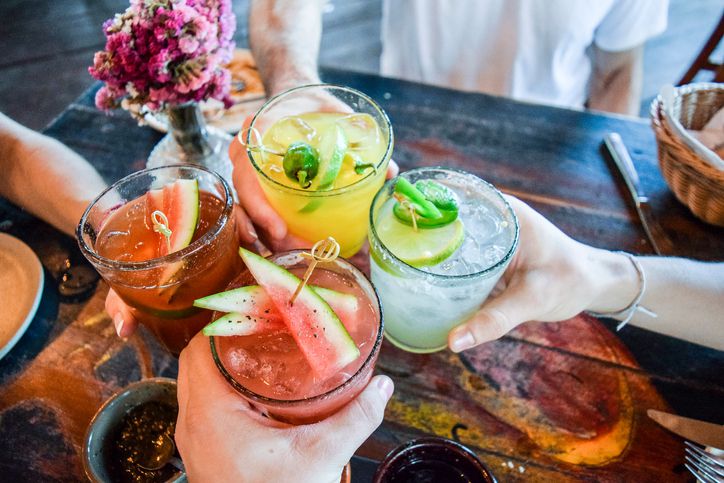 Featured Image Credit: Depositphotos.com.
AlertMe