For many Americans, reaching retirement age doesn't mean the end of work. In a poll from The Associated Press-NORC Center for Public Affairs Research, 23% of workers said they don't expect to stop working. Additionally, new stats show that people above the age of 65 are already working at all-time high rates since record keeping began. Projections from the U.S. Bureau of Labor Statistics anticipate that this trend is not stopping anytime soon. 
Traditionally, factors like life expectancy, retirement benefits (including income from Social Security), accumulated savings, expectations around spending and increases in the cost of living would explain the afore-mentioned phenomena. However, seniors today are more physically healthy than ever. Also, better, more flexible and more fulfilling work options are now at their disposal through recent technological advances. Many seniors, realizing how much they have left to offer and discovering the ease of finding ways to get paid, are choosing to extend their careers into their retirement years and complement income coming from their own earned benefits, spousal benefits or survivors benefits.
More seniors are in the job market
The Labor Force Participation Rate (LFPR) refers to the number of people working or looking to work divided by the total amount of people. According to data from the Bureau of Labor Statistics (BLS), the current LFPR is 63.2%, meaning that around 63 out of 100 working age people are at work or pursuing work opportunities. Broadly speaking, the LFPR is around long-term averages.
For seniors, however, the LFPR is reaching levels not seen in recent history; otherwise put, more seniors are entering, or remaining in, the job market. The 20.6% rate reached for those aged 65 and older in December 2019 is the highest mark since June 1961 and represents an 18% increase relative to December 2009. The BLS expects this to further increase to 23.3% by the end of 2028.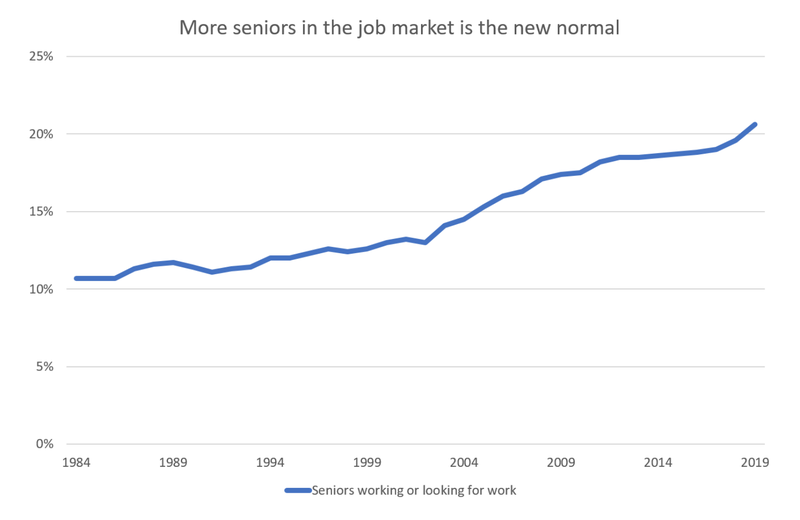 Seniors are taking on greater workloads
While the LFPR tracks the percentage of people working or looking to work, but it doesn't tell us everything about  seniors in the workforce. According to a SimplyWise analysis done using BLS data, seniors are taking on greater responsibility by increasingly opting for full-time work, as shown by an 85% increase over the last 10 years in the amount of seniors working more than 35 hours per week (compared to a 49% increase in part-time workers aged 65 and above). Of employed seniors, over 62% are working full-time.
The market likes what seniors have to offer
Seniors want to work and are willing to make themselves available, but how is the job market treating them? Just fine. The final four months of 2019 boasted the lowest average unemployment rate for seniors since before the 2008 financial crisis, indicating that people aged 65 and up are having great success finding work. Additionally, the 2.6% unemployment rate for seniors in December 2019 remains below the 3.5% national unemployment rate. Clearly, employers are seeing value in this part of the workforce. 
The "new normal" is just fine
The world of retirement is changing. Seniors are increasingly capable and benefit from increasingly easy access to work. Now, they are taking advantage of the opportunity at historic rates, becoming less reliant on Social Security in the future. These are a few occupations where seniors are thriving:
Office and administrative support: In 2018, 1.2 million seniors worked in jobs such as booking/accounting, customer service, receptionists, secretaries and administrative assistants.
Sales and related: In 2018, 1.2 million seniors worked in retail functions like cashier, clerk, supervisor or in retail sales of some sort.
Transportation and material moving: Of the 665,000 seniors that worked in transportation in 2018, the majority were drivers of either buses, trucks or taxis.
Personal care and service: 476,000 seniors worked in personal care and service in 2018, the main functions served were personal care aides, childcare workers and hairdressers/hairstylists.
Building and grounds cleaning and maintenance: 424,000 seniors worked as janitors, maids, housekeepers or in other such roles in 2018.
Whether through a litany of online job boards or other sites designed to help Americans as they ponder their golden years, seniors are now just a click away from job opportunities. It turns out the death of retirement isn't such a bad thing.
This article originally appeared on SimplyWise.com and was syndicated by MediaFeed.org.
Featured Image Credit: Deposit Photos.
AlertMe