Trader Joe's keeps hitting home runs with its holiday collection of festive snacks, gourmet chocolates and delicious drinks. No matter if you're the host or the guest, grab some for your next party. Hurry, supplies are limited!
2 / 17
TraderJoes.com
1. Jingle Jangle
Price: $9.99
Make some noise for this best-seller, which contains pretzels, caramel popcorn, crumbled Joe-Joe's cookies and mini peanut butter cups all covered in chocolate.
3 / 17
TraderJoes.com
2. Decked Out Tree Cookies
Price: $2.49
These adorable tree-shaped biscuits are filled with milk chocolate and finished with crunchy sprinkles and white icing.
4 / 17
TraderJoes.com
3. Mini Peppermint Meringues
Price: $2.99
These airy meringue morsels are made of sugar, egg whites and peppermint candy pieces. Pair them with a cup of tea for a sweet afternoon treat.
5 / 17
TraderJoes.com
4. Candy Cane Joe-Joe's
Price: $2.99
TJ's decks out its famous Joe-Joe's by adding peppermint pieces in the cream filling. There's even a gluten-free version, so those with food allergies can still enjoy this annual tradition.
6 / 17
traderjoes.com
5. Peppermint Brownies
Price: $3.99
These dense, fudgy brownies include peppermint and white chocolate chips finished with a drizzle of white chocolate ganache. Warning: Keep some milk nearby!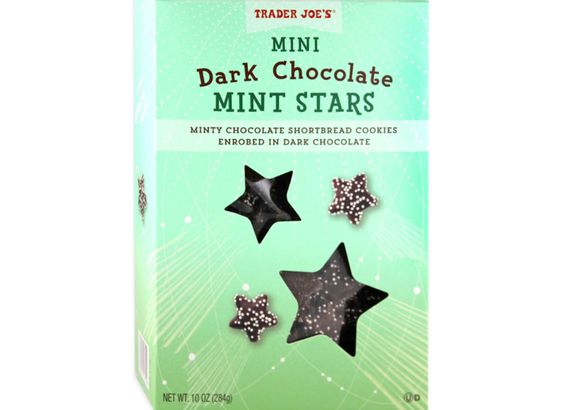 7 / 17
TraderJoes.com
6. Mini Dark Chocolate Mint Stars
Price: $3.49
These mini, star-shaped shortbread cookies are coated with smooth, mint dark chocolate. Crunchy nonpareils finish it off for a cool flavor that's out of this world!
8 / 17
TraderJoes.com
7. Festive Chocolate Collection
Price: $3.99
Need a last-minute gift? These holiday chocolates are almost too pretty to eat. Each box features seven designs, including a white chocolate snowman and a dark chocolate ornament.
9 / 17
TraderJoes.com
8. Belgian Cookie Collection
Price: $10.99
This big red tin contains 12 types of Belgian chocolate-covered cookies, including crispy cocoa cream wafers and chocolate-dipped shortbread. It makes a festive gift, although you may want to keep it for yourself!
10 / 17
TraderJoes.com
9. Candy Cane Joe-Joe's Dark Chocolate Bar
Price: $1.99
This mashup mixes 60% cacao dark chocolate with pieces of Candy Cane Joe-Joe's. Stock up before they run out!
11 / 17
TraderJoes.com
10. Cookie Mug Hangers
Price: $2.69
No soggy cookies here. Prop your gingerbread person on the side of your mug between dunks as you sip your steaming hot cocoa.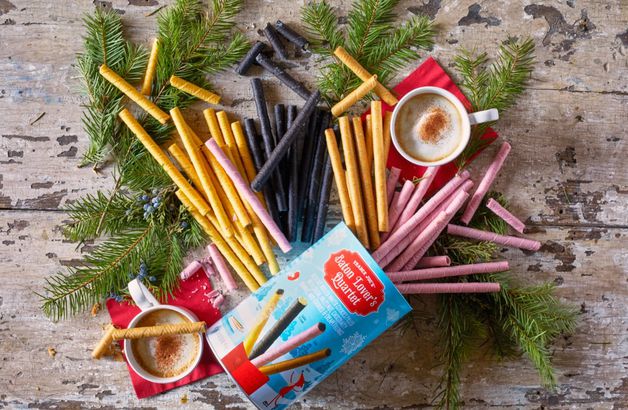 12 / 17
www.traderjoes.com
11. Baton Lover's Quartet Cookies
Price: $6.99
These rolled wafers feature four different filling flavors: cocoa, cookies & cream, chocolatey orange and hazelnut. Each flavor comes in individually wrapped sleeves so your batons stay fresh.
13 / 17
TraderJoes.com
12. Sugar Plum Sparkling Beverage
Price: $3.49
This fizzy mix of plum juice, white grape juice and sparkling water is a refreshing non-alcoholic alternative for your next party. And there's no added sugar, so you can have that extra cookie!
1
4 / 17
TraderJoes.com
13. Wintry Blend Ground Coffee
Price: $7.99
This ground coffee blend is made with medium-dark roast Arabica beans and seasonal spices, such as peppercorns, fresh cloves and sweet cinnamon. It's the perfect pick-me-up on a cold day.
15 / 17
TraderJoes.com
14. O'Nog Non-Dairy Oat Beverage
Price: $2.99
Vegans will appreciate this new non-dairy "O' Nog" made of oats. Drink it plain or kick it up a notch with a shot of rum. For a festive bread pudding, use this 'nog as a milk replacement.
16 / 17
TraderJoes.com
15. Sparkling Pomegranate Punch Beverage
Price: $3.99
Ring in the new year with some bubbly. This non-alcoholic Sparkling Pomegranate Punch features pomegranate, pineapple, orange and apple juice with a kick of ginger. Cheers!
Related:
This article was produced and syndicated by MediaFeed.org.
AlertMe