I hear it again and again. Eating clean is complicated, time consuming, expensive and overwhelming to start. But I'm here to tell you that it is truly only as complicated, time consuming, expensive and overwhelming as you make it. Here's how to start eating clean without feeling overwhelmed.
You have to consider what clean eating truly is. At it's core, it's simply about eating real, unaltered food. Think: apples, oranges, celery, zucchini, chicken breasts, lean cuts of pork and beef, seafood, herbs & spices and any other real food item you can find at the store or in your garden. That's it. That is truly all there is to it. If you can find it growing on a farm, chances are it's clean.
You can, of course, take it further and make a "diet" out of it, or make it a very restrictive and expensive way to eat. But it really doesn't have to be that way. Truly, it doesn't. Nothing could be simpler than having an apple and a hard boiled egg for a snack or meal (depending on your approach to clean eating).
Now I know many of you don't always know what to do with fresh ingredients and it's not your fault. That's how you were raised or taught. "A box is so fast and easy!". But while you may be able to nuke something in the microwave in minutes, you could use that same time to make a quick salad out of some very easy ingredients. And if you really need more convenience, buy those salad ingredients already cut up for you and ready to go!
I know I make is sound easy, but I promise, it really, really is! I've been doing this for a long time. I wouldn't lie to you! I swear! So don't fret because I don't plan on keeping any of this a secret. I want to show you exactly how easy it can be to eat clean. And in today's post, I'm going to share some ways to make it smooth and simple. (At the bottom of this post you'll find a grocery guide to clean eating).
How to start eating clean without feeling overwhelmed
While it certainly can be expensive to eat clean, it doesn't have to be. Here are a few pointers for keeping your food bill within your budget.
Does clean eating seem like a really expensive and overpriced option to you? Avoiding clean eating because you just don't think you can afford it?
I was the same way at first. That is, until I learned how to eat clean on a budget! Below, I'll share with you the 5 tricks and tips I've used to do just that.
Shop in bulk
Start in the bulk section of your local health food store. Bulk foods are cheaper than the packaged versions, and you get really clean and healthy foods. Think beans (easy to cook and cheaper than buying cans), whole grains such as barley, millet, quinoa (pronounced KEEN-wah), and whole grain flours. Avoid anything boxed or canned. While this is pretty much a general rule of clean eating, many clean items still come in a can or box. Remember, you pay for the packaging!
Selective Organics
You don't have to purchase all organic produce to get the benefits of eating organics. Save your money for the organic options of the "dirty dozen". Those foods which contain the highest amounts of pesticides.
Peaches
Apples
Bell Pepper
Celery
Nectarines
Strawberries
Cherries
Pears
Grapes
Spinach
Lettuce
Potatoes
Get familiar
I shop at three different stores because I know where I can get better prices on different foods and supplies. That said, you have to factor in the carbon foot print and cost of driving from store to store. For me, these stores are relatively close together. If I had to drive further to get to each one, it would outweigh the benefits of going to a cheaper store.
Clip those coupons
While few people want to take the time to clip and organize coupons, it can definitely add up in the savings department. Typically, you won't find a lot of sales on bulk items or fresh produce. But often, stores will put out coupons for a certain amount off of your entire order, as opposed to the manufacturer offering a discount on one specific item. Keep your eyes open for these deals. I know Whole Foods occasionally offers discounts on anything in their bulk section. This is the time to stock up, especially on items you buy regularly.
Cook from scratch
I know, I know. You don't have time to cook every day. But with a little planning, you can work in home cooked meals every day of the week. Plan to cook and freeze portions of large recipes on the weekend. Bake your own bread. With the right recipe, it'll be cheaper then that 99 cent loaf at the SaveMart. And it's easy! Here's a recipe for Healthy Bread In 5 Minutes A Day, and here's another quick and affordable recipe for Irish Soda Bread.
Buy the whole bird
Buy a whole, organic chicken. Yes, it seems pricey at first. (I paid almost $14 for a medium-sized, organic chicken at Trader Joe's). But here's the thing.There are so many ways to extend the "life" of that chicken. The meat can be frozen or used in soups, sandwiches or on its own.Plus, once you've removed the meat, you can boil the bones to make the best chicken stock ever. You just can't beat a home-made chicken stock. So you can start to see where you can actually save money by buying a whole bird.
This is by no means a definitive list. If you know of any ways to save on eating clean, please share them in a comment below. We're all on a budget these days. Let's help each other out and save some money, while still maintaining our health!
HOW DO I START? IT FEELS SO OVERWHELMING TO CHANGE MY WHOLE DIET!
Here again, it's only as stressful as you make it. There are many ways to gracefully slide into a clean eating lifestyle. Check out these 10 tips!
And if you're still feeling overwhelmed, keep things really simple by starting with 1 clean meal in week number one. Make 2 clean meals in week number two, and so on. It's the easy way to make the transition!
Wondering how to start eating clean?
When you first get started with eating clean, the idea can quickly become a bit overwhelming. If you are used to packaged and processed foods, the transition can be a tough one for some people. But it's by no means impossible! In fact, if done correctly, it can be relatively painless! And no, it doesn't have to cost you a small fortune to get started either. You can ease your way into it which is definitely easier on you as well as your wallet. So here are a few easy steps to help you learn how to start eating clean.
HOW TO START EATING CLEAN:
If eating 5-6 meals a day is your goal, plan 3 regular sized meals, and then split them in half and spread them out every few hours until you get used to the idea of frequent, smaller meals. You want to increase the number of meals without increasing your caloric intake.
Keep ingredients simple. Use herbs and spices to get flavoring. This is not the time to try out that vegetable you've never seen or heard of before. Stick to basics and keep your meals very basic. Think broccoli, chicken breast and brown rice. Once you get the hang of it, you can branch out.
Pick a few recipes from this site or others that you'd like to try for the week. Trying one or two new recipes per week will help you start to get the hang of the cooking without it getting totally overwhelming.
Plan leftovers!! It makes lunch time (and sometimes even dinner) so much easier if you already have some food ready to go.
Make a list of clean snacks that you enjoy. (Check out the snack info graphic in my Pinables page!)
Each week, when you do your grocery shopping, switch out at least one ingredients in your kitchen or pantry as they run out. So for example, when the white rice runs out, buy brown rice. When the white pasta runs out, replace it with a 100% whole grain pasta.
If exercise is relatively new to your daily routine, start slow. It's easy to get overly excited and go hog wild your first few days. But you won't keep it up if you do that. Start with something easy, and work your way up.
If you don't already have one, purchase a small cooler that you can carry your food in.
Create a Clean Eating Emergency Kit for your car and/or office.
Most importantly, expect and plan for mistakes. Making mistakes is more a frame of mind than anything else. If you know you will make them, expect them and plan for them, they won't completely derail your best efforts. If you find you've purchased or eaten something that isn't clean, do better at the NEXT MEAL. Not tomorrow, not next week. The next meal. That, in and of itself, will determine a large part of your success with clean eating. It's persistence and perseverance that will help you reach your goals, and handling mistakes is a huge part of that. You won't be perfect from the get go, and you'll even make mistakes after doing this for years. I know I do. So be kind to yourself and do what you need to do to make the next meal clean. It really is that simple.
I DON'T KNOW WHAT TO EAT! I NEED A MEAL PLAN!
I've got you covered there too, and I'll be adding more meal plans to my collection as time goes on.
Meal plans are a great way to stay on top of a clean eating lifestyle.
If you're getting started with clean eating or simply need a little more structure in your eating plan, then a clean eating meal plan may be just what you need.
These meal plans are ideal for those who want to eat clean.
Each meal plan comes with a shopping list so you don't have to guess at the grocery store.
The plans are laid out for you in calendar style for one week. They will link to the recipes so all you have to do is click and print. The shopping lists are easy to download and are also linked directly from the meal plan.
Figuring out what to eat has never been easier!!
Plus, they are just $5. You can use them again and again and even mix and match to incorporate leftovers or just to keep things interesting.
It always feels so good to have a food plan in place!
Click here for some outstanding meal plans.
I HAVE NO IDEA WHAT TO STOCK MY KITCHEN WITH! HELP!
It's okay if you don't know where to start. Here is a cost-effective, methodical way to slowly transition your kitchen to clean eating without putting a huge dent in your pocketbook.
Stocking a clean eating pantry has never been easier! This guide makes is super easy. Give it a try!
One of the problems I had when I started eating clean was my incredibly, junk-food-filled pantry. There was just nothing I didn't have in there! From candy bars, to white rice and pasta, I had it! Far from the modeling "diet" I followed in my teens.
Now I admit, I didn't go through and toss everything so I could start from scratch in one day. Switching my pantry contents to 100% clean foods was a challenge, and I just didn't have the money to start from scratch all at once. So what did I do?
Every week, I chose one food to replace. Out went the candy bars and in came the protein bars. In a few months, my pantry was…. perfect!
So what clean foods should you buy to replace what's in your pantry now?
Stocking A Clean Eating Pantry
WHOLE WHAT?
Whole Wheat Pastry Flour is easily substituted in most recipes calling for white flour. It's cheapest to purchase it in bulk at your local health food store. (You'll need to find another alternative if you are gluten sensitive). As far as I know, this is the finest "grind" of whole wheat flour you can buy.
BEANS, BEANS THE MAGICAL FRUIT. THE MORE YOU EAT THE MORE YOU…
Whether you like them canned or cooked from scratch at home, be sure you have plenty of these on hand in a broad variety. They are nutrition powerhouses and are very easy on the wallet. Just be sure to read labels if you are buying canned beans. Many will have added sugar. Avoid these. The sugar is not necessary or part of a clean eating lifestyle. Some beans to try:
Garbanzo beans (chickpeas)
Black beans
Kidney beans
Pinto beans
Adzuki beans
Navy beans
THE WONDERFUL WORLD OF GRAINS 
If you've only ever heard of wheat, oats and rice, you're not alone. Many people don't even realize the incredible list of healthy grains available to them. Long gone are the days when we had to make due with a few simple and well known grains. Today we have a veritable cornucopia of nutritious grains at our disposal. Here are just a few to get you started:
Quinoa
Brown Rice
Barley
Millet
Farro
Amaranth
Buckwheat
Kamut
Oats – Steel cut is best
MOOOOOOVE OVER DAIRY!
If you are sensitive to dairy like I am, you have some fantastic alternatives available to you!
Almond milk (Unsweetened)
Rice milk (Unsweetened)
Hemp milk (Unsweetened)
Hazelnut milk (Unsweetened)
Coconut milk (Unsweetened – usually canned)
MAYBE THE SQUIRRELS HAVE IT RIGHT!
Nuts are wondrous little doo-dads and are a great addition to your eating plan in small amounts. The nutrients found in nuts are unequaled, and they really add a flavorful punch to anything you add them to. Some nuts to get you started are:
Almonds – nothing added.
Hazelnuts
Walnuts
Pecans
DO YOU HAVE A SWEET TOOTH?
There are actually quite a few sweeteners allowed on a clean eating plan. In moderation, you can enjoy some sweet treats on a semi-regular basis!
Honey
Sucanat
Maple syrup
Brown rice syrup
Stevia, liquid variety
EXTRAS
Some extras you should always have on hand are:
Chia Seeds
Flax Seed Meal
Oat bran
Wheat germ
Bee pollen
So there you have it. It's by no means a complete list, but it's a place to start. When you go grocery shopping, just add fresh fruits and veggies to this list and you'll be well on your way to better health!
I DON'T KNOW WHAT TO BUY AT THE STORE
Not to worry! Let me walk you through a few of the stores I have shopped at.
HOW DO I READ LABELS AT THE STORE TO BE SURE WHAT I'M BUYING IS CLEAN?
It's not as hard as you may think! Here's a step by step process for reading those labels.
A lot of people ask me about reading labels for clean eating. And the truth is, it's a difficult topic to cover simply because there are soooooo many ingredients out there. It would be virtually impossibly for me to make a list of them all. So until now, I've avoided the subject.
But I'm not one to ignore questions, and I don't like to leave people hanging. So I thought I would share the principle I used when learning to read labels for clean eating.
NUMBER OF INGREDIENTS:
Many people believe that it's the number of ingredients that matter. There is a theory out there than anything with more than 5 or 6 ingredients means the product is not clean. While I understand the thinking behind this, nothing could be further from the truth.
Most of my recipes have more than 5 or 6 ingredients and they are all considered clean in varying degrees (depending on your food philosophy).
You could have a food product with 30 ingredients, but if those ingredients are all clean and the item is not processed, it's totally fine. Grant it, I don't think you would ever find such an item, but go with me here…
READING LABELS:
This is how I did it in the beginning (and still do to some degree).
When looking at an ingredient list, consider each ingredient individually. Is it something you would buy separately to cook with in your own kitchen?
For example, let's start with an random jar of spaghetti sauce. If the ingredients are, "tomatoes, garlic, olive oil and basil", then you know it's clean because you would buy JUST tomatoes to cook with. You would also buy JUST garlic to cook with. Same for olive oil and basil.
But if the ingredient list says, "tomatoes, garlic, olive oil, basil and maltodextrin", you would want to pass it by. You would never go to the store for some maltodextrin to cook with at home.
Of course, there are always exceptions to the rule, but generally speaking, this will keep you pretty much on track. Word of warning though, it can also cause a bit of frustration when you start looking at labels this way. You have to hunt for clean products. They aren't easy to find.
But then, that is the focus of clean eating, is it not? You want to purchase less packaged products and replace them with whole food items, mostly from the produce section. Foods that do not require labels because the ingredient list, IS the item itself.
EXAMPLES OF CLEAN FOODS:
Oranges
Celery
Lettuce
Chicken
Plain oats
Salmon
Millet
Barley
Almonds
Walnuts
These are all examples of what clean foods are. Think of it this way. You want to purchase INGREDIENTS. Not prepared foods.
Yes, this takes a bit of forethought and planning. Clean eaters do cook a lot, and most of them love it. Just know that over time, the cooking and prep work do become routine. Once you've done it for a while, you do it efficiently, quickly and really without any stress. It just becomes a part of the lifestyle.
A WORD ABOUT THE GRAMS AND PERCENTAGES:
Many people also ask me about the percentages you find on a food label (pictured above). These are the ones that tell you that a product has 54 grams of carbs, 50% of your vitamin C requirements for the day, or 30 grams of protein per serving.
This part of the label can be vital for many people, especially those with blood sugar issues and other medical problems. However, this part of the label will tell you NOTHING about whether an item is clean or not. So if clean eating is your goal, check the INGREDIENT LIST. Not the percentages. Those are used for other things.
I'll use this can of coconut milk as an example. This is what you want to look at to determine if a product is clean (we'll set aside the BPA issue right now for the purpose of the example):
You see in this example that the only thing in the ingredient list is coconut milk and water. Both are clean items, so this item is considered clean. (Again, BPA issues aside).
The percentages, are all together different. They tell you things like how many calories there are and how much vitamin A you are getting. While this is important information, it will not tell you if the item qualifies as clean.
So that, in a nutshell, is how I started. Once I had that down, I started educating myself on individual ingredients and what they are. I don't know everything and I still scratch my head on a few items. But it really comes down to research and being willing to learn something new. You absolutely must educate yourself in order to eat clean. Will it happen overnight? No. Will you make mistakes? Plenty of them. But that's all part of the learning curve. Just keep going. It will all become second nature after a while. I promise.
NEED SOME COACHING TO GET STARTED OR BACK ON TRACK?
These self-paced 8 lessons will guide you through getting started with clean eating. Enjoy access to 8 content pages with audio and downloads. Get more info here.
I DON'T HAVE MUCH TIME. I NEED QUICK RECIPES!
Gottcha covered here too! I have a few categories here on my blog that might do the trick.
Simple Meals – Easy meals that don't even require measuring!
Freezer Meals – Stock your freezer with meals ahead of time so you can simply thaw and heat as needed.
Recipes With 5 Ingredients Or Less – Not much in the fridge until payday? These recipes can help!
I AM CONSTANTLY ON THE ROAD FOR WORK. CAN I STILL EAT CLEAN?
While those of you that travel often certainly have a different set of challenges, that doesn't mean you can't eat clean. Here are some ideas that may help.
I'M VEGETARIAN OR VEGAN. CLEAN EATING SEEMS TO HAVE SO MUCH MEAT! HOW DO I EAT CLEAN WITHOUT ALL THAT MEAT?
I CAN'T CONVINCE THE KIDS THIS IS A GOOD IDEA. WHAT SHOULD I DO?
MY SPOUSE IS NOT SUPPORTIVE. HOW DO I STAY ON TRACK?
FEEL LIKE YOU NEED MORE HELP OR SUPPORT IN MAKING THE SWITCH TO CLEAN EATING? LET ME HELP YOU!
Click for a free online course of 8 lessons including text, audio and downloadable worksheets. Let me help you make the switch to clean eating! Get more info now!
So there you have it! That's how to start eating clean without feeling overwhelmed!
This article originally appeared on The Gracious Pantry and was syndicated by MediaFeed.org.
More from MediaFeed:
Want to eat clean? Here's your complete grocery list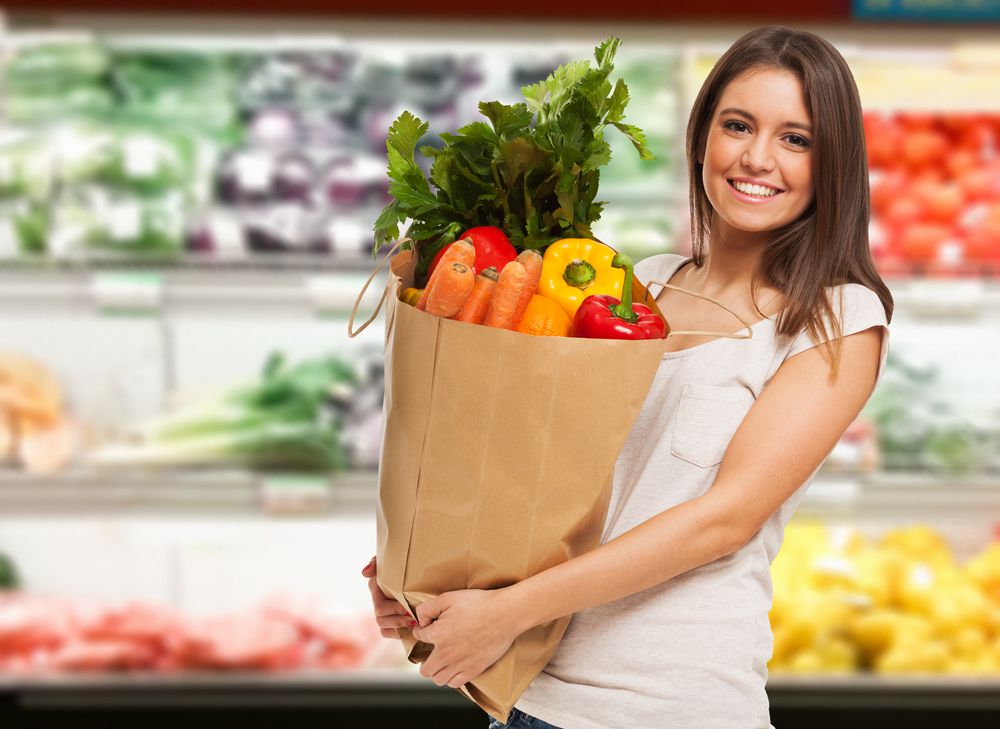 Featured Image Credit: DepositPhotos.com.
AlertMe