Working from home (WFH) has many benefits including less stress, no commute, and flexibility. Surveys show it promotes job satisfaction. But there are drawbacks, some of them significant, that many people don't realize.
WFH jobs limit your opportunities for networking, socializing — and even, potentially, for earning more money. Here's what you need to know about WFH to determine whether it makes sense for you.
Does WFH Impact Your Career?
You might not have as many opportunities for networking when you work from home, which could make it harder to advance in your career. Whether working from home helps your career may depend on your industry and your level of experience.
Workers who have recently started their careers are more likely to question whether WFH hampers career advancement, says Brian Walsh, senior manager of financial planning at SoFi.
"Younger people who are early on in their career are saying, 'OK, I'm a couple years into something and I'm not an expert. I know things, but I don't know all the things,'" Walsh says. "'So if I work remote, even if it's allowed, am I going to develop my skills and advance in my career as fast as I would otherwise?'"
Highly experienced employees "who've clearly established themselves and their skillset and expertise would probably have a lot more flexibility," Walsh says. "Not only their current company, but other companies are going to treat them differently, so I think it's important to always consider the unintended consequences of decisions like this."
Does WFH Affect Your Salary?
Every employer sets its own policies, but you might have to take a pay cut depending on where you live as a WFH employee. This is because WFH jobs often have pay ranges for different states. So if you currently live in Michigan, say, and you get a remote job with a company in New York City, there's a good chance you'll earn less."
A company may have pay zones," Walsh says, explaining that WFH employees in a lower pay zone may earn 80% or 90% of what a similar employee makes in the highest pay zone. "The other approach we see is comparing metropolitan area to metropolitan area." A worker based in NYC may earn more than a similar employee based in a smaller metro area, Walsh says. 
Can You Move to Another State?
You can move to another state if you're working from home, but you typically have to tell your employer. You may also need to get their permission if you wish to move across the country and continue working from home. "Even if it's not required, it's a good idea to make sure that you have all your bases covered," Walsh says. You may also earn less money, depending on where you move, Walsh says. He points out that:
It's common for employees to take a pay cut if they move to a less expensive state and continue working from home 
You may not get a pay raise if you move to a more expensive state
It's a good idea to know how your employer approaches compensation if you wish to move and work from home in another state
You should evaluate the pros and cons of all of the above to help determine whether moving is right for you if you WFH.
States That Pay You to Move There
Also worth considering is the fact that some states might actually pay you a monetary award if you move there. These state include:
Alaska
Residents of Alaska may be eligible for thousands of dollars in annual payments from the state's Permanent Fund Dividend (PFD):
Alabama
U.S. citizens and legal residents may receive up to $10,000 if they agree to move to Alabama's Shoals region and work from home in Lauderdale or Colbert counties for 12 months:
Vermont
Full-time employees who move to Vermont and work from home may be eligible for a grant of up to $7,500:
West Virginia
U.S. citizens and lawful permanent residents may receive up to $12,000 if they move to West Virginia and work from home for an out-of-state employer:
Cities That Pay You to Move There
There are also cities that may pay you if you move there, such as: 
Hamilton, Ohio
Recent college graduates may receive up to $15,000 in student loan repayment assistance if they move to Hamilton, Ohio, and work from home as a full-time employee: 
Hamilton is a city in southwestern Ohio about 20 miles north of Cincinnati, which ranks as one of the best cities for college grads to live.
Newton, Iowa
Homebuyers can receive a $10,000 cash incentive when buying a qualifying new home in Newton, Iowa:
Tulsa, Oklahoma
U.S. citizens and lawful permanent residents who move to Oklahoma and work from home within Tulsa city limits may receive a grant of up to $10,000:
Can You Find a WFH Job That's Right For You?
Fewer employers are offering remote jobs in certain industries now. Overall, 40.1% of private businesses had employees working from home some or all of the time in July–September 2021, compared with 27.5% of businesses August–September 2022, according to Bureau of Labor Statistics data released in April 2023.
Like the private sector, the federal government appears to be offering fewer WFH jobs.
The Office of Management and Budget (OMB) in April 2023 directed federal agencies to "substantially increase meaningful in-person work."
The information industry — which includes telecommunications, broadcasting, data processing, and publishing — may offer a variety of WFH jobs. Professional and business services — which includes accounting, bookkeeping, consulting, and legal services — may also promote WFH, BLS data show.
You might be able to find a WFH job that's right for you, but it could be more difficult with fewer employers offering such opportunities on a permanent or hybrid basis.
How to Get the Most Out of WFH
If you're interested in working from home, make sure you have the right temperament for it. If you previously worked from home during the Covid-19 lockdowns, you can reflect upon that experience for some clarity.
"It's about being honest about how you felt about it, how you performed in a remote environment, and how it affected your career and your career progression during that time period," Walsh says. "Some people work better remotely because it prevents distraction and they're not worried about a commute. I consider myself one of those people."
Other people are more socially oriented and they want to collaborate, they want to learn, and they need that in order to thrive," Walsh says. If you've never worked from home, you may want to "test drive it" before committing to a full-time remote job, Walsh adds.
Know the Pros and Cons of Moving
Residents of any state can pursue WFH jobs, but think carefully about whether moving to a new city or state makes sense for you financially and career-wise.
As mentioned earlier, you may need your employer's permission if you wish to move to another state and continue WFH. Employers may have different pay zones depending on your state or metro area. You could potentially take a pay cut if you move.
Moving across the country can be particularly costly, but you can pay for moving expenses by borrowing money or using your personal savings.
"Get a good sense of the cost of living differences between where you currently live and where you're thinking about living," Walsh says, "Sometimes it's cheaper and the adjustment isn't that big of a deal. Other times, especially with the way the real estate market is right now, it might not be cheaper, so if you take a 10–20% haircut on your income and your expenses stay the same, that can create major challenges."
Build an Emergency Fund
Having a rainy day fund can help you pay for some unexpected WFH costs. This can be particularly important if you're planning to move across the country and work from home.
"People who have a solid financial foundation where they've got an emergency fund and they're not carrying bad debt like credit cards, and they're saving for retirement may be able to take more risk than someone living paycheck to paycheck," Walsh says.
Planning a long-distance move may not be right for you if you're struggling to make ends meet. "Maybe the focus is on planning for a year or two to get yourself in a good position where you give yourself options," Walsh says. "You don't want to expose yourself to too much risk if you don't have any safety nets."
The Takeaway
Depending on your personal circumstances, working from home may give you a better work-life balance. The legacy of the Covid-19 pandemic is that some employers may continue offering WFH jobs to accommodate workers who prefer such an arrangement. Just understand that WFH employment may limit your ability to network on the job, and that it could also cost you money, depending on where you live.
This article originally appeared on SoFi.com and was syndicated by MediaFeed.org.
Please understand that this information provided is general in nature and shouldn't be construed as a recommendation or solicitation of any products offered by SoFi's affiliates and subsidiaries. In addition, this information is by no means meant to provide investment or financial advice, nor is it intended to serve as the basis for any investment decision or recommendation to buy or sell any asset. Keep in mind that investing involves risk, and past performance of an asset never guarantees future results or returns. It's important for investors to consider their specific financial needs, goals, and risk profile before making an investment decision.
The information and analysis provided through hyperlinks to third party websites, while believed to be accurate, cannot be guaranteed by SoFi. These links are provided for informational purposes and should not be viewed as an endorsement. No brands or products mentioned are affiliated with SoFi, nor do they endorse or sponsor this content.
Communication of SoFi Wealth LLC an SEC Registered Investment Advisor
SoFi isn't recommending and is not affiliated with the brands or companies displayed. Brands displayed neither endorse or sponsor this article. Third party trademarks and service marks referenced are property of their respective owners.
Communication of SoFi Wealth LLC an SEC Registered Investment Adviser. Information about SoFi Wealth's advisory operations, services, and fees is set forth in SoFi Wealth's current Form ADV Part 2 (Brochure), a copy of which is available upon request and at www.adviserinfo.sec.gov. Liz Young is a Registered Representative of SoFi Securities and Investment Advisor Representative of SoFi Wealth. Her ADV 2B is available at www.sofi.com/legal/adv.
US cities with the best work-life balance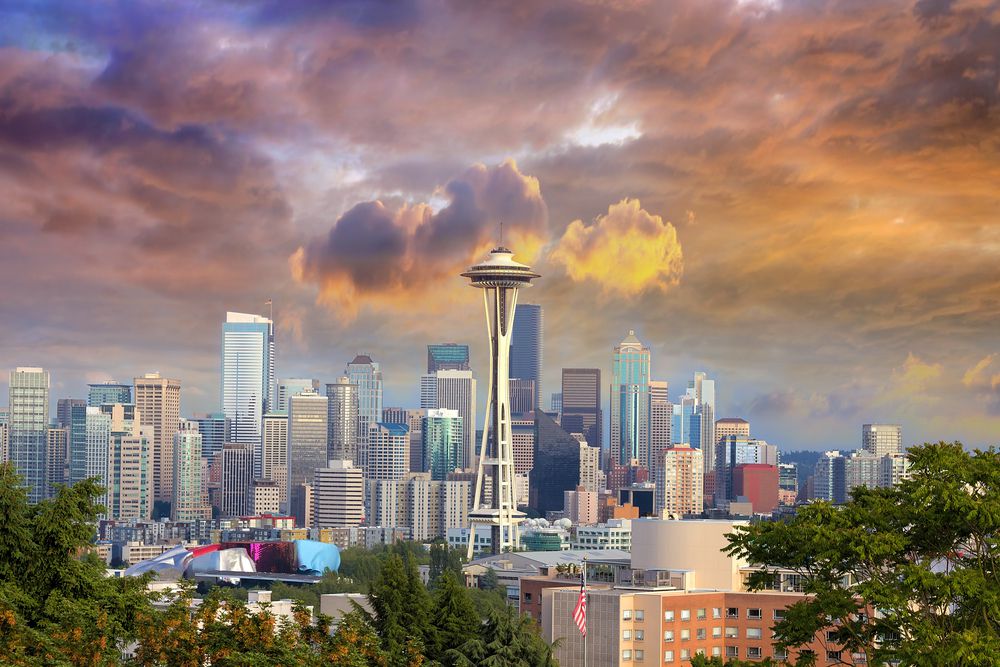 Featured Image Credit: fizkes / iStock.
AlertMe