Sure Amazon is great for buying things like books, household goods and even clothes and jewelry. But did you know you can also find some pretty interesting (and expensive) collectibles there as well?
The most expensive items on Amazon
We combed the Amazon departments looking for some of the most expensive things currently for sale on the site. Take a look at what we found and, should you find something you just can't live without, keep in mind that you should verify the seller and get as much information as you can about the authenticity of the product. Here are 11 of the most expensive items you can buy on Amazon right now.
$171,647.99: 1955 Topps 164 Roberto Clemente baseball card
If you're a baseball fan, you know this 1973 Hall of Fame inductee's rookie card is valuable. Whether you can swing the asking price is another thing. Even if you aren't a baseball fan, the comments on this one are definitely worth a read.
$160,000: Patek Philippe Nautilus 40mm rose gold men's watch
Timepieces can be a great investment, and Patek Philippe watches are among the best.
$120,266.09: Babe Ruth autographed baseball
A baseball signed by The Babe. Enough said.
$84,695: Laurent Ferrier Galet Traveller men's 18K rose gold 41mm watch
Laurent Ferrier is a Swiss watch manufacturer founded in 2010. This watch has a black enamel dial with world map design, white painted 18k white gold hands and indexes.
$32,000: Handwritten note from Benjamin Franklin
What history buff wouldn't want a hand-scribed note from this famous American inventor, statesman, author and diplomat?
$25,999: Sigma 200-500mm autofocus lens for Nikon SLR – Green Bundle
This ultra-telephoto zoom lens can be converted for use as a 400-1000mm f/5.6 lens.
$28,500: Agarwood chips
Sure Agarwood is supposed to have some magical health properties, but this seems like a pretty hefty price to pay for around 2 pounds of the stuff.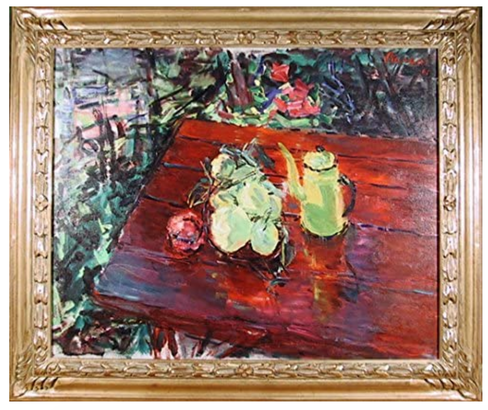 $26,000: A painting by Romanian artist Dimitrie Berea
Dimitrie Berea works can be seen at major museums and state collections in Rome, Madrid, Tel-Aviv, Bucharest, Geneva, London, Paris, Venice, New York, San Francisco, and Vatican City. His work is also part of many private and royal collections, including those of Sir Winston Churchill, The Duke and Duchess of Windsor, Sir Lawrence Olivier, Bette Davis, Henry Ford II, Katherine Hepburn, Conrad Hilton, His Majesty King Carl of Denmark, Her Majesty Queen Elizabeth II of England and Salvador Dali.
$275,000: Fictitious Parrot painting by Nicolas Robert
This 1670 watercolor on vellum with gold fillet is by artist Nicolas Robert, who was one of the greatest natural history artists of the 17th century.
$20,398.80: 1940s movie poster for Attack of the 50ft. Woman
This 14-inch by 36-inch, linen-backed poster is from the 1958 movie starring Allison Hayes, Roy Gordon, William Hudson and Yvette Vickers.
$36,360: B.B. King autographed guitar
This guitar autographed by blues legend B.B. King comes in a custom display shadowbox and is certified authentic.
$7,500: Peanut's cel sketch
This is an "extremely rare" Peanuts Original Production cel sketch from the 1972 special Snoopy Come Home.
More from MediaFeed.org:
21 of the world's most beautiful places to visit
Favorite childhood restaurants you just can't find anymore
This article was produced and syndicated by MediaFeed.org.
AlertMe
---