According to the National Retail Federation, Americans planned to spend just under $200 on their Valentines last year. After the year we've just had, I wouldn't be surprised to see that number rise. After all, we want to do whatever we can to bring joy to our loved ones! But, you don't have to spend that much to wow your partner, never fear. I found 18 amazing gifts that are under $100 — some priced as low as $15!
1. Homegrown Garden Deluxe Culinary Herb Grow Kit
Homegrown Garden Deluxe Culinary Herb Grow Kit, $45
Growing things can be incredibly satisfying, and this kit — which looks like home decor — makes it easy to grow tasty herbs right at home. You can assemble the pots together, and once the herbs grow, you can indulge in their flavors.
2. The After Party from Fella
The After Party from Fella, $35 (originally $69)
This box is a must for a stylish man who loves to entertain, even if it's just a party of two. This box features an assortment of go-to items, like a guidebook for spirits, cocktails, and wine, a jumbo ice cube tray for whiskey and other spirits, and a smokey-scented candle to set the mood.
3. Rifle Paper Co. Five-Year Keepsake Journal set
Rifle Paper Co. Five Year Keepsake Journal Set, $60
For your favorite journal-keeper, this beautiful set of five journals will keep them busy for years to come. Each journal has a hardcover wrapped in book cloth, a ribbon bookmark, gold foil accents, and journaling prompts. The dates are blank so the journal can be started at any time.
4. Nocs Binoculars
Nocs Binoculars, $89
These colorful, portable binoculars will enhance your next hike. They are compact and waterproof so you can bring them pretty much anywhere, and they come with a carrying strap and lense-cleaning cloth. You can even use them with your smartphone to take long-distance photos, which will come in handy for capturing the view, but also for sporting events and performances.
5. Wolferman's Bakery Valentine's Day crate
Wolferman's Bakery Valentine's Day Crate, $49.99
Valentine's Day breakfast and snacks, handled. This crate is packed with tasty baked goods and preserves, including English muffins, chocolate swirl loaf cake, buttery heart-shaped cutout cookies, chocolate-covered galettes, and strawberry preserves.
6. Rastelli's Maine Lobster tails
Rastelli's Maine Lobster Tails, $85.00 for 4 Maine lobster tails
No need to worry about what's for dinner! These fresh and delicious, wild-caught Maine lobster tails come fully cleaned, in the shell, and ready to bake, broil, steam or grill. Pair with a veggie and you'll be ready to eat. Rastelli's also has wonderful meats.
7. Pizzolato M*USE 'Paloma Rosé Spumante Rosé Secco
Pizzolato M*USE 'Paloma Rose' Spumante Rose Secco, $17.99 for 750ml and $5.99 for the individual servings
The packaging alone sold me on this sparkling, organic Rosé. The glass bottle has a diamond pattern, which is accented by a sparkly rose gold label and seal. The label can be removed easily so the bottle can be used for decoration. And the Rose is delicious!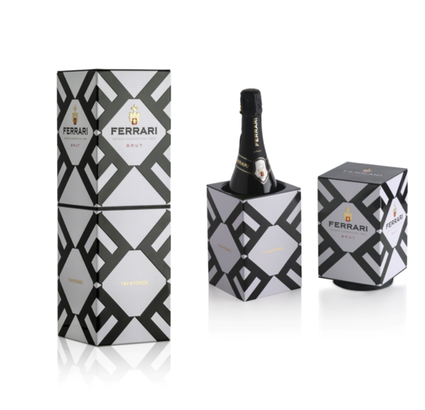 8. Ferrari Brut NV, Trentodoc with chill box by Ferrari Trento
Ferrari Brut NV, Trentodoc with Chill Box by Ferrari Trento, $26.99
When you pop a bottle of this 100% chardonnay blanc de blancs, you'll experience the great history of Ferrari Trento's award-winning sparkling wines. Made from the first Chardonnay grapes planted in the Trentino mountains by Giulio Ferrari in 1902, this lovely Italian bubbly is smartly packaged in a chill box that keeps it cold for up to four hours.
9. Yogibo Aroma Heart
Yogibo Aroma Heart, $20
A thoughtful gift for your partner who is in need of a little extra comfort these days, this lavender- and peppermint-scented, heart-shaped pillow can be warmed in the microwave and placed on any areas requiring TLC.Recommended videosPowered by AnyClip1/524 Ways the Pandemic May Change Dining Out ForeverRead MorePlay Up NextTOP ARTICLEShttps://imasdk.googleapis.com/js/core/bridge3.436.0_en.html#goog_1196327056
10. BooSocki
BooSocki, $14.99
Boosocki socks feature designs by independent artists. Their Relationship Collection makes defining your relationship effortless, with several cheeky options. My favorites? "I'm Taken" and "I Think I'm The One" socks.
11. Unwilted
Unwilted, $85 and up
Why not give blooms that last forever? These handcrafted, paper flower arrangements retain their beauty indefinitely, and they are maintenance- and allergen-free. Each petal and leaf is hand-cut from Italian crepe paper, constructed to achieve a realistic look and feel.
12. Felina Geena French terry jogger set
Felina Geena French Terry Jogger Set, $39.95
This super-soft, Fresh Terry lounge set is perfect for long days of WFH, corralling kids, and the occasional errand. The shapes are flattering and l love the sporty accent stripes! Be prepared, she might wear it every day. Available in blush and grey in sizes XS-XXL.
13. Catherine Weitzman Rose Petal Heart Necklace
Catherine Weitzman Rose Petal Heart Necklace, $68
This branch-adorned pendant is simply gorgeous. Designer, Catherine Weitzman, transformed a rose petal into a heart shape and then pressed between glass Handmade in Hawaii.
14. Maison Miru Black Heart Charm & Red Heart Charm
Maison Miru Black Heart Charm & Red Heart Charm, $39 each
These tiny, edgy heart charms can be added to an existing piece of jewelry, or, Maison Miru has gorgeous earrings and necklaces in varying lengths and styles to choose from. I wear both hearts on a 16-inch chain and love them!
15. Smith & Cult Decadent Nostalgia set
Smith & Cult – Decadent Nostalgia Set, $36
If she's doing her nails at home, this luxurious kit will make a beautiful gift. It contains two popular shades in a velour pouch with a nail file: Lovers Creep, a deep Bordeaux, and 1972, a shimmering retro rose gold.
16. Nuria Mini Brights Set
This set contains four of Nuria's signature skincare favorites in a cute, canvas travel cosmetic bag. The set contains mini sizes of the Defend Skin Restoring Serum, Defend Triple Action Eye Cream (one of my go-to's), Hydrate Refreshing Micellar Water, and Hydrate Moisture Replenishing Serum. All proceeds from this set will be donated to non-profit She's the First.
17. Butter by Keba Gift Luxe Bundle
Butter By Keba Gift Luxe Bundle, $80
This unisex phthalates-free gift set includes generous sizes of Body Butter, Salt Scrub, Body Lotion, and a lightly-scented perfume oil. A delightful gift for someone suffering from winter dryness or someone who struggles with fragrance sensitivity.
18. Hylunia Spa-in-a-Box Chocolate Bliss Facial set
Hylunia Spa-in-a-Box Chocolate Bliss Facial set, Originally $85. Save 15% off with code VALENTINE
This vegan, natural, ayurvedic and plant-based skincare set is designed to replenish, and hydrate your skin while also helping you feel relaxed and refreshed. The set includes a Facial Cleansing Lotion, Rose Water Mist, Four Antioxidant Mask blister packs with Green Tea, chocolate powder Jars, Anti-Oxidant Cream, and a fan brush.
This article originally appeared on Truetrae.com and was syndicated by MediaFeed.org.
AlertMe
---