The holiday season means gatherings, parties and family functions. And that means a lot of sweets and treats! For some of us, dessert is the best part of the holiday season. Whether you want these treats to satisfy your own sweet tooth or to give to loved ones as gifts, these cookies, candies and cakes will make your holiday season.
Check them out and order soon so you get these treats just in time for your holiday celebrations!
3 / 21
TreatsByTaryn / Etsy
1. Chocolate-covered pretzel sticks
Get these made-to-order for the exact day of your holiday party. The seller lets you choose your event day and month so these treats arrive perfectly fresh. You get 12 pretzel sticks in this pack, six with milk chocolate and six with white chocolate. The seller makes them fresh per each order, so that means you might need to be careful about the pickup date. They shouldn't sit on your doorstep all day while you're at work, for example, so try to arrange for a time when you can bring them right in and keep them fresh for your event. Each pretzel is coated in delicious chocolate and decorated in festive sprinkles, including gingerbread men, Christmas trees, snowflakes, mistletoe and more. They look as good as they taste!
Buy it here for $24.
4 / 21
WoodlandChic17 / Etsy
2. Homemade chocolate bark
These chocolate bark bars come in a huge range of flavors. Each bar is about five ounces and 3 x 6 inches. These treats are so hefty that each one gets its own wrapper! You can get standard chocolate flavors like milk, dark and white chocolate.
The seller also has fun-colored chocolates in pink, red, blue, yellow, green, purple and orange. Then, you can choose your toppings, each of which comes with matching sprinkles and other fun touches to decorate the whole bar. You can embed chocolate chip cookies in your chocolate bar or sprinkle it with M&Ms. Or you can try animal crackers, peppermint, Reese's cups, unicorn marshmallows, assorted candies, dried strawberries, Twix, Snickers, Milky Ways, Oreos or gummy worms!
You can also get a plain bar with no toppings or leave it up to the seller if you just can't decide. Make sure you get enough of these for everyone on your holiday list, as the seller can gift wrap them for you, too.
Order these here for $8.50
5 / 21
Dulcetgiftbaskets / Etsy
3. Dulcet sweets sampler gift tin
Dulcet makes some of the most delectable sweets you could hope to eat. But sometimes, choosing just one doesn't cut it. With this gift tin, you get an array of sweets from Dulcet.
Keep them for yourself or give them as gifts in their attractive gift tin. The assortment includes a mini chocolate bundt, mini chocolate whoopie pie, mini red velvet whoopie pie, chocolate chip cookie, peanut butter cookie and three brownie flavors. The brownies are chocolate chip blondie, chocolate fudge and/or chocolate cheese. These treats will arrive super fresh, as Dulcet bakes them the same week they're delivered. Time this gift with a gathering or party so everyone can enjoy this tasty sampler.
Get this here for $49.99.
6 / 21
RachelsluxeboxesShop / Etsy
4. Luxury hot cocoa holiday gift box
You don't have to restrict yourself to eating your treats during the holidays! Hot cocoa can warm up a bitter winter day and deliver a dash of sweetness to brighten dreary winter months. This is serious hot chocolate. It's all-natural. Each LUXE cocoa sugar cube is handcrafted. All you have to do is drop it in hot milk, coffee or tea, and you'll have a sugary sweet hot cocoa concoction. Enjoy white chocolate cocoa or classic cocoa.
This gift box doesn't stop there, though. It also comes with peppermint and marshmallow toppings that you can sprinkle on your drink to make it truly special. There's also a candy cane spoon so that even the act of stirring is super sweet! As a bonus, the gift box includes a gold silhouette Christmas ornament. It's a Christmas tree with the words "Merry Christmas" on it. So even when the cocoa is gone, you'll still have a memento to remember this gift box by.
Buy it here for $63.
7 / 21
FreshlyPreserved / Etsy
5. Freeze-dried candies
This 10-pack of freeze-dried candies will fill every stocking on your gift list this holiday season. They come in attractive packaging that's the perfect size for a small extra gift. The candies include Skittles, Gummy Bears, Sweet Tarts, Milk Duds, Caramels, Hi Chews, taffy and Charleston Chews. Because they're freeze-dried, you don't need to stress about keeping them fresh for a long time or ordering at just the right moment. Instead, grab this gift early so you can avoid the holiday rush, which can cause shipping delays.
Buy them here for $35.99
8 / 21
ShipMeSweets / Etsy
6. Turtle brownies
This is a single treat, but it's so sweet and delectable that you'll only need one. This 4 x 4 brownie packs a punch with toppings that include chocolate chips, pecans and caramel. Save this one for the true sweet-treat connoisseurs on your list because it's a serious brownie! The seller helps you gift this by packaging it in a bag and then a box that both looks nice and seals in the freshness. Still, you probably want to be careful about the timing of this order so that it arrives as fresh and delicious as possible. The chocolate lover in your life will thank you for this one.
Order it here for $9.95
9 / 21
sugardovesweets / Etsy
7. Toasty milk chocolate s'mores cookies
You might not think of s'mores during the holiday season. They evoke images of sitting around a campfire in warmer months. But these s'mores cookies can still brighten up your holiday season. They're handmade, and the seller uses high-quality ingredients. They include hand-chopped Belgian milk chocolate, miniature marshmallows and graham cracker pieces that the seller bakes to order every time.
You can select 12 standard-sized, 2-ounce cookies or six "large and decadent" (as the seller puts it) 4-ounce cookies. Both are the same price, so follow your sugary heart when making your pick. The cookies will come in a branded craft bakery box lined with gift paper. Each cookie is also individually wrapped. That makes them ready for gifting right when they arrive! Note that the seller includes a Bible verse with each order. The seller says it's "in line with my mission to spread love through both baked goods and the word of God."
Buy them here for $27.99.
10 / 21
DesignsArtDesigns / Etsy
8. Seasonal French macarons
Macarons make for a bright and colorful holiday sweets display. They're also fantastic gifts if you know someone who waits anxiously all year long for macaron season. And that time has come thanks to these beautiful and delicious seasonal French macarons! They use high-quality ingredients. This is a true hand-crafted gift that will delight someone in your life who loves holiday macarons.
Buy them here for $29.90.
11 / 21
Siafood / Etsy
9. Mamool Syrian cookies
Christmas is far from the only game in town during the holiday season. While many of the gifts and treats you'll find online during this time do nod to Christmas, you can also find treats for other holiday traditions, such as these Syrian cookies. They can be for Ramadan, but these cookies can also brighten up any holiday celebration you're enjoying. The handmade desserts encase pistachios, walnuts or dates in a delicious pocket of flour, sugar and butter. You can even select a vegan option. The seller adds a bit of rose water and cinnamon to the walnut option for a special spin on a classic taste. The dates also get a dash of rose water. The walnut ones cost $20. It's $22 for dates, $30 for pistachios, and $25 for a mix. Whatever you choose, you won't regret adding these cookies to your holiday treat options.
Get them here, from $20.
12 / 21
ChocfullConfections / Etsy
10. Chocolate-covered Oreos
Why celebrate the holidays with just one treat when you can get a half dozen? This order includes 6 Christmas tree treats. Each is a double-stuffed Oreo smothered in white chocolate, so reserve these for those on your holiday shopping list with a hardcore sweet tooth. They look beautiful, with a bright and cute design. However, they're also delicious, as the seller covers the Oreos in high-quality white chocolate.
Get them here, from $18.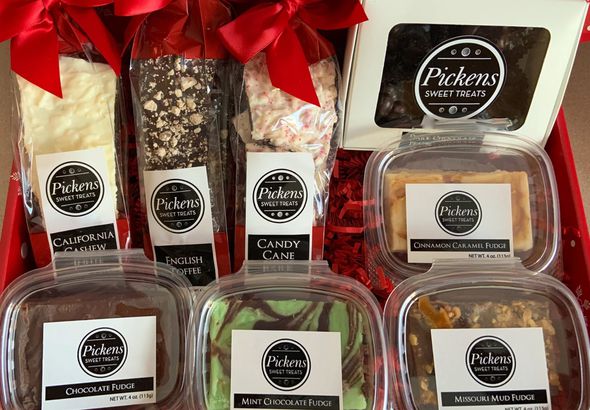 13 / 21
PickensSweetTreats / Etsy
11. Holiday sweets gift box
Buckle up. This gift box has a ton to offer! You get Pickens' signature cashew toffee, a mix of crunchy toffee and sea salt caramel topped with white chocolate and coconut. There's also English toffee for a classic taste and candy cane bark to evoke the taste and scent of the holiday season. Try silky smooth classic dark chocolate fudge and spicy cinnamon caramel fudge. Then cool down with chocolate mint for the chocolate chip mint ice cream lovers.
They're still not done. There's also Missouri mud fudge, which is chocolate and peanut butter fudge with caramel in the middle and drizzled on top. And if that wasn't enough, you can enjoy a box of dark chocolate peanut clusters. You will satisfy even the most adamant chocolate and sweet lover in your life with this box. Plus, it all comes in a beautiful red package decorated with reindeer and snowflakes.
Get this treat here for $45.
14 / 21
SendABoxfull / Etsy
12. Build-a-box assorted candy
This is a simple treat that might be a nice pick-me-up during the cold winter months. If you have to be far from a loved one during the holiday season, send them this fun jar of treats to show them you're still thinking of them. You can select from three flavors: Santa's cookies, jolly wreaths or snowballs. Santa's cookies and jolly wreaths are both seven ounces, while the snowballs are five ounces. With jolly wreaths, you get chewy candies in tart, cherry, green apple and strawberry banana flavors. Santa's cookies are little balls of milk chocolate cookie dough. Finally, the sweet snowballs are crunchy white chocolate balls with sugar cookies inside. Choose the one that suits your person the best and send them a small bundle of holiday cheer.
Get this here for $8.95.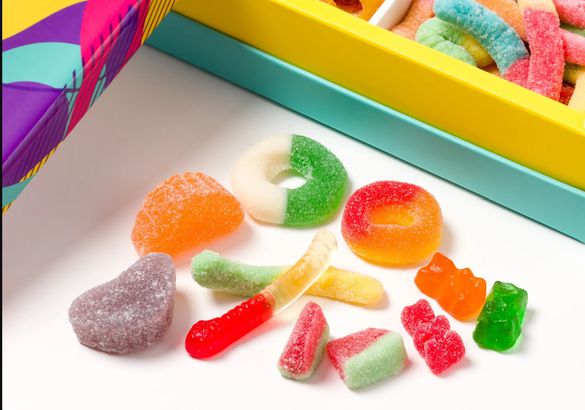 15 / 21
Nutsinbox / Etsy
13. Candy gift box
Not everyone wants a box full of chocolates as a gift. Just because it's a classic doesn't mean it's right for everyone. Some people love sinking their teeth into chewy, sugary goodness – and this is the gift for them!
These gummy candies come in a wide variety to satisfy the gummy lover in your life. You get gummy bears, gummy worms and fruit snacks. But these aren't the same gummies you'd grab in the supermarket. The gourmet candies balance the sweetness so that it's just enough. This is a great gift for a sweets lover. Or you could bring the whole assortment to a gathering or holiday party to share with kids and adults alike. The packaging is also cute and divides each type of gummy into nine separate squares so you can sample the whole array.
Buy this here for $32.99
16 / 21
YoPlantsyPants / Etsy
14. Hot cocoa jars
You've had hot cocoa during the holidays, but never quite like this. This is next-level hot cocoa that comes from a homemade recipe. Each jar contains eight or 16 ounces of hot cocoa ingredients. Even the cocoa itself is handmade from cocoa, cornstarch, powdered sugar, salt and powdered milk (though the seller can omit the milk if you'd like).
There are three varieties: white chocolate, classic chocolate and minty chocolate. The white chocolate mason jar will contain the cocoa mix plus white chocolate chips and marshmallows. The classic has chocolate chips and marshmallows. Last but definitely not least, the minty chocolate combines the cocoa mixture with marshmallows, peppermint and mint candies.
Each jar comes with a tag and instructions but all you need to do is add water or milk to the mixture. Eight ounces is $6.25 and 16 is $11. They're not the largest hot chocolates you'll ever drink, but they pack in so much flavor that you won't find in a store-bought powder mixture.
Buy this here, from $6.25.
17 / 21
23sweets / Etsy
15. Cookie tray
Looking for that home-baked look and feel? Try this massive cookie tray. Keep it for yourself or send it to someone who's away from home during the holidays and longing for that handmade touch.
The tray contains 23 sweets in a huge variety. There's classics like gingerbread, shortbread and sugar cookies, as well as fun additions like fudge and homemade chocolate. This is also great for a party since it's such a huge spread. This handmade gift is a little different every time. You could get chocolate chip, oatmeal raisin, red velvet, biscotti, pinwheels and so many more. Or add $20 for special custom-decorated sugar or gingerbread cookies with royal icing.
Get them here for $65.36.
18 / 21
FarmhouseFudge / Etsy
16. Homemade fudge
Fudge is delicious all year long, but it has a special appeal during the holiday season. And this fudge comes ready for the holidays with options to personalize this and turn it into a special one-of-a-kind gift.
For every pound of fudge you buy, you get an extra half a pound for free. And you can mix and match up to three different flavors to get a wonderful sampler of fudge. You might need to buy more than one of these samples because there's a truly dizzying selection of flavors. You can get amaretto chocolate, cookies 'n cream, crème brulee, dark chocolate, mint chocolate swirl, penuche praline, peanut butter, rocky road, red velvet, tiger bunny and birthday cake. And that's literally not even half of the flavors! There are also seasonal flavors like caramel apple, pumpkin spice, maple walnut and peppermint bark. You've got your work cut out for you to narrow that down to only three flavors!
Get it here starting at $29.95.
19 / 21
RoyalEcoSnacks / Etsy
17. Dehydrated orange slices
These might not look like sweets at first, but they pack a sugary blast. The natural sweetness of oranges flavors these slightly less unhealthy holiday treats. There's also no preservatives, chemicals or artificial flavors, just 100% natural oranges. These are great for picky eaters or those with food sensitivities or allergies. They can ensure that everyone at your holiday gathering has something sweet and fun to munch on. They can also garnish a cocktail for a more adult holiday gathering. Throw them in your tea, bake them into other treats, decorate your home for the holidays or add them to a cake or cupcake. You can get 15 slices for $20.38 or 30 for $27.52.
Get them here.
20 / 21
RicksSweetTreatCandy / Etsy
18. Bailey's flavored chocolate truffles
There's nothing healthy about this final suggestion. It's pure sugary goodness. These Bailey's flavored chocolate truffles are handmade and delicious. They include a center of gooey chocolate encased in white chocolate. Of course, there's also that distinctive Bailey's flavor, as well as a dash of cream and coffee for an extra kick. You'll get a whole box of these delights, but be careful: They'll probably disappear quickly! They're bite-sized for a delicious treat alongside your hot cocoa. Ship them directly to a loved one with a sweet tooth and you'll make their holiday.
Buy these here for $19.
All prices and availability are accurate at the time of writing.
Related:
This article was produced and syndicated by MediaFeed.org.
AlertMe