This delicious Kabocha pie will be your new favorite holiday-table dessert. It's absolutely perfect for dessert after Thanksgiving Dinner!
Hear me out. I learned this little gem in culinary school from my pastry chef teacher. Kabocha squash makes better pumpkin pie than pumpkin does. I swear it's true. It makes an absolutely perfect dessert for any fall or winter holiday.
Many pie purists believe you have to use fresh pumpkins to make the best pumpkin pie. And to some extent, I get why they think that. But what they don't realize is, there is something much better than making a classic pumpkin pie.
Classic Pumpkin Pie
A traditional pumpkin pie made with fresh pumpkin is most often made with sugar pie pumpkins. These are the smaller pumpkins you find in stores that are just a little bit sweet. At least when compared to regular, larger pumpkins.
But I'm here to tell you that a Kabocha pumpkin or Kabocha squash, also known as a Japanese pumpkin, is even better still. A Kabocha pie should definitely be on your holiday table if you have pumpkin pie lovers in the family at all.
What Is Kabocha? It's A Japanese Pumpkin!
These delicious squashes come from Japan. They are considered the pumpkin of Japan. They have beautiful orange flesh and can be cooked in just as many ways as the American pumpkin. The Kabocha squash is a winter squash, just like pumpkin, acorn, or butternut.
What Does Kabocha Taste Like?
Kabocha squash tastes like a mix of pumpkin and butternut squash (or pumpkin and sweet potatoes) and can be made with the respective affiliated spices. The end result is a delicious squash pie!
How To Prepare Kabocha Squash
There are many ways to prepare kabocha. Here are just a few:
Roast it
Bake it
Purée it and turn it into pie
Blend it for soup
Chop and toss it into casseroles
Chop, cook and toss it with pasta
Add it to grain salads
Tips And Tricks For The Best Kabocha Pie
You'll want a medium Kabocha squash, somewhere around 2 ½ pounds.
When you bake your crust (which, in most cases, you need to do before filling it), use pie weights to keep the bottom of the crust flat. It's not essential, but it sure does help.
Note that in a pinch, you can mix a little bit of butternut squash or pumpkin in with this. But the majority should always been the Kabocha squash for the best flavor.
For allergy folks, you can use dairy-free options easily here. I used a vegan butter and homemade cashew milk. Use the milk you normally drink. You can use whole milk or heavy cream if dairy isn't an issue.
To keep this a little healthier, the recipe calls for a granulated sweetener (something that replaces brown sugar in clean eating). This can be something like Sucanat, coconut sugar or monk fruit. I personally used brown erythritol because that's what's easiest on my blood sugar. Use what's best for you. Just note that different sweeteners can slightly change the color of the finished pie to either lighter or darker than what you see pictured here.
Kabocha Pie Ingredients
2 cups kabocha squash puree – You can get this approximate measure from a 2½ lb kabocha squash.
⅓ cup granular sweetener – Try Sucanat, coconut sugar, or monk fruit. I used brown Erythritol in mine because that's what works best for my blood sugar.
¼ cup maple syrup – The real stuff, not imitation maple.
3 tbsp. unsalted butter – I used a dairy-free vegan butter, but regular butter works great.
2 large eggs – These should be room temperature.
2 tsp. pumpkin pie spice – Try this pumpkin pie spice recipe to make your own in minutes. Most pumpkin pie spice recipes are a different blend of spices. You'll find many recipes that call for things like, a ½ teaspoon allspice, a few tablespoons of ground cinnamon, a ½ teaspoon ground ginger, etc. Every blend is slightly different.
½ tsp. salt – I used pink Himalayan salt. but use whatever you normally use for cooking and baking.
½ tsp. rum extract – I used the McCormick brand. You may need to shop around a little to find this. I find Amazon is a great resource for items like this.
½ cup full-fat milk – I used cashew milk. Use any milk that has a little fat in it.
1 pie crust – I used my oat flour pie crust, but a regular wheat crust works great too.
How To Make Kabocha Pie From Scratch
Cut the Kabocha squash in half and scoop out the seeds.
Turn the squash cut side down onto a baking pan with edges, and fill with water up to about a ½ inch.
Bake at 350° F. for 40-50 minutes, or until you can easily pierce the squash with a knife or fork. Once done, cool enough to handle before proceeding.
While the squash bakes, oil a 9-inch pie pan, and press your crust into the pan. Bake your unbaked pie shell according to the shell recipe directions. This will vary depending on which crust you use. Some require no baking.
Reset the oven temperature to 350° F. (If it's different from the temperature used to bake your pie shell.
Scoop the flesh into a food processor or blender. Process the squash until you have a smooth puree, similar to canned pumpkin. It will be very smooth.
Blend the squash with a food processor until you have a nice, smooth purée.
Place the measured amount of squash puree in a large bowl and mix together with all the other pie ingredients.
Pour the pie filling into the baked pie shell. Set the pie pan on a rimmed baking sheet lined with parchment paper(to catch any spill-over if it happens).
Bake pie for 50-60 minutes, then cool your Kabocha pie to room temperature on a wire cooling rack.
Cut and serve on a pretty pie plate for your guest(s).
How To Store Kabocha Pie
Cover the pie in plastic wrap and store it in the fridge for up to 3 or 4 days. If you have a cake or pie container, even better. 
Can You Freeze Kabocha Pie?
If well wrapped, you can freeze the baked and fully cooled pie for up to 3 months. Thaw in the fridge. (Do not freeze with whipping cream garnish.)
Optional Topping
In a small bowl, you can mix chopped nuts, a granular sweetener, and some cinnamon with melted butter or oil. Give it a quick roast in a pan and sprinkle over the top of your pie for garnish.
This article originally appeared on The Gracious Pantry and was syndicated by MediaFeed.org.
More of MediaFeed:
You're going to want to make every single one of these holiday pies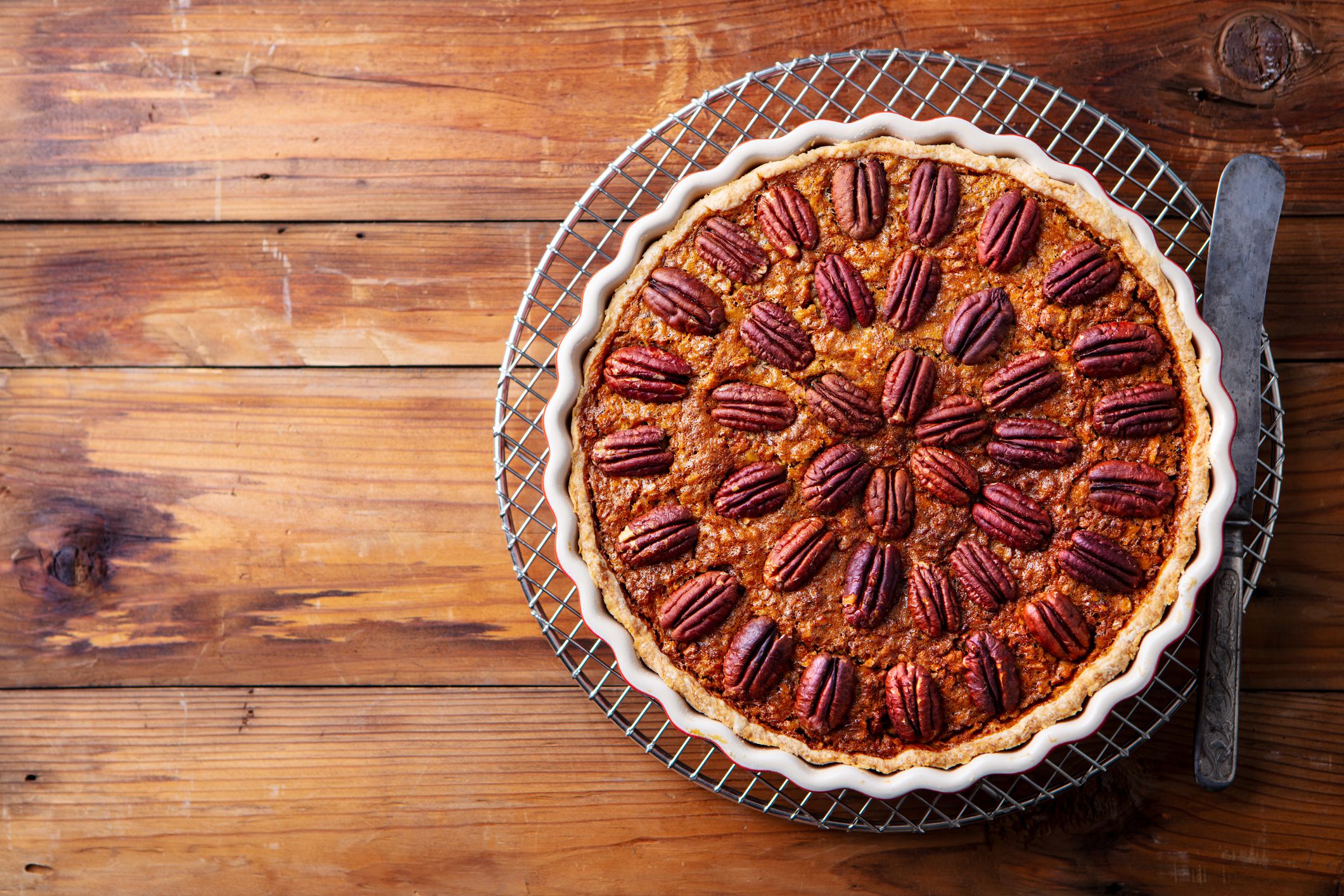 Featured Image Credit: Omer Ak.
AlertMe