This one-pot lasagna soup recipe is comfort in a bowl. Made with lasagna noodles, ground beef and a delicious spice blend it's lasagna in soup form!
One-pot lasagna soup is the perfect comfort food for days when you're craving lasagna but don't feel like doing all the work. This lasagna soup recipe is made with ground beef, lasagna noodles, vegetable broth, fresh veggies, and diced tomatoes simmered in Italian seasoning for a flavor-packed soup. It's literally lasagna in a bowl, and my family goes crazy for it. If you love my homemade lasagna recipe, you're going to love this lasagna soup!
Lasagna is one of my all-time favorite comfort foods. But it can be a bit time-consuming to make, especially if you're making the traditional version with multiple layers. That's why I love this one-pot lasagna soup recipe – it's just as comforting and delicious as the original, but it's faster and easier to make. Plus, it's easy to customize with your favorite toppings and is ready to serve in under an hour. Pair with a chunk of crusty bread and dive in!
WHY YOU'LL LOVE THIS LASAGNA SOUP RECIPE
Easy to make. This lasagna soup uses familiar ingredients without the hassle of layering and baking.
One-pot! Who doesn't love fewer dishes to wash? Everything is cooked in one large pot, and avoid slaving over the sink after dinner.
Customizable. Like traditional lasagna, you can customize this lasagna soup recipe with your favorite toppings. Some of my favorites include ricotta, parmesan, and fresh basil.
Kid-friendly. This is one soup that kids and adults alike can agree on for dinner!
INGREDIENTS TO MAKE LASAGNA SOUP
Noodles: You'll need a box of standard lasagna noodles broken into pieces.
Ground beef: You can also use ground turkey or chicken.
Vegetables: Onion, carrots, and celery not only add texture, but they also add flavor and depth to the soup.
Broth: I like to use homemade vegetable broth. If you don't have any on hand, opt for a low-sodium option. You can always add more salt.
Tomatoes: For this lasagna soup recipe, you're going to need tomato pasta, canned diced tomatoes, and marinara sauce.
Seasonings: Garlic, Italian seasoning, red pepper flakes, and a little salt and pepper give this soup its Italian-style flavor.
HOW TO MAKE THIS ONE-POT LASAGNA SOUP RECIPE
Add olive oil to a large dutch oven and heat. Once the olive oil is shimmering, add onions, carrots, and celery and until the vegetables have softened and the onion is translucent. Add garlic, Italian seasoning, salt, pepper, and crushed red pepper, and until the garlic is very fragrant.
Add the ground beef, breaking it up with a spatula, and cook until no longer pink.
Add tomato paste, stirring to incorporate it into the meat and vegetables.
Add the diced tomatoes, marinara sauce, and vegetable broth and bring to a boil. Reduce heat to a simmer until the vegetables are very soft.
Once the vegetables have softened, return the soup to a boil and add lasagna noodles. Cook at a gentle boil until the pasta is al dente.
Serve the soup in large bowls topped with a dollop of ricotta, grated Parmesan, and a sprinkle of fresh basil.
TIPS FOR MAKING THE BEST LASAGNA SOUP
Cut your vegetables into uniform pieces. For even cooking, make sure your onion, carrot, and celery are all the same size.
Deglaze the pot after cooking the ground beef. Scrape up any browned bits from the bottom of your pot before adding in your broth and veggies. This adds flavor to your soup!
Don't overcook your noodles. Lasagna noodles take about 10-15 minutes to cook, so keep an eye on them and serve the soup as soon as they hit al dente.
Break your lasagna noodles into bite-sized pieces. If you're not a fan of chunky noodles in your soup, you can break them into smaller pieces before adding them to the pot.
POPULAR SUBSTITUTIONS & ADDITIONS
Use any other pasta shape! The curls on the ends of the lasagna noodles are so fun in a soup, but any pasta shape will work in this recipe.
Switch up the Protein. Ground chicken or turkey would also be great in this recipe if that is what you have on hand or prefer.
Replace the noodles with zucchini. For a low-carb option, you can use zucchini in place of noodles.
Make it vegan. Simply omit the ground beef and replace it with a plant-based substitute of your choice.
WHAT TO SERVE/PAIR WITH YOUR LASAGNA SOUP
HOW TO STORE & REHEAT LASAGNA SOUP
Once your soup has cooled, store it in an airtight container in the fridge. I'd opt for a glass one to keep the tomato from staining a plastic container.
To reheat, transfer the soup to a saucepan and heat it over medium-low, stirring occasionally until warmed. Don't let it come to a boil; otherwise, your noodles will become too soft.
HOW LONG WILL LASAGNA SOUP LAST IN THE FRIDGE?
Your lasagna soup should last in the fridge for 3 to 4 days.
CAN I FREEZE LASAGNA SOUP?
Yes! This is a great freezer meal. I'd leave out the noodles if you know ahead of time you want to make it into a freezer meal. Once it's cooled, transfer the soup to an airtight container and freeze it for up to 3 months.
When you're ready to eat, defrost in the fridge overnight and cook up some noodles fresh with the lasagna soup.
FREQUENTLY ASKED QUESTIONS
How do I keep my noodles from getting soggy?
The best way to prevent your noodles from overcooking is to cook them separately and only add what you're going to eat in sitting to your bowl. Top off with the soup base, and you're good to go!
Can I make lasagna soup in a slow cooker?
Yes! To make it in the slow cooker, simply brown the beef and add all of your ingredients to the pot (minus the noodles). Cook on low for 6-8 hours or high for 4-5 hours. When ready to eat, cook up some fresh noodles and add them to your bowl as desired.
Is lasagna soup gluten-free?
No, the lasagna noodles contain gluten. To make it gluten-free, you can replace the noodles with a gluten-free pasta of your choice. You can also use zucchini noodles as a low-carb option.
Lasagna soup is an easy and delicious one-pot meal that's perfect for busy weeknights. Whether you're looking to switch up your weeknight dinners or even freeze it for later, this hearty dish has got you covered! So grab your pot, and let's get cooking!
More from MediaFeed:
This article originally appeared on FeelGoodFoodie.net and was syndicated by MediaFeed.org.
Tasty, healthy soup recipes for fall & winter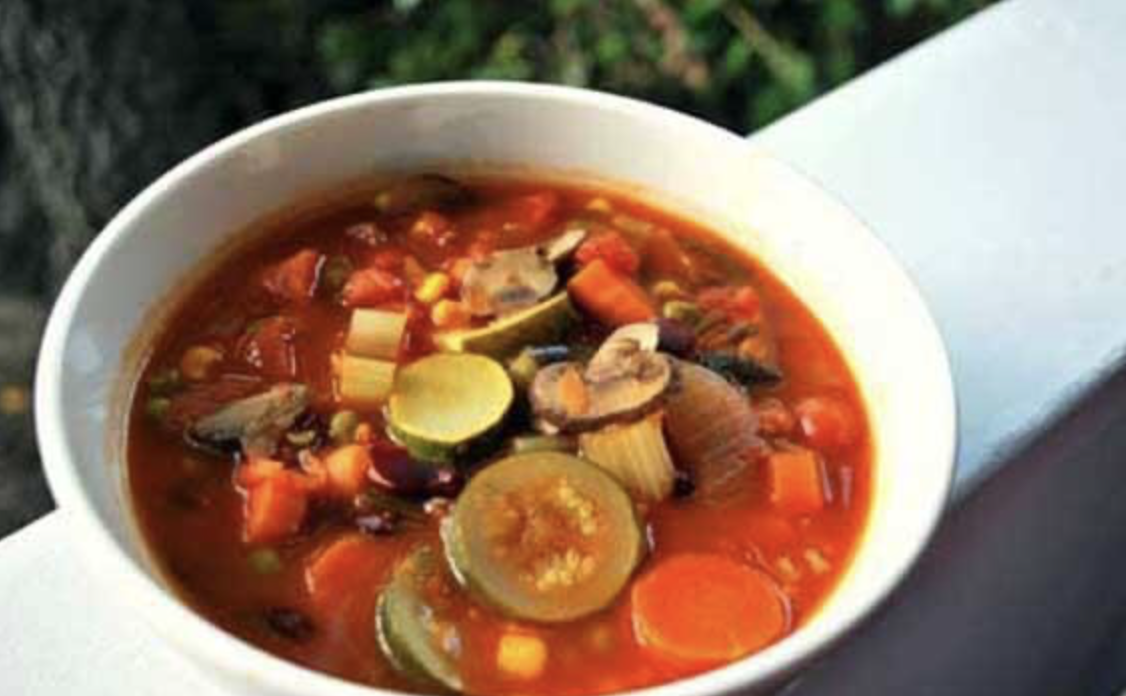 Featured Image Credit: feelgoodfoodie.net.
AlertMe