Is your home too hot to even think about turning the stove or oven on? Or maybe you just need an icy-cold beverage to cool you off? Thankfully, there are a myriad of new limited-edition summer treats that are just a drive-thru away!
Whether you're looking for a sweet, refreshing drink, some fruity desserts or a full meal, these fast food finds should be on your summer must-try list. But you'll have to hurry! They won't be around long.
Note that availability may vary by location. 
1. McDonald's Strawberry Watermelon Slushie
Slushies aren't new to McDonald's, but this watermelon-flavored one is worth trying on a hot summer day.
2. Taco Bell's Baja Blast Colada Freeze
Taco Bell is shaking up its iconic Baja Blast with a colada twist. It may not have alcohol in it, but it still gives the Baja Blast a refreshing coconut and pineapple flavor.
3. Starbucks' Dragon Drink
Fans of refreshers have to try this new drink out! This is a creamy, fruity beverage that tastes like mango and dragonfruit.
4. Shake Shack's Strawberry Salted Limeade
Looking for something a little less sweet? Try the salted strawberry limeade instead!
5. Wendy's Pineapple Mango Lemonade
Not feeling the salty limeade? Wendy's has a pineapple mango lemonade that may be more your speed.
6. Arby's floats
Arby's is bringing its floats back just in time for summer! You can try its Coca-Cola Float, Dr Pepper Float or and Barq's Root Beer Float.
7. Arby's Orange & Creme Shake
The Orange & Creme Shake stans will be happy to know this internet-favorite shake is back in stock for summer, too!
8. Chick-fil-A's Peach Milkshake
Looking to expand your fruity shake horizons? Head over to Chick-fil-A for its peach milkshake.
9. Chick-fil-A's Sunjoy beverage
If you order half-lemonade, half-tea as your go-to fountain drink, Chick-fil-A has you covered with "Sunjoy," which is a dedicated menu item for half lemonade, half sweet tea lovers!
10. Starbucks' Strawberry Funnel Cake Frappuccino
Strawberry. Funnel cake. Frappuccino. Need we say more?
Meals & Sides
11. Arby's Pecan Chicken Salad Sandwich
If you're looking for a lighter alternative to Arby's classic roast beef, you'll want to give this new summer menu item a try. Its pecan chicken salad sandwich is rolling out just in time for summer!
12. Boston Market's Crispy Chicken BLT Sandwich
Chicken salad too light for you? Boston Market has a crispy chicken BLT that may be more your speed.
13. Boston Market's Nashville Hot Crispy Chicken Meal
Boston Market is offering a new lineup of hot crispy chicken items this summer, including the Nashville Hot Crispy Chicken Meal. It comes with a crispy chicken breast topped with Nashville hot sauce and dill, cornbread and your choice of two sides.
14. Burger King's Cheesy Tots
Cheesy tots are back at Burger King for a limited time. Get them before they're gone … again!
15. Burger King's Jalapeño Cheddar Bites
Jalapeño cheddar bites are also back for the summer, if you're looking for something spicier than the cheesy tots.
16. Burger King's Double and Single Sourdough King
Burger King must be feeling nostalgic because it's bringing back yet another fan favorite for a limited time! The Sourdough King is made with a quarter-pound beef patty, smoked bacon, two slices of cheese, ketchup and mayo on toasted sourdough as the buns.
17. Domino's Cheeseburger and Chicken Taco Pizzas
You're getting two new pizza options in one with this option! Domino's is mixing up its summer lineup with both a cheeseburger pizza and a chicken taco pizza. Taco Bell may not be bringing back its Mexican Pizza, but let's hope this chicken taco one fills the void!
18. Pizza Hut's The Edge
If you hate crust, Pizza Hut's The Edge will be a dream come true. This crustless pizza comes in four options: The Ultimate, The Carnivore, The Vegetarian & Pepperoni Lover's.
19. Popeyes' Sandwiches N' More Packs
Feeding a crowd this summer? These Sandwiches N' More packs may be the ticket for you. They come with four of Popeyes' signature chicken sandwiches, four mild, spicy or blackened chicken tenders a large side of your choice. It may not be a new menu item per-say, but it's a bargain at $25 for most locations.
20. Del Taco's BBQ Crispy Chicken Taco
Del Taco has an entire line of new BBQ crispy chicken items just in time for barbecue season! If tacos don't suit your fancy, check out the other BBQ crispy chicken options here.
Desserts
21. Dunkin's Berry Powdered Donut
Dunkin's berry powdering is available both on its Munchkin donut holes and full-sized donuts! This is a fruity twist on the traditional powdered donut.
22. McDonald's Caramel Brownie McFlurry
Looking for something more decadent? How about a caramel brownie crammed into a McFlurry? This dessert lovers' delight is available for a limited time this summer.
23. Baskin Robbins' Summertime Lime
This flavor is so fit for the season that summer's in the title! It's a citrus-infused ice cream with swirls of lemon-lime flavoring throughout.
24. Baskin Robbins' Sour Berry Slime Topping
For an extra dollar, you can add this sour berry slime topping to any ice cream or shake. If you really love it, you can even order a bottle of the slime for home!
25. Baskin Robbins' Milk 'n Cereal ice cream
If slime isn't the childhood flavor of your choice, how about cereal milk? This flavor is made with a milk and cereal-flavored ice cream with swirls of crunchy cereal bits.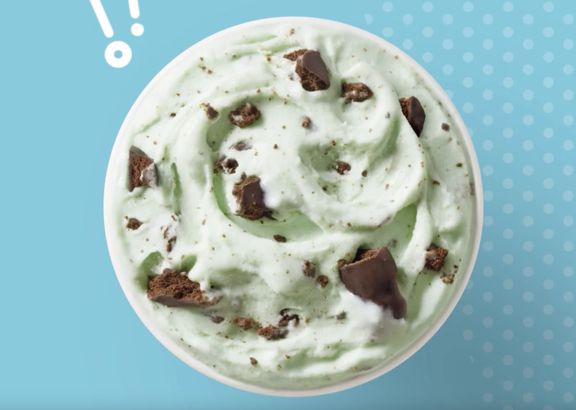 26. Dairy Queen's Girl Scout Thin Mints Blizzard
Still feeling nostalgic? Try Dairy Queen's Girl Scout Thin Mint Blizzard! This is also perfect for anyone who hasn't been able to get their hands on some sweet, sweet Girl Scout cookies because of the pandemic.
27. Dairy Queen's Raspberry Fudge Bliss Blizzard
Looking for something more adult? The Raspberry Fudge Bliss Blizzard may be more your speed. It's a decadent blend of raspberry ice cream, fudge and chocolate bits and raspberry sauce.
28. Dairy Queen's Dreamsicle Cone
What says summer dreaming more than the iconic Dreamsicle Cone? This soft-serve ice cream cone dipped in an orange coating is back for the summer!
29. Krispy Kreme's Lemonade Glaze donuts
Dunkin isn't the only fast food donut shop looking to add a summery flair to its menu. Krispy Kreme's new lemonade glazed donuts just came out in June, and they come in four flavors: lemonade glazed, lemonade glazed with lemon Kreme, strawberry lemonade and pink lemonade cake.
30. Sonic's Cheesecake Blasts
Sonic's cheesecake shakes come in two flavors: classic cheesecake and strawberry. They're both made with ice cream, cheesecake bits and graham crackers swirled together and topped with even more cheesecake and graham cracker!
Related:
This article was produced and syndicated by MediaFeed.org.
AlertMe
---