Perhaps it isn't peak grilling season where you live, but that doesn't mean it isn't the right time to buy a grill. In fact, the best time to buy a grill can often be during the off season, especially winter. That's why we've rounded up 10 of the most popular grills being sold on Amazon right now. So, if you're looking for a great deal on a great grill, now may be the perfect time to jump in and click that buy button, even if you may have to sit pining for your first flame-kissed burger for a few months.
Related: How to grill the perfect steak
The best grills on Amazon
10. Cuisinart CGG-306 Chef's Style Propane Tabletop Grill
Price: $155.98
This sturdy tabletop grill from Cuisinart requires no assembly and can be set up and ready for grilling in under 10 minutes without the need for tools or matches. It comes with two stainless steel burners, each providing 10,000 BTUs. Weighing in at just 22 pounds, it packs a lot of power in a small, portable package.
9. Blackstone 1554 Station-4-burner-Propane Fueled-Restaurant Grade-Professional 36-inch Outdoor Flat Top Gas Grill Griddle Station
Price: $325.44
This grill from Blackstone has a flat top just like the grills at restaurants, so you can expect an evenly cooked meal every time according to Blackstone. With four burners, you can set four different cooking zones as well, making sure each item is cooked at the right temperature.
8. Cuisinart CGG180 CGG-180 Petit Gourmet Gas Grill with VersaStand
Price: $116.66
This grill from Cuisinart offers 160-square-inches of porcelain-enameled grates, giving you a spacious cooking surface while still distributing heat evenly and efficiently. The unit features a 5,500 BTU burner with electric ignition. It's also compact and weighs just 17 pounds, meaning you can take it pretty much anywhere.
7. Char-Broil 463673519 Performance Series 2-burner cabinet liquid propane gas grill
Price: $233.43
With 300-square-inches of cooking space on porcelain-coated cast iron grates, this grill from Char-Broil also comes with a 100-square-inch swing-away, a stainless steel lid and a lid-mounted temperature gauge for added heat control.
6. Weber 45010001 Spirit II E-310 3-Burner Liquid Propane Grill, Black
Price: $479-$789
Weber claims their Infinity Ignition built-in will ignite this grill every single time, and with a 10-year warranty, you can return it if it doesn't hold its promise. This grill also comes with two giant wheels to make moving and storing easy.
5. Blackstone 36″ Propane Gas Griddle Cooking Station – 4 Burner, Classic Black
Price: $386.42
Cook breakfast, lunch and dinner on this grill with its 720-square-inches of grill space. It also has a battery-powered push-button ignition for an easy start (no matches needed).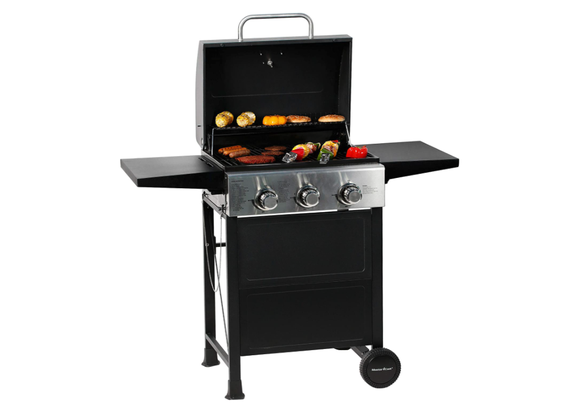 4. MASTER COOK 3 Burner BBQ Propane Gas Grill with 2 foldable shelves
Price: $169.99
This propane gas grill from Master Cook has three stainless steel burners, and can put out 30,000 BTU-per-hour with integrated piezoelectric ignition system. It comes with a quick start using a push-and-turn control knob.
3. Pit Boss Grills 75275 Stainless Steel Two-Burner Portable Grill
Price: $125.99
The body of this portable grill from Pit Boss is made from 430 stainless steel. It comes with two 10,000 BTU burners and the folding legs and latching hood make for convenient transport.
2. Weber 51010001 Q1200 Liquid Propane Grill
Price: $209
Another portable option, this grill from Weber has a higher lid to make cooking birds and the like easier even at a smaller size. According to Weber, this is an ideal tailgating grill with it's high-power and fold out tables for easy transport while not ditching the full grill experience. It also comes in five different colors.
1. Char-Broil Standard portable liquid propane gas grill
Price: $33.99
If you like to grill on the go, this portable grill from Char-Broil has legs that fold over the top of the grill to lock the lid in place. And its heat-resistant handles mean you don't have to wait for the grill to cool down to move it.
Still searching for the perfect grill? We've identified some of the better products from popular retailers across many grilling categories.
This article was produced and syndicated by MediaFeed.org.
Image Credit: andresr/istockphoto
AlertMe
---