Gilded palaces. Romantic ruins. Medieval fortresses. Cliffside chateaus. Many sweeping historic sites around the world can make visitors feel as if they've stepped into a fairy tale. Get your knight-ly fix by scrolling through our gallery of the world's most beautiful castles.
The world's most beautiful castles & palaces
1. Dunrobin Castle, Scotland
The historic home of the Earls and Dukes of Sutherland, which also served as a naval hospital during World War I and a boys' boarding school in the '60s and '70, is currently open to visitors from April 1 to Oct. 31 each year. Modeled after a traditional French chateau, the breathtaking castle boasts 189 rooms, expansive gardens and falconry displays.
2. Château de Chenonceau, France
Standing over the River Cher in Chenonceaux, this French castle is often referred to as "the ladies' chateau" given the influence prominent French women had over its construction throughout its history. It's currently a popular tourist destination and private event space.
3. Osaka Castle, Japan
Considered one of Japan's most prominent landmarks, the five-story castle was destroyed and rebuilt several times since its original construction in the late 16th century. Its main tower (pictured) was reconstructed in 1931. The castle and its surrounding cherry blossom trees now serve as a popular tourist attraction.
4. Mikulov castle, Czech Republic
Originally built in the middle ages, the now-Baroque chateau was originally owned by Austrian nobles and reconstructed in 1950 after it was destroyed near the end of World War II. It now houses the Regional Museum of Mikulov.
5. Kylemore Abbey, Ireland
The Benedictine monastery was originally built by English businessman and politician Mitchell Henry for his wife Margaret in the late 1800s. In non-pandemic times, Galway visitors can tour the abbey and its famed six-acre garden, one of the last walled gardens built in Ireland during the Victorian era.
6. Gwrych Castle, Wales
Originally built in the late 19th century, Gwrych Castle operated as a medieval reenactment site, complete with jousts and banquets, until falling into disrepair in the late '80s. Currently undergoing restoration spearheaded by The Gwrych Castle Preservation Trust, the castle served as the backdrop for British reality TV show "I'm a Celebrity … Get me Out of Here!" in 2020.
7. Mysore Palace, India
This popular tourist destination was originally built in the 14th century and housed India's Wadiyar dynasty. It's currently a museum with the traditional ceremonial golden throne of the former monarchs serving as the historical site's "star attraction."
8. Egeskov Castle, Denmark
Built by Danish diplomat Frands Brockenhuus, this 16th century castle was designed to be a fortress, remit with hidden staircases, water wells and drawbridge. Swedish architect Helgo Zettervall restored the castle and its grounds in the late 1800s. It's currently open to the public who can tour the various gardens, hedge mazes and museums strewn across the grounds.
9. Boldt Castle, United States
Located on Heart Island in Alexandria Bay, New York, the castle was originally conceived by American hotelier George Boldt, who abruptly ceased construction on the structure after his wife's death in 1904. It's now owned and operated by the Thousand Islands Bridge Authority as a popular tourist destination. The Power House (pictured) was designed to resemble a medieval tower.
10. Neuschwanstein Castle, Germany
Now one of Germany's more popular tourist destinations, this whimsical castle was commissioned in 1868 by King Ludwig II of Bavaria, aptly known as the "Fairytale King." It's design was inspired by the works of German composer Richard Wagner. ("Neuschwanstein" is a reference to the Swan Knight, a character in Wagner's opera Lohengrin.)
Fun fact: Neuschwanstein castle inspired Walt Disney to create Sleeping Beauty's Castle in Disneyland. (Want more trivia? Check out 75 of the world's weirdest facts.)
11. Castle Hluboka nad Vltavou, Czech Republic
From military fortification to Baroque castle to a gilded chateau inspired by Britain's Windsor Castle, the Castle Hluboka nad Vltavou has undergone many transformations since it was first erected in the 13th century. The popular tourist site is now largely considered one of the Czech Republic's prettiest castles.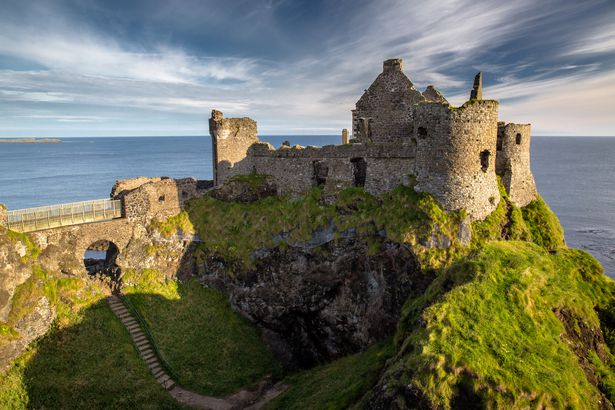 12. Dunluce Castle, Ireland
You can't travel to Northern Ireland without visiting this cliffside castle, formerly inhabited by Scoto-Irish chieftain Sorley Boy MacDonnell. "Game of Thrones" fans may recognize the ruined castle as the coastal seat of the House of Greyjoy.
13. Castle of Glamis, Scotland
The iconic castle, located in Angus, Scotland, was the site of King Malcolm II's murder and, as such, served as the inspiration for Shakespeare's famed play "Macbeth." Visitors can now take self-guided tours of its grounds, including King Malcolm's room, Duncan's Hall, the royal apartments, the billiard room and the crypt.
14. Orava Castle, Slovakia
Built on a high cliff overlooking the Orava river, this medieval castle has undergone several transformations over the centuries, morphing from a military fortification to a palace to a popular tourist destination. It's also been a film set, serving as Count Orlok's home in the 1922 classic vampire film "Nosferatu."
15. Predjama Castle, Slovenia
Nestled inside a 123-meter-high cliff, the medieval structure is considered the world's largest cave castle. A tourist hotspot, it sits atop secret tunnels that connect to the Postojna Cave, an underground marvel that houses a railway, "baby dragons" and a bat colony.
Want to dive deeper? Check out our roundup of 50 of the world's most beautiful underground places.
16. Himeji Castle, Japan
Nicknamed the White Heron Castle due to its prominent white walls, Himeji Castle was deemed a UNESCO World Heritage site in 1993. It is considered the "finest surviving example of early 17th-century Japanese castle architecture," according to UNESCO.org.
17. Buonconsiglio Castle, Italy
The expansive castle housed Trento's Prince-Bishops from the 13th century to late-18th century. It currently serves as a museum of art, showcasing the interior's many baroque and gothic frescoes.
18. Château de Trécesson, France
Located in Campénéac, France, this medieval castle is most known for its purple schist stones — and the ghosts that purportedly haunt its halls. Now a private property, the château is considered a historic monument by the French Ministry of Culture.
19. Rabati castle, Georgia
The Akhaltsikhe fortress dates all the way back to the 9th century, though it was completely restored and renovated back in 2011. The modern area of the now-popular tourist attraction includes a museum, hotels, restaurants and a marriage house.
20. Castillo de Zafra, Spain
You might recognize this 12th century rock castle, located in Guadalajara, Spain: It served as the infamous Tower of Joy, birthplace of Jon Snow, during the sixth season of "Game of Thrones."
21. Castle Reichenstein, Germany
You can actually stay in this medieval castle overlooking the Rhine River: A section of the historical landmark in Trechtingshausen, Germany was converted into a hotel, cafe and event space.
22. Corvin Castle, Romania
Formerly home to Hungarian "Raven King" Matthias Corvinus, this Gothic castle in Hunedoara is now considered one of Romania's "seven wonders." Rumor has it that infamous Romanian prince Vlad the Impaler — who purportedly inspired Bram Stoker's Dracula — was imprisoned in the castle's dungeons for seven years.
23. Leap Castle, Ireland
Ghost enthusiasts might recognize Ireland's Leap Castle, given the bevy of ghosts, including the Red Lady, the Old Man and an entity known as "The Elemental," believed to haunt its empty halls.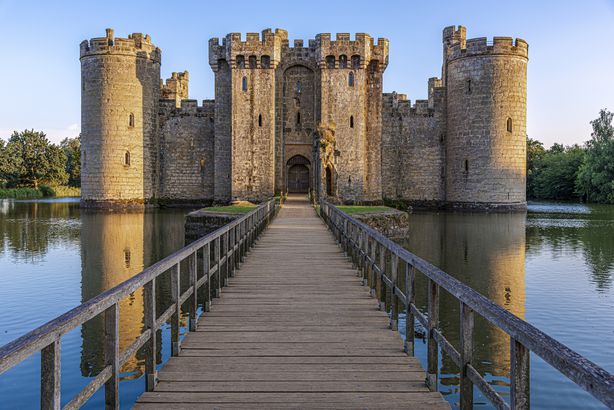 24. Bodiam Castle, England
This 14th-century moated castle in East Sussex was built by Sir Edward Dalyngrigge to defend England's south coast from a possible invasion from France during The Hundred Years War. Now a popular tourist destination, it served as the Swamp Castle in "Monty Python And The Holy Grail."
25. Château de Fontainebleau, France
This former residence of the French ruling dynasties is now a popular museum, featuring close to 30,000 works of art. It's also one of the many places you can visit virtually via Google Arts and Culture.
Looking to take more digital tours? We've got a roundup of 40 museums that are offering them.
26. Nesvizh Castle, Belarus
This 16th century compound served as the former ancestral home of the prominent Polish-Lithuanian Radziwiłł family. Now an "architectural, residential and cultural complex," it was added to the UNESCO World Heritage List in 1993.
27. Malahide Castle, Ireland
Located just outside of Dublin, this medieval castle was a gift from King Henry II to Irish politician Richard Talbot in 1185. These days, visitors can explore the castle's 260-acres, which includes a butterfly house, walled garden and fairy trail for the kiddos.
28. Jakab's Palace, Slovakia
This neo-gothic palace — and its stylish emerald roof — was built in the late 19th century by Košice builder Peter Jakab, who used it as a private residence for a time. Czechoslovakia president Edvard Beneš lived in the palace back in 1945.
29. Mateus Palace, Portugal
Located in Vila Real, Portugal, this baroque palace features winery buildings built in the 16th century and a chapel that was constructed in 1750. Visitors can also explore the main house and gardens.
30. Edinburgh Castle, Scotland
One of the oldest fortified places in Europe, the Scottish castle dates back to the 11th century and is touted as "the most besieged place in Britain." A former home to British royals, the castle is now a popular tourist attraction.
31. Versailles Palace, France
The decadent home to France's former monarchs now serves as a museum and popular tourist destination. Visitors can explore the famous Hall of Mirrors, where the Treaty of Versailles was signed back in 1919. They can also take in a musical fountain show in the sweeping gardens or stroll through the King's apartment, among other things.
32. Park and National Palace of Pena, Portugal
Originally a 12th century monastery, this palace in Sintra was later transformed into a summer residence for the Portuguese royal family. It became a National Monument in 1910 and an UNESCO World Heritage Site in 1995.
33. Hohenzollern Castle, Germany
Prior to the pandemic, this former ancestral home to Prussian Kings and German princes — and, yes, a dead ringer for Hogwart's School of Witchcraft and Wizardy — hosted around 300,000 visitors each year.
34. Leeds Castle, England
This lovely medieval castle was home to six English queens, including Henry VIII's first wife Catherine of Aragorn. It's now a popular vacation spot. Tourists can stay on the grounds, which includes several bed-and-breakfasts, private cottages, glamping tents, a golf course and an expansive hedge maze.
35. Stirling Castle, Scotland
The childhood home of Mary, Queen of Scots, weathered numerous sieges over the centuries, serving as the site for famous battles including Stirling Bridge and Bannockburn. These days, it's a popular tourist destination.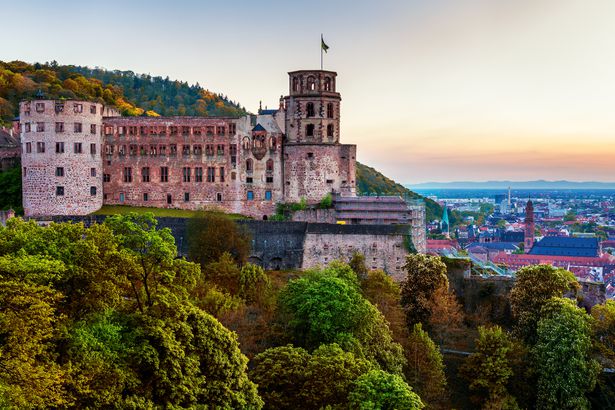 36. Heidelberg Castle, Germany
The ruined castle served as the seat of the Electors of the Palatinate for many centuries. It's now considered "one of the most important cultural monuments in Germany."
37. Matsumoto Castle, Japan
One of Japan's national treasures, the historic, six-story castle is also known as the "Crow Castle" due to its distinctive black exterior. It's currently a popular tourist destination in Nagano. Visitors can walk through the tower or attend one of the several cherry-blossom festivals held on the premises each year.
38. Sforzesco Castle, Italy
The 15th century fortification was considered "an emblem of tyranny and foreign domination" by Milanese citizens until it was transformed into a cultural hub following the unification of Italy. It's currently a museum — and home to Michelangelo's final unfinished work "Rondanini Pietà."
39. Chillon Castle, Switzerland
Located on Lake Geneva, this island castle housed the Savoy family, the Bernese bailiffs and the Canton of Vaud. It's now a museum, showcasing objects unearthed during a series of archaeological digs at the castle from 1896 to 1903.
40. Culzean Castle, Scotland
Located on Scotland's Ayrshire coast, this castle once served as the country residence for the 10th Earl of Cassillis David Kennedy. Now, tourists can explore the expansive grounds, including the estate's 40 buildings, gardens, and beaches.
41. Gripsholm Castle, Sweden
This lakeside castle in Mariefred, Sweden, was built in the 16th century upon request from Swedish king Gustav I. It's now a museum, featuring the Swedish State's Portrait Collection.
42. Conwy Castle, Wales
The medieval castle was built in the 13th century as a military stronghold for England's King Edward I. It is now (you guessed it!) a tourist destination, advertising "the most intact set of medieval royal apartments in Wales."
43. Miramare Castle, Italy
Located on the Gulf of Trieste, this stunning seaside castle was originally built to house Archduke Maximilian of Habsburg. It's now a historical museum.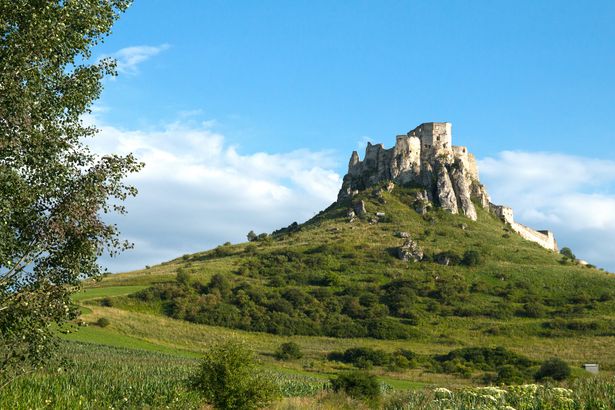 44. Spiš Castle, Slovakia
This ruined castle dates back to the 11th century when it served as a military fortification and eventually became a home to Hungarian kings. Partially restored in the 20th century, it was named a UNESCO World Heritage Site in 1993.
45. Château Gaillard, France
This medieval castle was constructed back in 1196 to protect the River Seine and was the site of many sieges during the Hundred Years War. It became a historic monument in 1862.
46. Wartburg Castle, Germany
Like many of its historic counterparts, this 1000-year-old castle underwent many transformations during its storied history, serving as "a defensive fortress, a magnificent residence, an inn, a place of security and a place to stop for its inhabitants from centuries past," per its website. It became a UNESCO World Heritage site in 1999.
47. Tantallon Castle, Scotland
Built by Scottish nobleman William Douglas in the 14th century, the castle was abandoned after a siege by Oliver Cromwell in 1651. The popular tourist destination more recently served as an archeological site.
48. Windsor Castle, England
Queen Elizabeth II's weekend home has been a royal residence for over 900 years. In non-pandemic times, it's open to visitors.
49. Alhambra Castle, Spain
This Alhambra, or "red castle" in Arabic, is the only preserved palatine city of the Islamic period. The complex became a national monument in 1870. It's a UNESCO World Heritage site.
50. Château du Haut-Kœnigsbourg, France
This 12th century fortified castle changed hands many times throughout its history. It was rebuilt in the early 19th century by German kaiser Wilhelm II and currently serves as popular tourist attraction for visitors to Orschwiller.
Thirsty for more travel content? Continue your digital tour of the planet by scrolling through this gallery of the world's most beautiful lakes.
This article was produced and syndicated by MediaFeed.org.
Image credit: scaliger / iStock
AlertMe
---