It's a common misconception that few if any products are made in America anymore. While manufacturing has certainly been moved to other countries in recent decades, plenty of fun, delicious, and all-around awesome things are still being created stateside. From popular candy to reliable vehicles and some of the nation's most popular beers, what follows are 55 of the most popular products proudly made in the U.S.A.
What products are made in America?
1. Reese's Peanut Butter Cups
Reese's Peanut Butter Cups are the ultimate combination of sweet and salty, as well as one of the best-selling candies in the United States. They've also polled consistently as some of America's favorite Halloween goodies.
2. Fortnite: Battle Royale
With hundreds of millions of players under its belt, it's no hyperbole to say that Fortnite is the current face of video gaming. It's also a product made in America: Created and published by North Carolina-based Epic Games, Fortnite's 100-player battles and colorful visage have made it a cultural phenomenon.
3. Bud Light
Bud Light was one of America's top-selling beers in 2018 and doesn't appear to be losing that standing anytime soon. 
4. 2019 Jeep Cherokee
The 2019 Jeep Cherokee was voted the most American vehicle by Cars.com. Stateside customers are revved up over its sleek design and famed brand name.
5. Lodge Cookware
Based in South Pittsburg, Tennessee, Lodge is a cookware foundry that has produced cast iron pans in the United States for decades. The company's signature cast iron skillet is the top-selling pan on Amazon and a staple of cookouts and campsites across the country.
6. Wilson footballs
Wilson produces everything from sports jerseys to volleyballs, but few of its products are more popular than its footballs. Wilson reportedly produces more than 700,000 footballs a year in its Ada, Ohio, plant. Take the pigskin for a spin with this classic version, available on Amazon for $18.
7. Yankee Candle
Yankee sold $81 million worth of candles in 2017 and is one of the most recognized names in the business of scented candles. They're distinguished by their bright colors as much as their rich scents. Try the French Vanilla version, available on Amazon for $30.
8. Crayola crayons
Crayola crayons are a childhood and pop-culture staple and the leading brand in America. The company's Easton, Pennsylvania, plant rolls out about 3 billion crayons a year, and they can be found overflowing from arts and crafts sections nationwide.
9. OPI nail polish
28 million Americans used OPI nail polish in 2018, making it something of an all-American beauty queen. OPI is headquartered in California and issues a combination of core colors and seasonal favorites.
10. Barefoot wine
Barefoot is the king of the vineyard, shipping $665 million worth of wine in 2018. All of Barefoot's varieties are produced at the E&J Gallo Winery in Modesto, California, and are available in liquor stores and gas stations nationwide. Try its best-selling Pinot Grigio (pictured) for $7.34.
11. Skittles
If Skittles' popularity is any indication, Americans love tasting the rainbow. Skittles was the top Halloween candy in multiple states last year, and over 3 million pounds of the fruity little shells have been sold to hungry customers. Taste the rainbow.
12. Little Tikes Cozy Coupe
This instantly recognizable children's play-car is a part of American driveways as parents' most popular vehicles. Little Tikes claims to have sold over 10 million cars over the years; the toy's little-changed design is a testament to its enduring popularity. You can find the classic toy car for $49 on Amazon.
13. Red Dead Redemption 2
The highly anticipated follow-up to cowboy video game Red Dead Redemption rode into quite a sunset of its own. Red Dead Redemption 2 has sold over 17 million copies, garnering some $725 million in sales along the way. The title's lauded production and Wild West narrative have made it one of America's most popular video games. Giddy up!
14. Ford Taurus
The Ford Taurus blazed quite a trail on Cars.com's list of most American-made vehicles, punching a hole in the pop culture notion that Fords aren't up to snuff.
15. Gold Bond lotion
Gold Bond was Americans' favorite lotion in 2018, lending credence to the notion that it's a handy defense against dry winter air. The lotion is produced by Tennessee-based company Chattem and sold in supermarkets nationwide.
16. Exploding Kittens
Designed by Matthew Inman, the one and same cartoonist behind the popular webcomic The Oatmeal, Exploding Kittens bills itself as a game for fans of kittens, explosions, goats, and laser beams. Exploding Kittens met its Kickstarter goal in eight minutes and paved its road to bestseller status with fast-paced, Russian Roulette-style elimination gameplay. Cat lovers needn't worry; no kittens were harmed during the making of this game. You can find the popular board game on Amazon for $29.99.
17. Louisville Sluggers
Few pieces of sports equipment are more iconic than a Louisville Slugger. These baseball bats are routinely rated as top-notch gear and are a top-selling item on sites like Amazon. Though a Finnish firm now owns the brand, Louisville Sluggers continue to be produced in Louisville, Kentucky. You can order a Slugger for $30 through Amazon.
18. Post-it notes
Beloved by editors, office workers, and frantic college students everywhere, Post-it Notes are proof that even the smallest household objects can unite into a colossus. 3M manufactures 50 billion Post-it notes each year and is estimated to make $1 billion off of them annually. That's a lot of appointment reminders.
19. Folgers ground coffee
The best part of wakin' up, at least for Folgers, was leading ground coffee sales in 2018 with over $1 billion worth of joe sold to consumers. Not even the rise of Keurigs can stop this coffee juggernaut from keeping America caffeinated.
20. Coffee-Mate creamer
Coffee-Mate is easily one of America's most popular creamer brands. Nearly 73 million Americans flavored their coffee with a Coffee-Mate product in 2018, so go ahead and add that third tablespoon; everyone else is!
21. League of Legends
Commonly abbreviated as LoL, League of Legends is a multiplayer online battle arena (MOBA) game in which teams of players face off in a high fantasy setting. Though the game has been out for nearly a decade, League of Legends has a thriving player base and is one of the most lucrative eSports in the world. Los Angeles-based Riot Games created the title.
22. Airstream Classic 30
That the Airstream Classic 30's design has changed so little since its 1930s debut is proof of its popularity. The trailer can be spotted at campsites and on highways the nation over, and demand is only increasing. Airstream broke ground on a new trailer production facility in Jackson Center, Ohio, last year and is expected to fire it up this May.
23. Play-Doh
Few toys are popular enough to have both an informal holiday and a trademarked scent, but Play-Doh checks both of those boxes and then some. Billions of cans of the stuff have been sold over the years in as impressive an array of colors. Though Play-Doh manufacturing was shifted overseas in 2004, parent company Hasbro brought it back to the United States last September.
24. New Balance shoes
New Balance is one of the last major footwear companies to manufacture in the United States. While its name may not be as instantly recognizable as that of, say, Nike, now-former New Balance CEO Rob DeMartini claimed that the company made over $4 billion in sales last year. New Balance assembles many of its shoes in five plants across New England. Grab a classic pair through Amazon for around $50.
25. Twinkies
When Hostess ceased operations in 2012, many consumers reacted to the loss of Twinkies as they might the death of a beloved national figure. Given the snack cake's revival, impressive sales, and countless pop culture cameos, though, the woe might not have been all that hyperbolic. Twinkies' spongy texture and creamy filling have helped make them the face of snack cakes in America. (P.S. You can still order the classic cakes through Amazon.)
26. Pilot G2 pens
These American-made pens are favored by everyone from the list-obsessive to reminder-happy high school students. G2 pens have gotten nods from numerous storefronts (including Amazon), and Pilot's claim that the instrument is a best-seller isn't far-fetched in the face of its quality.
27. Jack Daniel's whiskey
Distilled in Lynchburg, Tennessee, Jack Daniel's whiskey routinely tops popular liquor charts. In addition to its Black Label flagship product, the company also sells such popular variants as Gentlemen Jack and Tennessee Fire.
28. Crest 3D White toothpaste
Smile! Crest 3D White was the most popular brand of toothpaste in America last year. Crest routinely competes with the likes of Colgate and Sensodyne for America's most popular chopper-brushing paste, but the Proctor & Gamble subsidiary currently commands a wide sales advantage.
29. Monopoly
Ironically enough, Monopoly got its start as a piece of anti-monopoly propaganda. Since then, generations of Americans have spent hours rolling dice, getting out of jail, and scheming against their opponents' acquisition of the Boardwalk. Monopoly has sold over a quarter of a billion copies since it arrived in '35, making it one of the most popular board games in history. With sales like those, it's safe to say that Monopoly is itself a monopoly. You can find the classic game on Amazon for $17.99.
30. Coca-Cola
A beverage that needs no introduction, Coca-Cola reigns supreme among Americans despite energy drinks' increasing threat to the soda market.
31. Stetson hats
No garment epitomizes the American West quite like the cowboy hat, and no one makes cowboy hats quite like Stetson. Though most garment manufacturing has been moved overseas over the years, Stetson hats are produced at a plant in Garland, Texas. You can get a felt version through Amazon for $90.
32. Counter-Strike: Global Offensive
The Counter-Strike series helped popularize online shooters. The franchise's latest iteration, Counter-Strike: Global Offensive, is one of the most popular video games nationwide and has hundreds of thousands of players logged in at any given time. The title is also a worldwide eSport.
33. Red Bull
It's no secret that energy drinks have become all the rage in recent years. Though competition in that market is fierce, Red Bull has thwarted its rivals and made over $4 and a half billion in 2018 sales alone. Wiiiings indeed.
34. Monster Energy
Monster is close to clawing the top energy drink spot from Red Bull's horns, finishing with a grand total of over $4 billion in sales in 2018. Those figures also represent a 10 percent growth in sales over the previous year, indicating that American consumers have a monstrous appetite for the beverage.
35. Chevrolet Volt
2018 was kind to Chevy. Though it didn't snag top billing on some sales lists, it still snagged a spot on Cars.com's compilation of most American-made vehicles last year.
36. Lay's potato chips
There's little chance that anyone who's munched on chips hasn't dived into a Lay's bag to do so, especially if the brand's 2018 sales are any indication. Lay's chips are cranked out by the thousands of pounds at plants nationwide and come in seemingly endless flavor varieties.
37. Scrabble
Scrabble can put even wordsmiths on edge, and its tense combination of cooperation and strategy has helped place it in millions of American homes since it hit shelves in 1938. Indeed, an estimated one-third of American households own a scrabble set, and over 150 million copies have been sold. You can find an exclusive edition on Amazon for $42.99.
38. Blackstone gas grills
These high-end cooking machines are at the top of the barbecue game. They're currently outselling every other gas grill on Amazon and have accrued a reputation for peerless reliability. The grills are designed at Blackstone's headquarters in Logan, Utah, and manufactured in the United States. This movable Blackstone griddle grill is available on Amazon for $415.
39. Budweiser
Budweiser is one of America's most iconic beers. The beverage has fended off considerable competition from light beer, including Bud Light, cementing its reputation as "the king of beers."
40. Heinz ketchup
Heinz ketchup commands the lion's share of its industry. It is estimated that nearly 200 million Americans used Heinz ketchup in 2018, or over twice as much as the next largest ketchup brand.
41. Harley-Davidson motorcycles
Even Americans who have little to no interest in motorcycling have heard of Harley-Davidson. Though the venerable bike manufacturer is contending with an aging customer base and ill-conceived steel tariffs, the company remains the largest heavyweight motorbike producer globally. For domestic sales, Harley-Davidson claims to have sold almost 148,000 motorbikes in 2017 alone.
42. Kraft Singles
Business has always been good for cheese in the United States, with Americans putting it on everything from burgers to burritos. Kraft Single slices accounted for a big slice of cheese sales in 2018; a whopping 111 million Americans consumed them last year. That's a lot of cheddar, both literally and monetarily.
43. Igloo coolers
Igloo is a brand well-known to families and outdoor enthusiasts the nation over. The company was established in 1947, and an estimated $350 million worth of them are sold every year. Igloo manufactures its coolers outside of Katy, Texas. Order one of the classic coolers through Amazon for $27.45.
44. Oreo cookies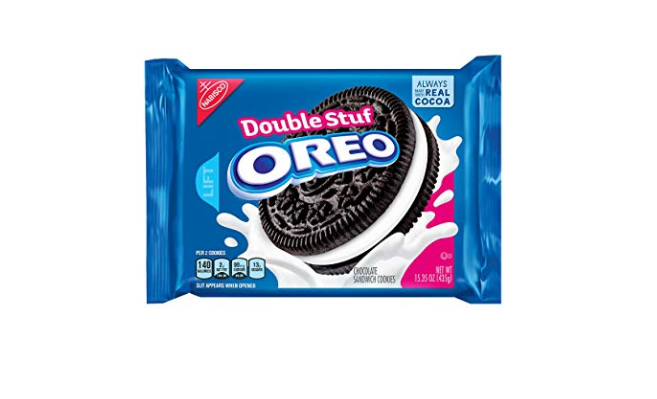 No glass of milk is complete without an Oreo. These little delights consistently rank as a top-selling snack cookie in the United States; over half a billion dollars worth of them sold in 2017 alone. 
45. Keurig coffee makers
Single-serve coffee has experienced a meteoric rise. 25 percent of American coffee-drinkers used a Keurig in 2018, which is a bit odd considering how much more expensive K-pods are than a canister of Folgers. Still, there's no denying the convenience of having a cup of joe ready in two minutes. A classic version of the coffeemaker is available through Amazon for $79.
Fans of Joe? Check our ultimate gift guide for coffee lovers.
46. French's mustard
Mustard is a must-have on burgers, sandwiches, and hot dogs, so it should come as little surprise that French's mustard garnered around 150 million consumers last year. Despite what the name may imply to some, French's is made in Springfield, Missouri.
47. TOPS college ruled notebook
Tops are currently leading the crowded paper notebook pack on Amazon, and each one is designed and manufactured in the United States. College students, office workers, and everyone in between fill thousands of these books out each year; doodles, math equations, and groundbreaking ideas all have a home in Tops notebooks.
48. Huy Fong's sriracha
If ever there was a story of a cult hit going mainstream, it's Huy Fong's sriracha sauce. Created by Huy Fong Foods head David Tran, this delectable chili sauce spent years under the radar before going viral in the late '00s. Sriracha is now offered at restaurants, added to dishes, and is even inspiring car colors. Undoubtedly, the sauce goes a long way toward Huy Fong's estimated $80 million in annual revenue.
49. Slinkies
As Ace Ventura pointed out, everyone loves a slinky. These classic coil toys continue to be made in the United States, and millions have been sold over the years. Slinkies are perhaps best-known for hopping down staircases all on their own, but their metallic properties have seen them turned into everything from science experiments to impromptu radio transmitters. The classic toy is available on Amazon for $3.59.
50. Burt's Bees chapstick
Made in Durham, North Carolina, Burt's Bees is far and away America's most popular chapstick brand. Some reports even allege that a tube of Burt's Bees is sold every second.
51. God of War (2018)
Third-person Norse 'em up God of War sold five million copies within a month of its April 2018 release and received numerous accolades for its story, design, and world. The game is still receiving considerable press attention 9 months after launch, which is unusual for a single-player title and evidence that Kratos the demigod's day is far from done.
52. Snickers
Pop culture's favorite remedy for a bad mood, Snickers bars combine caramel, peanuts, and chocolate into a treat that Americans can't get enough of. In fact, some two million pounds of Snickers were sold last Halloween.
53. Coors Light
Coors Light's resounding popularity indicates that light beers are superseding more of their heavier counterparts as the country's favorite beverages. Cheers to this beer's high 2018 sales.
54. Orville Redenbacher popcorn
No movie is complete without popcorn, or so 64 million Americans apparently thought when they consumed Orville Redenbacher's popcorn in 2018. That's a lot of movie nights.
55. Purell hand sanitizer
A favorite of hospital workers (and germophobes) everywhere, Purell is one of the most popular hand sanitizer brands in the United States. 40 million dollars worth of it was sold in 2018 alone, and it's all produced at Gojo Industries' plant in Akron, Ohio.
This article was produced and syndicated by MediaFeed.org.
AlertMe