Miss mullets? So do we!
It's been rumored for years now that the mullet haircut is making a comeback. In fact, it was less than a decade after the ubiquitous haircut of the '80s and early '90s fell out of fashion that actress Scarlett Johansson got the mullet murmuring started when she stepped out in 2003 sporting the coiffe known for its "business in the front, party in the back" attitude. That and her marriage to Ryan Reynolds may be the only two things the actress has not pulled off with great success.
Still, we should probably give ScarJo a bit more credit when it comes to making her fashion mark because other famous mullets started popping up in the years that followed. Notably, singer and actress Rihanna gave the mullet a go back in 2013, as did Zendaya in 2016 when she rocked a mullet at the Grammy Awards. But it wasn't until 2019 that the haircut really started to gain traction.
But they're baa-aa-aack!
Miley Cyrus got the cut. Billie Eilish did, too. And Jennifer Lawrence sports a very modern looking mullet in the recently released movie "Don't Look Up."
If you need more evidence of the mullet's fresh popularity, look to none other than the CEO of Mullets on TikTok. Or a hairdresser in Michigan with a mission to cut alllll the mullets. There are also mullet headbands for those who can't wait to grow their hair out and even trendy new mullet styles that you're probably not cool enough to pull off.
Whether you want a mullet of your own or you're still a little afraid of seeing them in the wild, we're here to help ease you into the fact that mullets are back.
Legendary mullets that have stood the test of time
We've rounded up some of the biggest, baddest and bestest mullets in history. So, drop a Ziggy Stardust cassette in your tape deck and let's run our digital fingers through some of the greatest heads of mullet hair ever seen.
David Bowie
David Bowie had so many different mullets during his storied life that he practically turned the hairstyle into an art in and of itself. There were his album cover mullets – Aladdin Sane and Diamond Dogs, most notably. There were his '80s mullets and, of course, his truly fabulous movie mullet when he played the goblin king in "Labyrinth." We're really just scratching the surface. Doubtless, there are so many reasons to miss David Bowie.
Florence Henderson/Carol Brady
Mrs. Brady sported several stylish hair-dos on the Brady Bunch, but it wasn't until the first episode of Season 3 (the special three-part Grand Canyon storyline) that she proved that yes, indeed, a mother of six CAN ABSOLUTELY pull off a mullet. Just ask the old prospector.
Check out this clip from later in Season 3 that includes not only the mullet, but also Jan's most famous line, "Marcia, Marcia, Marcia!"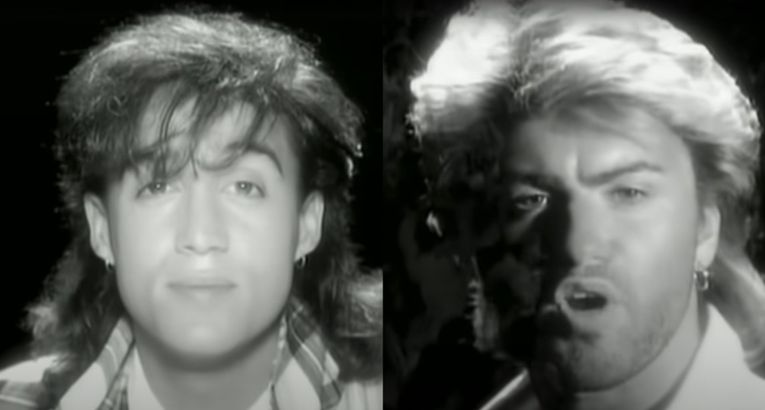 Wham!
Rod Stewart
Rod Stewart was another mullet trailblazer, bridging the gap from shag to mullet greatness. He wore it well. (See what we did there?)
Liza Minnelli
Liza Minelli's early mullet arguably helped her establish her own look and step out of the shadow of her mother, Judy Garland. Ironically, some have argued that Ms. Garland was the originator of the hairstyle (we think she just had bangs on occasion).
Rob Lowe
Rob Lowe's fame has spanned decades, and in recent years, he's played a clean-cut bro with a wry smile who has somehow figured out how to stop the aging process. But early on, as a member of the "Brat Pack," he was more of a bad boy. Take his character, Billy Hixx, in St. Elmo's Fire. All he really needed was his sax… and his incredible mane.
John Stamos
Sometimes, a mullet can be so powerful that it can shape an actor's entire career. Arguably, John Stamos, aka Uncle Jesse from the old sitcom Full House, has been living in the shadow of his mullet for decades. That said, we can imagine no other look for the frontman of Jesse and the Rippers or the conga player on The Beach Boys' Kokomo for that matter… though he sadly had a trim for both of these videos.
Andre Agassi
Agassi had two great phases to his tennis career. Some think of it in terms of young and old Andre, but we know the real dividing line is pre- and post-mullet. Now, we've come to like his clean shaven head look too, but when mullet Andre was on his game, as he was in 1992 at Wimbledon when he won his first grand slam title… it was a real thing of beauty. And the tennis was good, too.
Bono
Let's not forget that Bono, U2's lead singer, had a raging mullet in the early 1980s. Check it out in all its glory (and also his sassy, sassy leather pants) in this video of the band's song "I Will Follow."
Peter Dinklage in high school…
He wasn't even remotely famous at the time, but he was certainly on point when it came to style. Peter Dinklage rocked a mullet in high school, as seen in this photo from the 1987 Morristown, NJ, Delbarton School yearbook.
… And Peter Dinklage now!
He returned to his mullet glory days in the widely panned 2015 movie "Pixels."
Billy Ray Cyrus
When this bad boy of country rock (and Miley's daddy) cut his hair, it just about broke our achy breaky hearts.
Ellen DeGeneres
Ellen Degeneres' first appearance on the Tonight Show with Johnny Carson was not just notable because Johnny called her over to the couch after her set (the dream of every comic on the Tonight Show), but also because she was sporting a gorgeous mullet. Joe Piscopo was sitting next to her, and he'd already trimmed his mullet back at this point in his career, which is a shame.
Michael Bolton
The day that MIchael Bolton cut his hair was a tragic one for millions of people around the world. His hit "How Am I Supposed to Live Without You" is like an anthem for the loss of his hair. Somehow, the mullet amplified the power of his incredibly strong voice, and it's no surprise that his music peak seemed to mirror the length of his hair (on the sides, not the top).
The Facts of Life cast
You take the good, you take the bad, you take them both and there you have… a cast filled with mullets. It wasn't just George Clooney. Nancy McKeon, Kim Fields and even Lisa Welchel at one point all felt moved by the mullet style.
Joe Elliott
The lead singer for British rock band Def Leppard sported a sticky sweet mullet back in the '80s.
Keifer Sutherland and Jason Patric in The Lost Boys
Sure, vampires are scary, but you know what's scarier? Vampires with mullets.
Prince
Wayne & Garth
Just imagine a car full of dudes packed in an AMC Gremlin, rocking out to Bohemian Rhapsody… without mullets. It just doesn't work. In fact, the whole movie doesn't work without the mullets. Party on, Wayne. Party, on Garth.
Check out some vintage Garth & Wayne in this clip from SNL.
Jane Child
The most epic mullet of all time may belong to Canadian singer Jane Child. Her single "I Don't Wanna Fall In Love" spent three weeks at No. 2 on Billboard's Hot 100 in 1990, but it was her amazing style that got her on this list — the dramatic mullet of spikes on top, dozens of tiny corn row braids down to her ankles and, of course, her nose ring with a chain connecting to her earrings really made a statement in the early 1990s.
Take a trip down memory lane with this very of-the-era video.
Constance Brinkley-Badgett and Kaitlyn Farley contributed to this report.
Related:
This article was produced and syndicated by MediaFeed.org.
AlertMe
---