You don't have to be a book lover (although it does help) to fall head-over-heels for these gorgeous libraries and bookstores! From Gothic churches to modern marvels, these buildings are as awe-inspiring as the books inside of them. Keep clicking to see some out-of-this-world, jaw-dropping places to get some new reads!
1. Library of Parliament
Location: Ottawa, Canada
Built: 1876
Interesting features: It's the last remaining part of parliament's original Centre Block building and is home to about 47,000 volumes.
2. Seattle Central Library
Location: Seattle
Built: 2005
Interesting features: The library can hold about 1.45 million volumes and was designed to be able to house not only books, but community activities and events.
3. Abbey Library of Saint Gall
Location: St. Gallen, Switzerland
Built: 1767
Interesting features: It has about 170,000 books, with over 400 that are over a thousand years old.
4. Stuttgart City Library
Location: Stuttgart, Germany
Built: 1901
Interesting features: The library was updated in 2011 to be 9 stories high with cubed-shaped sections of books with ultra-modern, ultra-minimalist white walls.
5. George Peabody Library
Location: Baltimore
Built: 1857
Interesting features: This library has 300,000 volumes and is part of the Special Collections Department of the Sheridan Libraries of Johns Hopkins University.
6. Stiftsbibliothek Admont (Admont Abbey)
Location: Admont, Austria
Built: 1776
Interesting features: This is the largest monastery library in the world, with about 70,000 volumes.
7. Biblioteca do Convento de Mafra
Location: Mafra, Portugal
Built: 18th century
Interesting features: Home to about 36,00 leather-bound volumes (some of what are as old as the 14th century), bats patrol the Mafra Palace Library to kill pests that could eat or damage these historic texts.
8. Strahov Library
Location: Prague
Built: 1143
Interesting features: This library is part of the Strahov Monastery, which dates back to the 12th century. Building the library as it stands today, though, was a difficult endeavor. It was delayed several times throughout the 12th and 15th centuries, with delays ranging from fires in 1258 to an invasion by Hussite warriors in the 15th century.
9. National Library of China
Location: Beijing
Built: 1909
Interesting features: This library houses over 26 million volumes, ranging from foreign languages to rare books and ancient texts to children's books.
10. The Stephen A. Schwarzman Building of the New York Public Library
Location: New York City
Built: 1897 (opened in 1911)
Interesting features: This extraordinary building took 16 years to design and build. When it finally opened, it was the largest marble building in the U.S. at the time.
11. Starfield Library
Location: Seoul, South Korea
Built: 2017
Interesting features: One of the newest buildings on our list, this library is home to 50,000 volumes and is located at the center of the COEX Mall.
12. Klementinum National Library
Location: Prague
Built: 1777
Interesting features: Klementinum houses over 20,000 volumes, most of which are  foreign theological literature.
13. Bibliotheca Alexandrina
Location: Alexandria, Egypt
Built: 2001 (inaugurated and opened in 2002)
Interesting features: This library project was launched in order to revive and store ancient classical Greek texts and other volumes of cultural and historical significance. It was built under the direction of then-Egyptian President Hosni Mubarak and UNESCO.
14. Royal Portuguese Cabinet of Reading
Location: Rio de Janeiro, Brazil
Built: 1837
Interesting features: This reading cabinet is home to about 350,000 volumes. It's styled after Gothic architecture and features a cast-iron skylight and chandelier in the center of the main Reading Room.
15. The Library of El Escorial
Location: San Lorenzo de El Escorial, Spain
Built: Estimated between 1563-1584
Interesting features: The library houses 40,000 volumes, including illuminated manuscripts like the Ottonian Golden Gospels of Henry III.
16. Bodleian Library
Location: Oxford, U.K.
Built: 1749
Interesting features: This is the main research library of the University of Oxford, and it has over 9 million printed volumes and 10,000 medieval manuscripts.
17. The Morgan Library & Museum
Location: New York City
Built: 1906
Interesting features: This library currently has 2,697 volumes and spans 75,000 square feet. It's home to books, broadsides, blockbooks and woodcuts.
18. Tama Art University's Kaminoge Library
Location: Tokyo, Japan
Built: 2007
Interesting features: This library has about 48,000 books and 300 periodicals about photography, theater and film. It houses several modern seating arrangements for students and a cafe.
19. Wiblingen Monastery Library
Location: Ulm, Germany
Built: 1744
Interesting features: Housing over 15,000 volumes, the library has many painted wood sculptures. It was one of the last masterpieces of Baroque architecture and is thought to be one of the best examples of that period's stunninging design and art.
20. Rampur Raza Library
Location: Rampur, India
Built: 1774
Interesting features: The Raza is home to about 60,000 printed books in Indian and foreign languages, including 17,000 manuscripts in Arabic, Persnian, Pashto, Hindi, Turkish and more.
21. Trinity College Library
Location: Ireland, Dublin
Built: 1592
Interesting features: This library is the biggest in Ireland and has over 6 million printed volumes. Queen Elizabeth I ordered it to be established, and its Long Room houses the library's oldest books.
22. Bibliotheque Nationale de France
Location: Paris
Built: 1461
Interesting features: This library is home to about 13 million volumes and is the largest library in France at 129,166.93 square feet.
23. State Library of South Australia
Location: Adelaide, Australia
Built: 1884
Interesting features: The library focuses on South Australiana collections and aims to document and preserve the state's history and culture.
24. The Tianjin Binhai Library
Location: Tianjin, China
Built: 2017
Interesting features: The library has 1.2 million volumes. At the heart of the library is an auditorium that can hold 110 people.
25. Biblioteca Vasconcelos
Location: Mexico City, Mexico
Built: 2007
Interesting features: All around this modern marvel are sculptures by Mexican artists, including Ballena (Whale), by Gabriel Orozco (pictured here). Shortly after opening due to construction defects, and it was able to open again by November 2008.
Bookstores
26. Yenny-El Ateneo
Location: Buenos Aires
Founded: 1966 (building pictured opened 2000)
Interesting features: Yenny-El Ateneo is the largest bookchain in Argentina and has 45 locations. The chain opened the store pictured in 2000, which was an old theater.
27. Libreria Acqua
Location: Alta, Venice
Founded: 2004
Interesting features: Translated to "Bookstore of High Water," this store is a mix of all genres, with both vintage and new books for sale. It's also not uncommon to see a cat or two hiding in the shelves!
28. Leakey's Bookshop
Location: Inverness, Scotland
Founded: 1979
Interesting features: This store boasts that it's Scotland's largest secondhand bookstore. It calls an old Gaelic church its own, making for a beautiful shopping experience. You can also shop through AbeBooks.com if you're not in Scotland!
29. El Péndulo
Location: Mexico City, Mexico
Founded: 1993
Interesting features: This bookstore also sells a myriad of eclectic toys, albums, puzzles and more.
30. Livraria Lello
Location: Porto, Portugal
Founded: 1906
Interesting features: Just one look at this gorgeous shop will explain why it's been so popular for so long. It's been so popular that the store owners have had to start selling tickets to enter the store!
31. Bart's Books
Location: Ojai, California
Founded: 1964
Interesting features: This vintage-feeling bookstore is almost completely outdoors; because of its location in Ojai Valley, the store owners say they hardly ever get rain, and when they do, the books are protected by tin sheeting. The indoors section of the store is actually built from the of home of Richard "Bart" Bartinsdale, the original store owner.
32. Shakespeare & Company
Location: Paris
Founded: 1951
Interesting features: This English-speaking bookstore has been at the heart of Paris literature circles since it first opened. It regularly hosts authors and literature-centered groups and events.
33. Evripidis Bookshop
Location: Athens, Greece
Founded: 1955
Interesting features: This family-owned bookstore chain features a wide selection of books, school supplies, notebooks and more.
34. Boekhandel Dominicanen
Location: Maastricht, the Netherlands
Founded: 2006
Interesting features: This bookstore is set up in a 13th-century, Gothic-styled Dominican church. In fact, this was the first Gothic church made on Dutch soil!
35. Cărturești Carusel
Location: Bucharest, Romania
Founded: 2001
Interesting features: This elegant bookstore was once the headquarters of Chrissoveloni Bank before it became a general store and, now, a bookstore.
36. The Last Bookstore
Location: Los Angeles
Founded: 2005
Interesting features: The steampunk-feeling bookstore has a plethora of interesting features, including statues and archways made entirely out of books.
37. Barter Books
Location: Alnwick, U.K.
Founded: 2012
Interesting features: This unique bookstore features an open fire when it's cold out, an ice cream parlor, a children's room and more!
38. Atlantis Books
Location: Santorini, Greece
Founded: 2004
Interesting features: This indoor-outdoor bookstore is open until midnight … which makes sense, given the number of community concerts and events it hosts! They sell a mix of used, new and collectible books.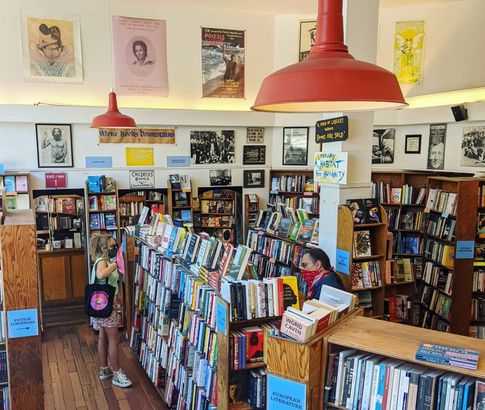 39. City Lights Books
Location: San Francisco
Founded: 1953
Interesting features: This bookstore specializes in literature, arts and progressive politics, according to its Instagram. It hosts several community events centered around local artists, writers and human rights issues.
40. Hatchards
Location: London
Founded: 1797
Interesting features: Hatchards is London's oldest bookstore and has served eight generations of customers, according to its website. They sell a mix of collectible books, bestsellers, children's books and more.
Related:
This article was produced and syndicated by MediaFeed.org.
AlertMe
---