Some sites and landmarks are more … shall we say, storied, than others. That's especially true of places that have been ravished by disease, war, heartache, and murder. Across America, visitors and travelers from one coast to the other have reportedly seen ghostly and other-worldly happenings at bars, hotels, churches, and just about everything in between. Here are some of the most haunted places in America.
Moon River Brewing Company
Located in Savannah, Georgia, Moon River Brewing Co. was built in 1821 and originally served as the home for The City Hotel. In the 1900s, it was used as a warehouse for coal and lumber. The building housed hundreds of Savannah's yellow fever victims throughout history. It sat empty for 20 years before being converted into a bar in 1995. Many guests report seeing the ghosts of children who died of yellow fever in the bar today.
Eastern State Penitentiary
Philadelphia's Eastern State Penitentiary was built in 1829. The penitentiary held prisoners in solitary confinement at all times until 1913, when overcrowding forced them to allow prisoners to live together. Legend has it that prisoner punishments included chaining their tongues to the wrists, so it's no wonder there have been reports of ghostly laughs, odd figures, pacing, and other spooky phenomena.
Related: The last meals of some of the most brutal convicts in US history
Dock Street Theatre
This downtown Charleston theatre originally burned down in Charleston's Great Fire of 1740. It was later rebuilt as an inn before being converted back into a theatre in the 1930s. Among its many famous ghosts is Nettie Dickerson, who allegedly was struck by lightning when the theatre was a hotel. Her ghost has been caught in a red gown on the theatre's second floor. Junius Brutus Booth, John Wilkes Booth's father, allegedly haunts the theatre as well.
Crescent Hotel
Crescent Hotel, located in Eureka Springs, Arkansas, was built in 1886 as a luxury resort, a conservatory for women, and a junior college, all rolled into one. Things got otherworldly after 1937 when Norman G. Baker bought the hotel and turned it into a hospital, where she claimed she could cure cancer. While Baker eventually ran out of town after she was found out to be a fraud, visitors say they've seen a 5-year-old girl, a man with a beard in Victorian clothes, and other ghosts.
The Driskill
The Driskill, a hotel in Austin, Texas, has been a hotspot for tourists and wedding parties ever since it opened in 1886. Owner Jesse Dirskilllost the hotel in a poker game and is said to haunt the hotel to this day.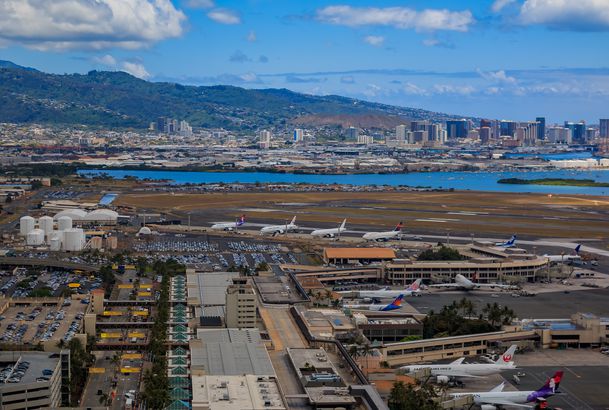 Honolulu International Airport
Visitors of this Hawaiian airport have reported seeing the ghost of a lady in waiting in the off-limits areas of the airport. Legend has it that a young blond woman fell in love with a man who promised her that he'd marry her. However, he left her at an airport gate, and her ghost is still waiting for him to this day.
House of the Seven Gables
The house that inspired the famous novel of the same name can be found in Salem, Massachusetts. Staff members of the home-turned-museum say they've seen ghosts and witnessed other paranormal activity that can't be explained.
Chicago's Lincoln Park Zoo
While many people go to museums to see animals, many visitors come to Chicago's Lincoln Park Zoo for the alleged ghosts that haunt the museum. From the 1840s to 1850s, Lincoln Park was home to Chicago's city cemetery before being moved to another location. While most of the 35,000 or so bodies that were buried there were moved, some stayed behind before the zoo opened about 150 years ago. Ever since the zoo first opened, people have reported seeing ghosts at the museum,
Lizzie Borden house
In 1892, Lizzie Borden was accused of killing her father and stepmother with a hatchet in their Fall River, Massachusetts home. While she was acquitted by police, visitors say they've seen strange happenings, like weeping, footsteps from nowhere, a ghost-like figure dressed in Victorian garb, doors opening and closing, and even conversations in vacant rooms.
The Mark Twain House
Mark Twain's Hartford, Connecticut home is allegedly now home to a ghost-like lady in white. Visitors have also reported hearing strange noises and smelling smoke in the billiard room, which is where Twain used to smoke.
Masonic Temple
Detroit's Mason Temple stands tall with over 16 floors shielded by a gothic facade. Many people claim that the building has hidden passages and staircases, and legend has it that George Mason, the architect responsible for the building, jumped off the roof after going bankrupt funding the building's construction. Visitors claim to hear a ghost climbing the steps all the way up to the building's rooftop.
Ohio State Reformatory
Mansfield, Ohio's Ohio State Reformatory opened in 1896 before being closed in 1990 for overcrowding and inhumane conditions. Before closing, over 200 people died in the reformatory. Visitors report that many former inmates roam the halls and an old guard stabs people with his nightstick.
Pine Barrens, New Jersey
Home of over a million acres of forest, Pine Barrens was once home to many mills and villages during the colonial period before it was abandoned as people left to pursue coal mining in surrounding villages. The forest is reportedly now home to the Jersey Devil, the apparent 13th child born in 1735, It reportedly has leather wings, a goat head, and hooves, and it kills livestock and creeps out residents and visitors.
Related: Abandoned palaces of the world & what they once looked like
Pittock Mansion
This Portland, Oregon mansion was built in 1909 by pioneers Henry and Georgiana Pittock. However, Georgiana died in 1918, and Henry in 1919. Ever since, visitors have reported smelling roses, which was Georgiana's favorite flower, and a painting of Henry as a child allegedly moves around the house by itself.
Red Onion Saloon
This Skagway, Alaska saloon was created in 1898 as a brothel for miners. The owner used 10 dolls that were placed on the downstairs bar to represent each of the working ladies. Visitors used the dolls to select a lady. The saloon still has these dolls, and visitors report that a former madam, Lydia, haunts the saloon. Cold spots and lingering perfume have also been reported, which are believed to be signs that Lydia's ghost is nearby.
San Fernando Cathedral
This San Antonio, Texas cathedral was renovated in 1936 when workers found bones, nails, and military uniforms believed to be those of three Alamo soldiers. Ever since, visitors say they've found shadowy ghosts and orbs in their photos, and a ghost haunts the back of the church. Other strange occurrences include a man dressed in all black and hooded figures dressed like monks.
The Stanley Hotel
The Stanley Hotel in Estes Park, Colorado famously gave Stephen King inspiration for his "The Shining" hotel, the Overlook Hotel. Visitors report seeing ghosts, hearing piano music, and other strange and spooky occurrences.
St. Augustine Lighthouse
The St. Augustine Lighthouse in Florida is said to be the home of a lighthouse keeper who fell to his death while painting the lighthouse. Visitors say they see his ghost still watching over the lighthouse. In another incident, three girls drowned when their cart broke and plummeted into the ocean. Some visitors say they hear children playing around the lighthouse.
Trans-Allegheny Lunatic Asylum
The Trans-Allegheny Lunatic Asylum in Weston, West Virginia first opened in 1864. By the 1950s, it held over 2,400 patients even though it was only meant to hold 250. Inhumane conditions resulted, including no heat and convalescents that were kept in cages. This tension led to patients getting violent, setting fires, and even attacking staff until it closed down in 1994. Visitors say they have seen the ghosts of those who died at the asylum roaming the hallways.
Related: Bone-chilling last words of death row inmates
Whaley House
The Whaley House in San Diego, California was built as a family home in 1857. However, the Whaley family built it on the former site of a public gallows. Thomas Whaley, who build the home, reported hearing footsteps, which he believed belonged to Jim Robinson, a thief who died at the gallows four years before he built the home. Many of Whaley's family members died and ended their lives in the home. Family members reportedly still haunt the home, as marked by the strange smell of cigar smoke and heavy perfumes.
Winchester Mystery House
The Winchester Mystery House in  San Jose, California was built to keep ghosts out. A seer allegedly to Sarah Winchester, wife of the famous rifle maker's son of the same last name, that her recently deceased husband and child were killed by the ghosts of gunshot victims. After hearing this, Sarah created the mystery house to keep away spirits using staircases that led to the ceiling, doors that open to reveal brick walls, and windows that are actually disguising secret passages.
One if by Land, Two if by Sea
This romantic New York City restaurant is allegedly the home of about 20 playful ghosts who like to prank guests by flicking the lights, making pictures crooked, and moving plates around. One of the most seen ghosts is a woman in black who likes to walk up and down the restaurant's staircase. Other visitors also claim that Aaron Burr haunts it, as the restaurant was once Burr's carriage house.
Myrtles Plantation
This St. Francisville, Louisiana plantation was built in 1796 and is often cited as America's most haunted site. Rumor has it that the plantation was built on top of an Indian burial guard and that no fewer than 12 ghosts haunt it. Ghosts seen on the plantation include a former slave girl named Chole, whose ear was chopped off for eavesdropping. Chloe sought revenge by poisoning the birthday cake of the plantation owner's two daughters. She was hung with other slaves and now allegedly walks around with a turban that covers her missing ear.
Related: 
This article was produced and syndicated by MediaFeed.org.
AlertMe
---