Fluffy, perfect snowflakes fall outside as you and your family feast upon ham, mac and cheese, pudding, and cookies. The family dog, sporting a cute Christmas sweater, even has a prized Christmas bone. "Mr. Bezos" has delivered a slew of gifts that are waiting under the tree, and a gingerbread house kit is ready to be put together when the excitement of the food and presents dies down.  Sounds familiar? This is not your grandma's Christmas, literally.
From mock goose pie in the '40s, through "pigs-in-blankets" and Christmas wreaths in the '50s to Mariah Carey's Christmas hit in the '90s, how we celebrate Christmas has evolved a lot over the years. Sure, some of the Christmas traditions we have today are pretty old (think Christmas trees and big dinners), but a lot of the rest is practically unrecognizable today.
Here's what Christmas looked like from the 1940s up to today.
Be warned: the nostalgia feels will be real!
For help enjoying the holidays without busting your budget, consider working with a fiduciary financial advisor. Find an advisor who serves your area today (Sponsored).
Related: This generation hates your Christmas gifts the most
1940s: Holly Jolly on a budget
Despite the ongoing war, Americans were still able to be holly jolly on a budget. The 1940s were about meat alternatives (sounds familiar?) and more affordable (and reusable!) Christmas decor.
Mock goose, anyone?
Before keto and gluten-free diet trends, the star of the Christmas dinner was plum pudding. It was even served at the White House Christmas dinner in 1942. However, because of World War II, protein dishes were often expensive and hard to find. So, many Americans turned to "mock goose," made with mashed potatoes, seasonings, and if you were lucky, sausage or even stuffing.
Walking around the 'artificial' Christmas tree
The hit holiday movie of the 1940s was, no doubt, "It's a Wonderful Life." People were asking for the newest technology for Christmas: the fridge. The artificial tree was all the rage, and why wouldn't it be for only 75 cents, on average?
However, the war made it much harder to get lights for your Christmas tree.
Related: Most Americans don't plan to have a real Christmas tree this year
1950s
Americans in the 1950s embraced the DIY spirit in their holiday decor and double-down on fatty, meaty feasts. This was also the decade responsible for some now traditional Christmas staples, like the advent calendar.
The rise of pigs in a blanket
You know those blue cookie tins your grandma keeps your sewing kit in? Those hard sugar cookies, now called Spritz cookies, debuted in the 1950s and have been an  American Christmas cookie classic ever since. This decade also gave rise to pigs in a blanket neatly arranged to look like a cute Christmas wreath.
Thank the '50s for popcorn garland
Before TVs became more popular later in the decade, people would gather around the radio to listen to Christmas jams and even Queen Elizabeth II's first Christmas broadcast in 1952. In 1957, the queen would give her first live TV Christmas broadcast. That same year, Dr. Seuss would debut his now-class Christmas tale, "How the Grinch Stole Christmas."
1960s: Easy Bake Ovens & Rudolph the Red-Nosed Reindeer — Need we say more?
The 1960s were kind of a mixed bag in terms of holiday traditions. While Americans suffered through jellied meats and hot dog trees, it also gave us Easy Bake Ovens and Rudolph the Red-Nosed Reindeer.
Christmas trees made out of hot dogs? Yes Please!
Food got pretty weird in the 1960s, we won't lie. For some reason, Dr. Pepper decided to try marketing "hot" Dr. Pepper, and Oscar Mayer tried to convince Americans to serve up Christmas trees made out of hot dogs and other cocktail foods. The 1960s are also responsible for those nasty, puke-worthy Jell-O dishes full of meat, veggies, and other stuff that really shouldn't be encased in jiggly jelly.
The birth of the "Easy Bake Oven"
Keeping with the experimental food theme, the 1960s birthed the Easy Bake Oven, which was perhaps the decade's most trendy toy. This is also when TV Christmas movies really hit their stride:  A Charlie Brown Christmas Tree, A Christmas Carol, Frosty the Snowman, How the Grinch Stole Christmas, and even Rudolph the Red-Nosed Reindeer.

Related: The surprising place Americans plan to go on Christmas
1970s: Cheese balls, tinsel, and crepe paper, oh my!
The 1970s gave us Mood Rings, pet rocks,  Rock'em Sock'em Robots, and the classic Red Ryder air rifle.
Goodbye hot dog trees, hello cheese fondue!
Americans were dipping whatever they could in cheese, eating ambrosia, cheese balls, and, my personal favorite, the no-bake cookie. It also gave us cocktail meatballs and coleslaw.
Picture it: tinsel, foil, colored lights, and crepe paper.
The decor was all about shiny, shimmery treasures that paid homage to Christmas decor past while looking forward to a more techy Christmas future, filled with colorful lights and over-the-top decor.
For help enjoying the holidays without busting your budget, consider working with a fiduciary financial advisor. Find an advisor who serves your area today (Sponsored).
1980s: Hersey's Kisses Bells & Care Bears
The 1980s were a colorful decade, with fruity desserts and rainbow and pastel toys dominating the decade.  It also gave the world Hersey's Kisses Bells, Care Bears, and a beloved Christmas movie.
Jelly fruit & Crisco (no, not together. Ew)
One of the most popular proteins for Christmas dinner was baked salmon with lemon. Remember those weird jelly fruit slices your grandparents had out in candy bowls? Yeah, that was another 1980s favorite. Crisco was also out trying to convince Americans that their fatty product was the secret to the best Christmas pie crust. Hersey's Kisses Bells also came out in the '80s.
'You'll shoot your eye out, kid!'
Have you ever said, "You'll shoot your eye out, kid?" Thank the '80s. A Christmas Story premiered in 1983. Kids across the country were asking Santa for Care Bears, Etch A Sketch, Rainbow Brite, and other colorful toys.
1990s: All we want for Christmas is chocolate-covered pretzels, a Furby, Harry Potter & a can of Campbell's soup
We're not going to lie: 1990s Christmas is giving us the nostalgia "feels!"
Campbell chicken noodle soup
With the rise of calorie counting and diet culture, Americans traded in their jellies and desserts for "healthier" options,  like chocolate-covered pretzels and Campbell's soup. (Anyone else remember those Campbell chicken noodle soup commercials featuring the happy snowman? They still air those commercials today!). On the flip side, though, this was also when fudge became a Christmas tradition for many Americans, as did limited-edition holiday flavors, with "Christmas" Crunch cereal being one of the first limited editions to hit the market.
Is it even Christmas without Mariah Carey?
Is it even Christmas without Mariah Carey's "All I Want for Christmas Is You?" Yeah, we don't think so either. The icon's hit song came out in 1994 and has been played on the radio over 26 million times since then. Another icon emerged as a popular gift: the first Harry Potter book. The '90s also gave us Coca-Cola's now-iconic polar bear commercials, Tamagotchi, and Furby.
Related: Holiday gift ideas under $100 for everyone on your list
2000s
The 2000s brought us a slew of modern American Christmas classics, like gingerbread house kits, cupcakes, and, of course, Elf the movie!
The pot pie craze
While gingerbread houses were invented a long, long time ago, they became totally rad in the 2000s as those little store gingerbread house kits really took off. People were obsessed with having pot pie, meatloaf, and other American comfort foods on the Christmas table. This was also the start of other fabs, like keto and cupcakes (not together, of course…).
One word: 'Elf!'
In 2003, the world was graced with the now Christmas movie classic, Elf. It's little surprise, then that Elf on the Shelf hit the toy shelves in 2005, just two years after the iconic Elf movie premiered.
For help enjoying the holidays without busting your budget, consider working with a fiduciary financial advisor. Find an advisor who serves your area today (Sponsored).
2010s: Digital Christmas
By the 2010s, Apple ruled Christmas wish lists across America. Americans started embracing healthier foods, and kids asked for tech toys like video games.
Low-calorie Christmas
In more recent years, Americans have reconsidered their diets, including their Christmas dinners. With more Americans ever before taking on vegan and vegetarian diets, meat alternatives are replacing more and more Christmas ducks, chickens, and more.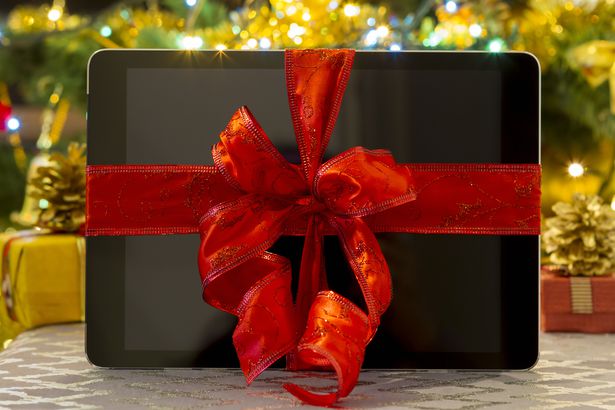 iPad was the king
Unsurprisingly, toys got a lot techier than ever before in the 2010s. Apple gadgets, especially the iPad, ruled Christmas wish lists for all ages. Kids also asked for a variety of Nerf guns, little animals called Hatchimals, American Girl dolls, CDs, video games, and, of course, video game consoles.
2020s: Covid. War. Presidential elections. Resurrections.
These have been not-so-holly-jolly times, indeed. But we adapted through Zoom holiday dinners, Christmas groceries and takeout delivered to our doorsteps, and, of course, even more tech.
Veggie, keto, and low-calorie dishes
Because of the pandemic, many Americans pared down on their Christmas dinners since they had fewer (or no) guests on the holiday. They embraced supporting local restaurants and ordering dinners. Veggie, keto, and low-calorie dishes have really shined in the 2020s, with more people embracing lighter dishes like chicken or even meat alternative products, like Beyond Meat.
Everything Baby Shark & everything Apple
Besides Apple products, laptops, phones, Bluetooth headphones, and other tech, kids embraced baby Yoda toys, everything Baby Shark, and Squishmallows (which are cute, squishy stuffed animals, for the uninitiated). Adults asked for new work-from-home accessories, like standing desks, office chairs, wireless keyboards, and smart home assistants like Google Home and Amazon Alexa.
For help enjoying the holidays without busting your budget, consider working with a fiduciary financial advisor. Find an advisor who serves your area today (Sponsored).
Have some happy, holiday budgeting tips
Inflation may make enjoying the holidays harder this year, but you can still be merry on a budget. Learn more about how to be thrifty this holiday season.
Additionally, a financial advisor can help you enjoy the holidays on any budget. SmartAsset's free tool matches you with up to three financial advisors who serve your area, and you can interview your advisor matches at no cost to decide which one is right for you. (Sponsored)
More from MediaFeed:
This article was produced and syndicated by MediaFeed.org.
AlertMe
---