Are you planning your next trip? If you're traveling to any of the following locations, your arrival may be some of the most stunning views you'll see! PrivateFly, a booking platform for private jet charters, rated the 10 most beautiful airport approaches around the world. To find the most out-of-this-world landings, they created a panel of travel experts and aviation fans. Over 8,500 panelists voted for a total of 112 airports across the globe. You can find their full methodology here.
From Ireland to Australia, here are the top 10 most gorgeous airport approaches in the world!
2 / 11
owen clarke photography / Flickr
1. Donegal Airport, Ireland
Donegal Airport brags that it's "the gateway into the Northwest of Ireland and the Wild Atlantic Way." With a phenomenal view of the country's charming mountains and beaches, it's no wonder it's been voted one of the most beautiful airports in the world for several years running!
3 / 11
isleofbarradistillers / Instagram
2. Barra Airport, Scotland
Barra Airport's three runways are unique (and beautiful!) because they're the only runways in the world located on a beach.
4 / 11
Daniel Haug / Flickr
3. Nice Cote d'Azur, France
Nice Cote d'Azur may be one of France's busiest airports, but at least you'll get a great view while you wait!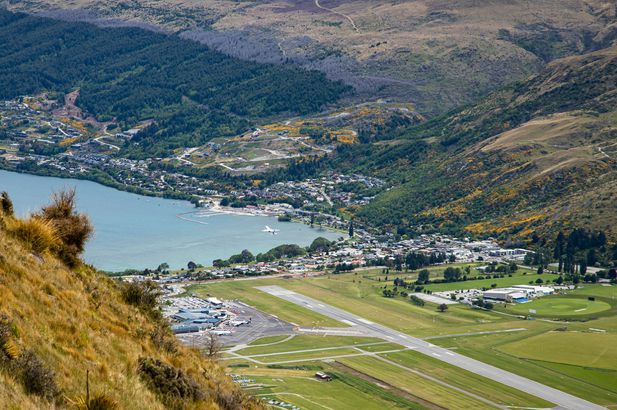 5 / 11
Jude / Flickr
4. Queenstown Airport, New Zealand
Queenstown Airport is a common flightseeing destination for tourists, making it the country's busiest helicopter port. From the airport, tourists can hop on a helicopter to see attractions like Milford Sound and Aoraki Mount Cook.
6 / 11
Olivier Pirnay / Flickr
5. Juancho E. Yrausquin Airport, Saba, Dutch Caribbean
Juancho E. Yrausquin Airport has the smallest runway in the world, at just 1,312 feet (but they sure make up for it with such a great view)!
7 / 11
flymlb / Instagram
6. Melbourne Orlando International Airport, U.S.
This airport serves more than 430,000 passengers every year and spans 2,420 acres.
8 / 11
The City of Toronto / Flickr
7. Billy Bishop Toronto City Airport, Canada
The Billy Bishop Toronto City Airport was named after William Avery "Billy" Bishop, a Canadian First World War flyer who also received a Victoria Cross for his service. You'll get a great view of the downtown Toronto skyline on this approach.
9 / 11
London City Airport / Flickr
8. London City Airport, London, UK
London City Airport has a rather scenic landing, although you should be prepared for its abnormally steep approach because of the city's noise restriction laws.
10 / 11
sxmairport / Instagram
9. Princess Juliana International Airport, Philipsburg, Sint Maarten, French/Dutch Caribbean
Princess Juliana International Airport serves about 1.8 million passengers each year, with most of them coming from the Americas, Europe and the Caribbean.
11 / 11
Hugh Stickney / Flickr
10. Miami International Airport, Miami, Florida, US
Miami International Airport is one of the busiest airports in the world, with over 80 airlines, about 150 destinations and 18.6 million passengers in 2020 alone.
Related: 
AlertMe
---