Editor's note: Lantern by SoFi seeks to provide content that is objective, independent and accurate. Writers are separate from our business operation and do not receive direct compensation from advertisers or partners. Read more about our Editorial Guidelines and How We Make Money.
Refinancing your auto loan can be a useful tool in achieving a number of financial goals. But if you want to refinance your car, can you do it with the lender with whom you have your original loan? You probably can, but there's more to the decision-making process than just picking the lender who knows you best. Find out how refinancing works with the same lender and when it makes sense to explore elsewhere.
Related: 7 ways to improve gas mileage
Is it possible to refinance with the same lender?
If you're thinking of refinancing, you may be wondering, Can I refinance my car with the samelender? In most cases, the answer is yes—but that doesn't mean it's automatically the right decision for you. When you first start thinking about refinancing your auto loan, it's natural to consider your current lender, especially if you've had a positive experience.
Not all auto lenders offer refinancing, though. Most do, but it's a good idea to double check that this option is available before you do more digging. If your lender does offer refi loans, you still shouldn't just assume your lender is the best option out there. Different lenders offer different rates, loan terms, and fees, so it's important to shop around.
Can you refinance your auto loan with the same bank? Absolutely. Is it always the best loan offer available? Not necessarily. And you won't know for sure unless you shop around.
When does it make sense to refinance?
There are many pros and cons involved in refinancing a car. Here are some of the most common situations in which it makes sense to refinance. This may help give you an idea of when you might look at refinancing options to achieve specific goals.
You Now Qualify for a Lower Interest Rate: If interest rates go down or your credit has improved, you could save money with a lower rate. If your credit score isn't very high, refinancing with a co-signer could also help you pay less in interest.
You Want to Lower Your Monthly Payment: You might be able to get a longer loan term by refinancing. This means you'll be making payments longer but also lowers your monthly bill. You may end up paying more in interest over the extended loan term.
Your Car Is Aging and/or Has High Mileage: Many lenders restrict your ability to refinance a vehicle once it reaches a certain age or mileage mark. If your car is close to 10 years old or is approaching 100,000 miles, then it might be time to crunch the numbers to see if one last refinance makes sense.
Is it easier to refinance with your current lender?
When you apply to refinance your auto loan, you'll need to submit documents related to your current loan, including the loan agreement. If you're applying to refinance through your current lender, it will probably already have that paperwork on hand. But while it may seem easier to let your current lender handle this step on its own, you should still find and review that information yourself before you apply to refinance. That way you can check the contract for prepayment penalties and your exact payoff amount. It's also important to check your current interest rate to figure out whether or not you're getting a better offer with a refinance.
Even if it does seem easier to refinance with a lender you're already working with, it's crucial to rate shop and make sure you're meeting your financial goals. And if you find a better deal elsewhere, it may not be that much harder to switch. Most lenders create an easy, streamlined application process. In summary, it can be easier to get a refinancing loan from the lender you already know. But "easier" doesn't automatically mean it's better.
How to refinance with the same lender
How exactly to refinance an auto loan may differ slightly when you're applying with the same lender. The first step is to gather the required documentation. Even if you have a history of making your car payments on time, you'll still probably need to provide proof of income. This could be recent paystubs or a tax return. You may also need to confirm and update your personal information, including your address and how much you spend on housing each month.
The lender likely has other details about your current loan and vehicle. Nonetheless, it will probably pull a credit report to see where you stand today. The lender will probably also check your credit, which can result in a small, temporary dip in your credit score. Then you'll receive a loan offer based on your personal information and your vehicle information. The offer will include an interest rate, any fees, and the length of the loan term. Review all of these details and compare this offer to offers from other lenders to see which is the best option out there.
How to refinance with a different lender
Even if you were interested in refinancing with your current car loan provider, you might find a better deal elsewhere and decide to change lenders. For a new lender, you may need to bring a little more documentation to your application when applying. In addition to the financial and income verification you need to apply with your existing lender, a new lender will likely need information about your vehicle and current loan. The new lender will likely need details about your vehicle, including the make, model, and year. You must also disclose the vehicle's mileage and supply the lender with the vehicle identification number (VIN). Additionally, you'll probably be asked to supply the loan balance and lender's contact information. The application may also require you to submit proof of auto insurance.
Again, the lender will probably check your credit. This can result in a small, temporary drop in your credit score. But if there are multiple credit inquiries for the same kind of loan within a short period of time on your record, they'll typically be counted as just one, since the credit score agencies understand that you've been shopping to find the best rates.
Some lenders may allow you to prequalify for a loan, which won't typically result in a credit drop. But note that the offers you see that way aren't guaranteed, especially if your financial situation changes before you actually apply for the loan. Once you've selected the loan you want to apply for, the process will be similar to that when you apply with the same lender, except that when you've received and accepted the loan terms, your new lender will transfer the funds to pay off your old loan and your new payments will begin.
The takeaway
It is generally possible to refinance your auto loan with your current lender. It may even be a bit easier than filling out an application with a new lender. But it doesn't mean that it's financially the best option for you. The bottom line is that it might be worth it to shop around. Comparing auto loan refinancing offers is a lot easier when you can access multiple lenders in one place.
Learn more:
This article originally appeared on Lanterncredit.com and was syndicated by MediaFeed.org.
Lantern by SoFi:
This Lantern website is owned by SoFi Lending Corp., a lender licensed by the Department of Financial Protection and Innovation under the California Financing Law, license number 6054612; NMLS number 1121636. (www.nmlsconsumeraccess.org)
All rates, fees, and terms are presented without guarantee and are subject to change pursuant to each provider's discretion. There is no guarantee you will be approved or qualify for the advertised rates, fees, or terms presented. The actual terms you may receive depends on the things like benefits requested, your credit score, usage, history and other factors.
*Check your rate: To check the rates and terms you qualify for, Lantern conducts a soft credit pull that will not affect your credit score. However, if you choose a product and continue your application, the lender(s) you choose will request your full credit report from one or more consumer reporting agencies, which is considered a hard credit pull and may affect your credit.
All loan terms, including interest rate, and Annual Percentage Rate (APR), and monthly payments shown on this website are from lenders and are estimates based upon the limited information you provided and are for information purposes only. Estimated APR includes all applicable fees as required under the Truth in Lending Act. The actual loan terms you receive, including APR, will depend on the lender you select, their underwriting criteria, and your personal financial factors. The loan terms and rates presented are provided by the lenders and not by SoFi Lending Corp. or Lantern. Please review each lender's Terms and Conditions for additional details.
Personal Loan:
SoFi Lending Corp. ("SoFi") operates this Personal Loan product in cooperation with Even Financial Corp. ("Even"). If you submit a loan inquiry, SoFi will deliver your information to Even, and Even will deliver to its network of lenders/partners to review to determine if you are eligible for pre-qualified or pre-approved offers. The lenders/partners receiving your information will also obtain your credit information from a credit reporting agency. If you meet one or more lender's and/or partner's conditions for eligibility, pre-qualified and pre-approved offers from one or more lenders/partners will be presented to you here on the Lantern website. More information about Even, the process, and its lenders/partners is described on the loan inquiry form you will reach by visiting our Personal Loans page as well as our Student Loan Refinance page. Click to learn more about Even's Licenses and Disclosures, Terms of Service, and Privacy Policy.
Student Loan Refinance:
SoFi Lending Corp. ("SoFi") operates this Student Loan Refinance product in cooperation with Even Financial Corp. ("Even"). If you submit a loan inquiry, SoFi will deliver your information to Even, and Even will deliver to its network of lenders/partners to review to determine if you are eligible for pre-qualified or pre-approved offers. The lender's receiving your information will also obtain your credit information from a credit reporting agency. If you meet one or more lender's and/or partner's conditions for eligibility, pre-qualified and pre-approved offers from one or more lenders/partners will be presented to you here on the Lantern website. More information about Even, the process, and its lenders/partners is described on the loan inquiry form you will reach by visiting our Personal Loans page as well as our Student Loan Refinance page. Click to learn more about Even's Licenses and Disclosures, Terms of Service, and Privacy Policy.
Student loan refinance loans offered through Lantern are private loans and do not have the debt forgiveness or repayment options that the federal loan program offers, or that may become available, including Income Based Repayment or Income Contingent Repayment or Pay as you Earn (PAYE).
Notice: Recent legislative changes have suspended all federal student loan payments and waived interest charges on federally held loans until 01/31/22. Please carefully consider these changes before refinancing federally held loans, as in doing so you will no longer qualify for these changes or other future benefits applicable to federally held loans.
Auto Loan Refinance:
Automobile refinancing loan information presented on this Lantern website is from MotoRefi. Auto loan refinance information presented on this Lantern site is indicative and subject to you fulfilling the lender's requirements, including: you must meet the lender's credit standards, the loan amount must be at least $10,000, and the vehicle is no more than 10 years old with odometer reading of no more than 125,000 miles. Loan rates and terms as presented on this Lantern site are subject to change when you reach the lender and may depend on your creditworthiness. Additional terms and conditions may apply and all terms may vary by your state of residence.
Secured Lending Disclosure:
Terms, conditions, state restrictions, and minimum loan amounts apply. Before you apply for a secured loan, we encourage you to carefully consider whether this loan type is the right choice for you. If you can't make your payments on a secured personal loan, you could end up losing the assets you provided for collateral. Not all applicants will qualify for larger loan amounts or most favorable loan terms. Loan approval and actual loan terms depend on the ability to meet underwriting requirements (including, but not limited to, a responsible credit history, sufficient income after monthly expenses, and availability of collateral) that will vary by lender.
Life Insurance:
Information about insurance is provided on Lantern by SoFi Life Insurance Agency, LLC. Click here to view our licenses.
More from MediaFeed:
How often can you refinance your home?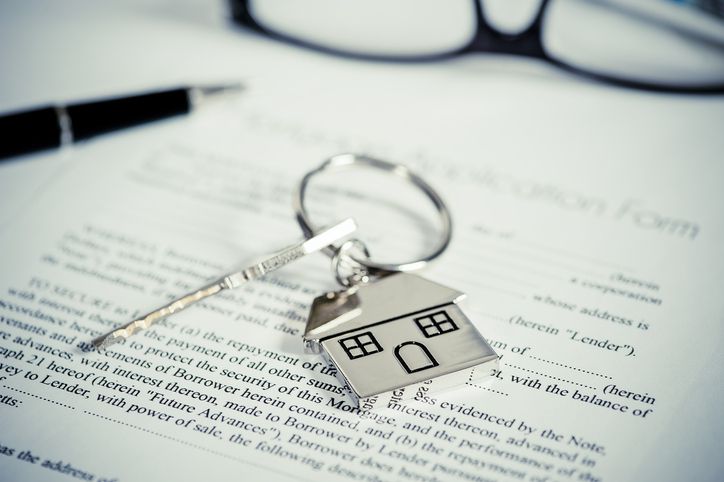 Featured Image Credit: MonthiraYodtiwong/istock.
AlertMe